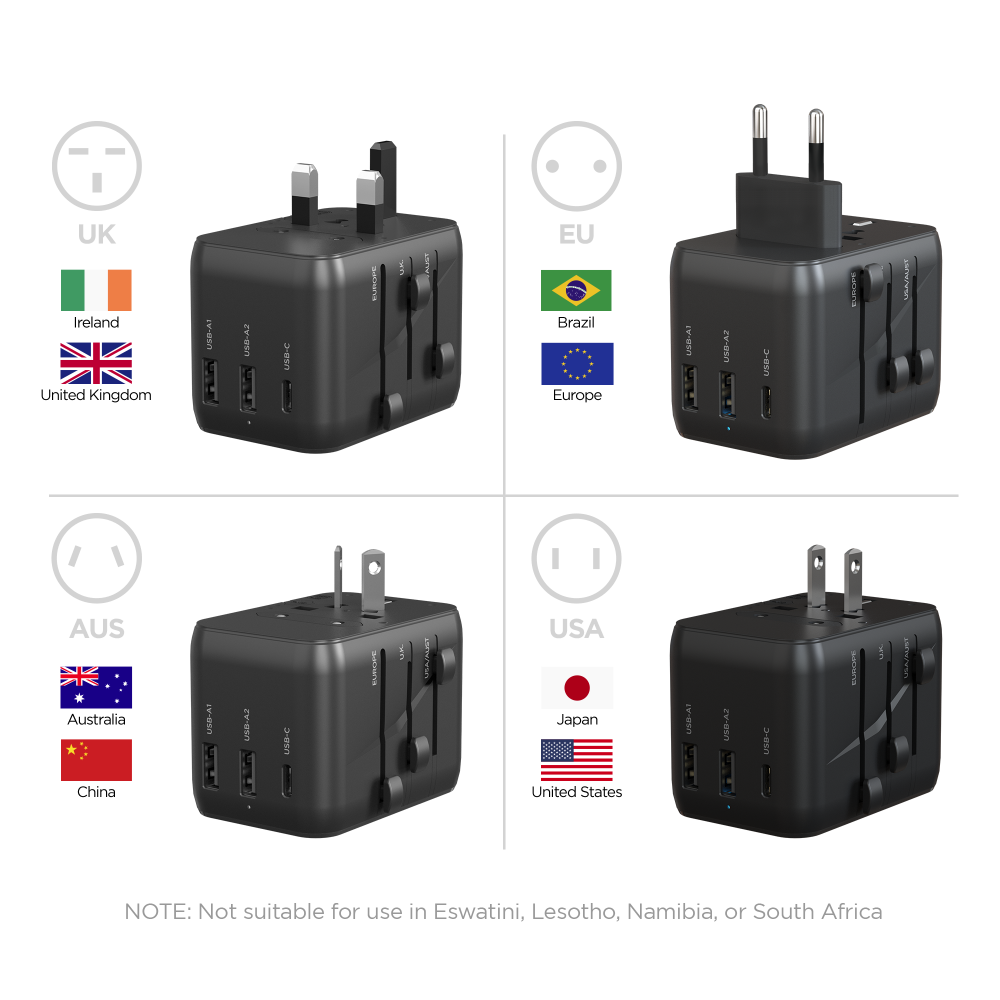 Works in 150+ Countries, Territories, and Island Regions 
With 4 built-in prong configurations for UK, European, Australian, and USA-style outlets, this adapter lets you plug in, charge up, and stay connected anywhere and everywhere you go!

Want to be absolutely sure your destination is covered? Click here for the full list of compatible destinations.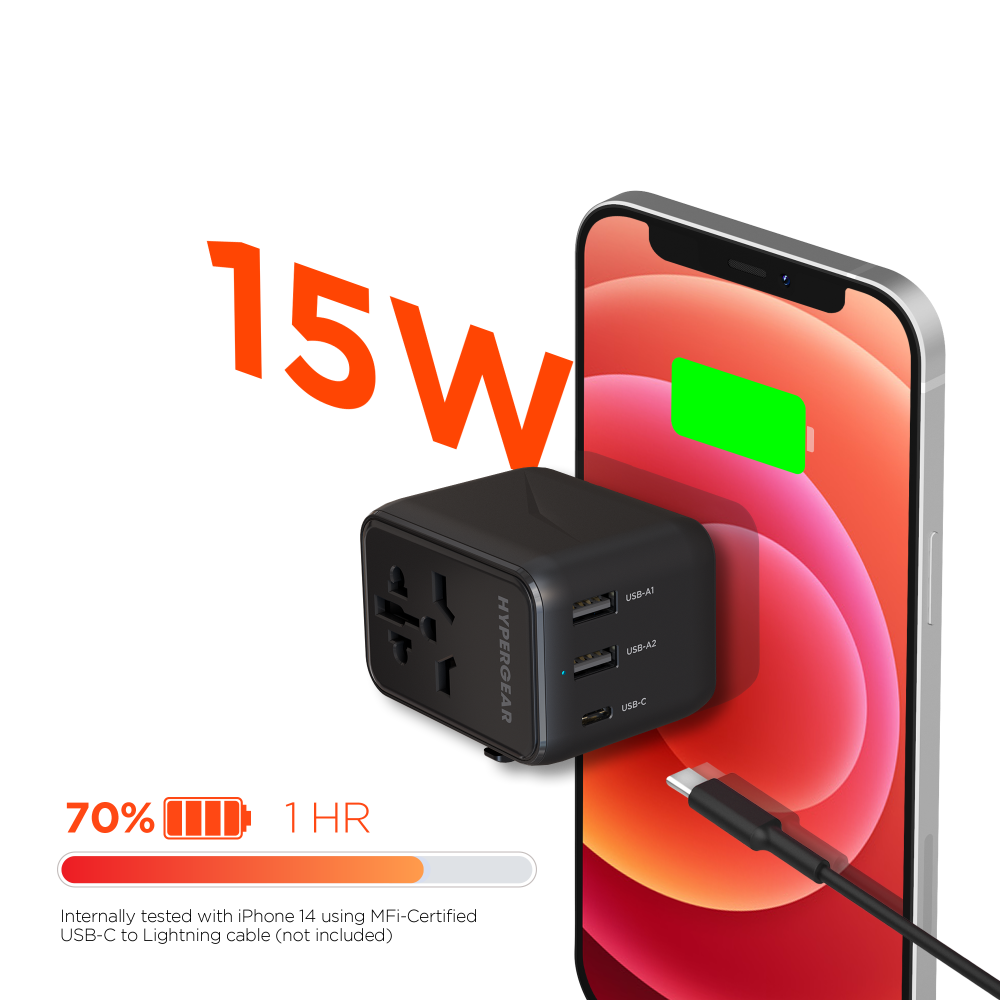 USB-C Fast Charging
The 15W USB-C port fast charges your devices with up to 3X the power of a standard charger. Boost your iPhone from 0% to 70% in just 1 hour – less time charging means more time exploring.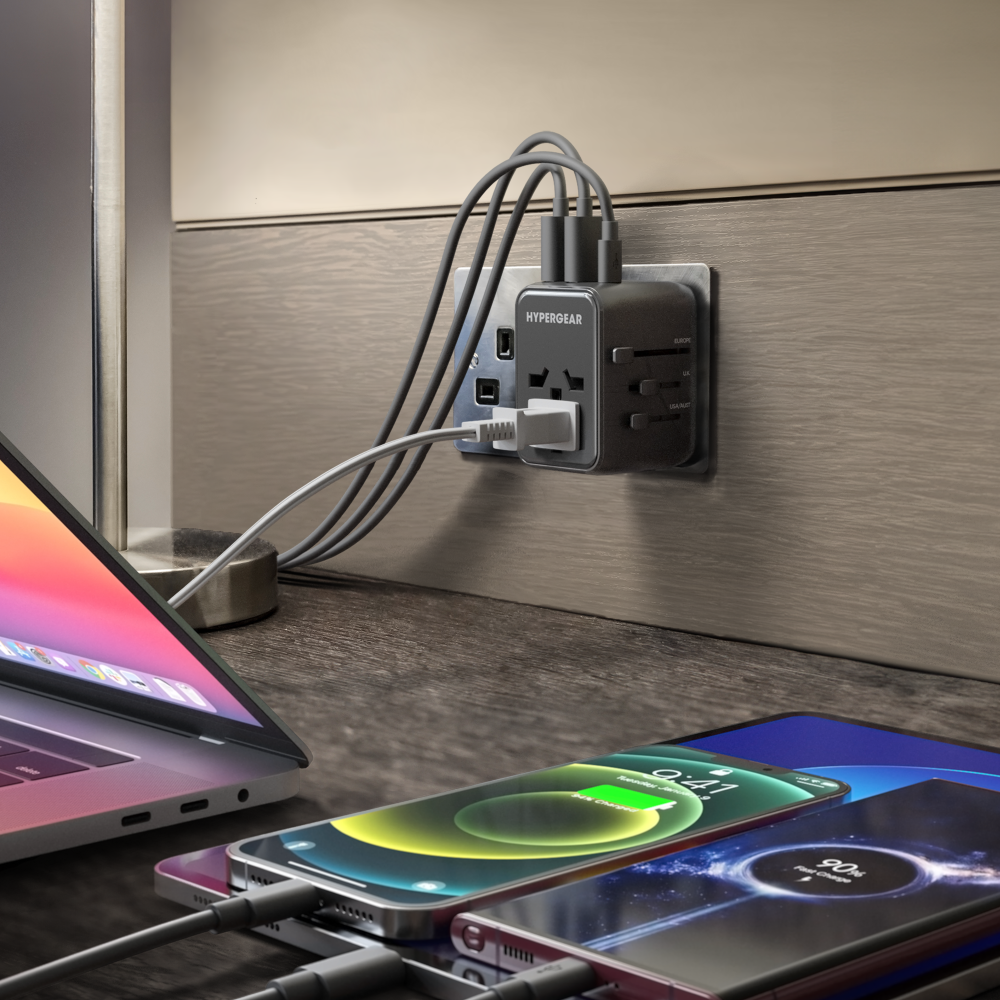 Charge Up to 4 Devices at Once
Equipped with a USB-C port, two USB-A ports, and a universal AC socket with a 10A max current. Power all your gear from a single outlet, all at the same time.

Maximum power output depends on the voltage of the local power grid:

• 1000W @100V (Japan only)
• 1100W @110V (Caribbean nations and Indonesia)
• 1200W @120V (Canada and USA)
• 1270W @127V (Brazil and Mexico)
• 2200W @220V (most African, Asian, Eastern European, and South American nations)
• 2300W @230V (Australia and Western Europe)
• 2400W @240V (Fiji and Malaysia)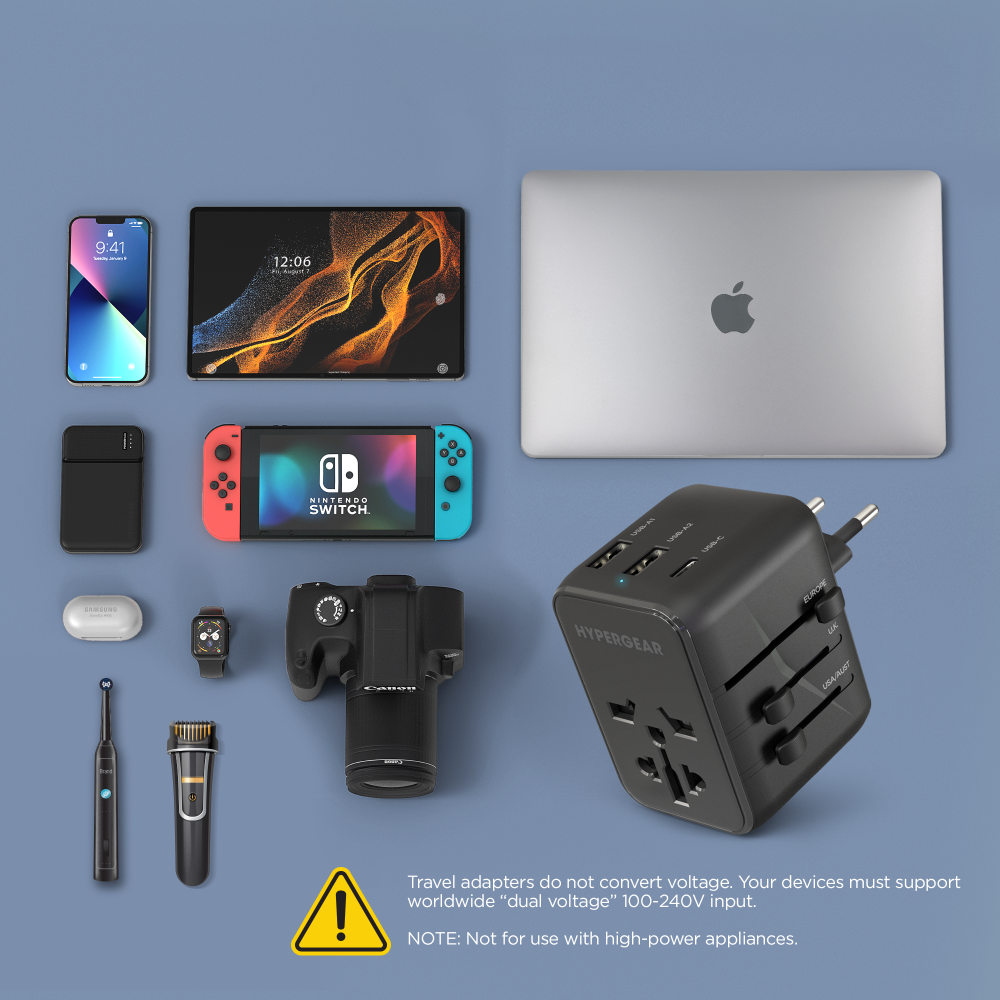 Compatible with All Mobile Devices
USB Ports: smartphones, tablets, cameras, power banks, wireless headphones and earbuds, smartwatches, and more.

AC Socket: chargers for laptops, gaming devices, electric toothbrushes, electric razors, and digital camera batteries.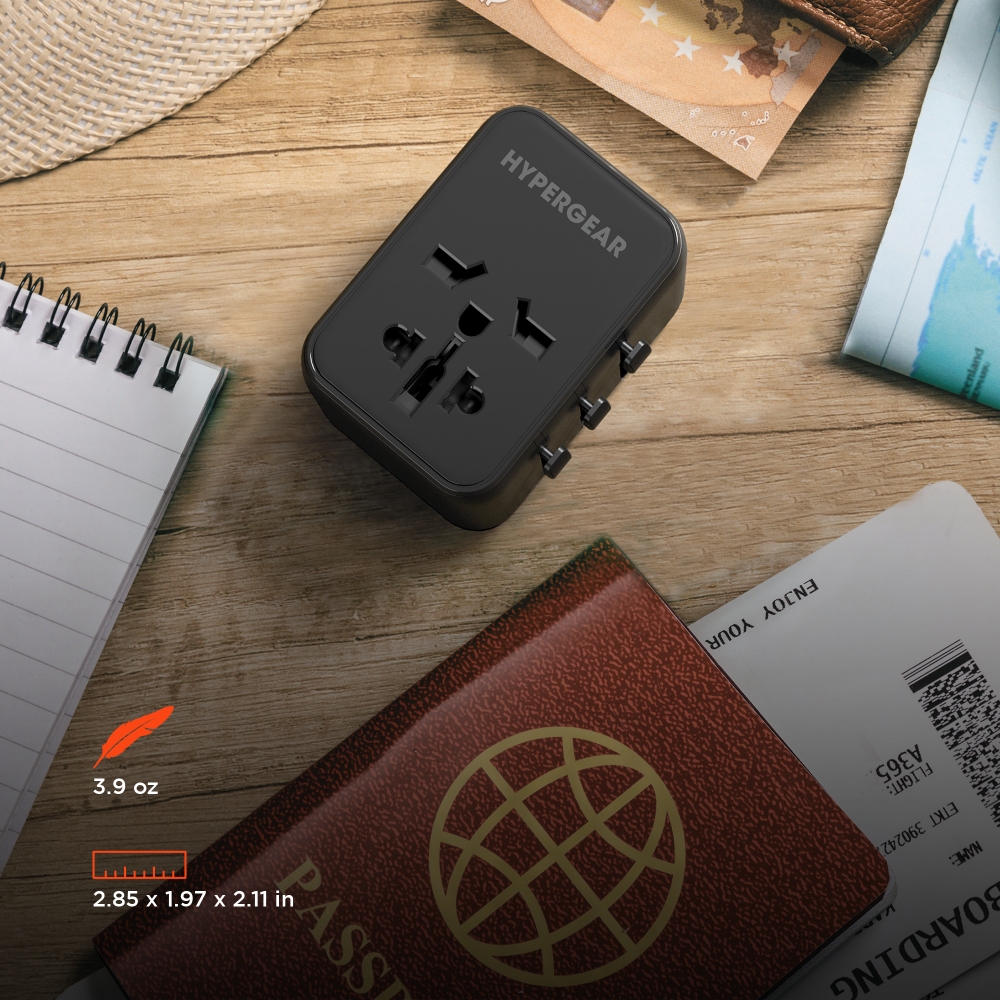 Travel-Friendly Design
Thoughtfully engineered with easy-to-use retractable prongs and a compact form factor that takes up minimal space in your suitcase or carry-on, and it only weighs a bit more than a deck of cards.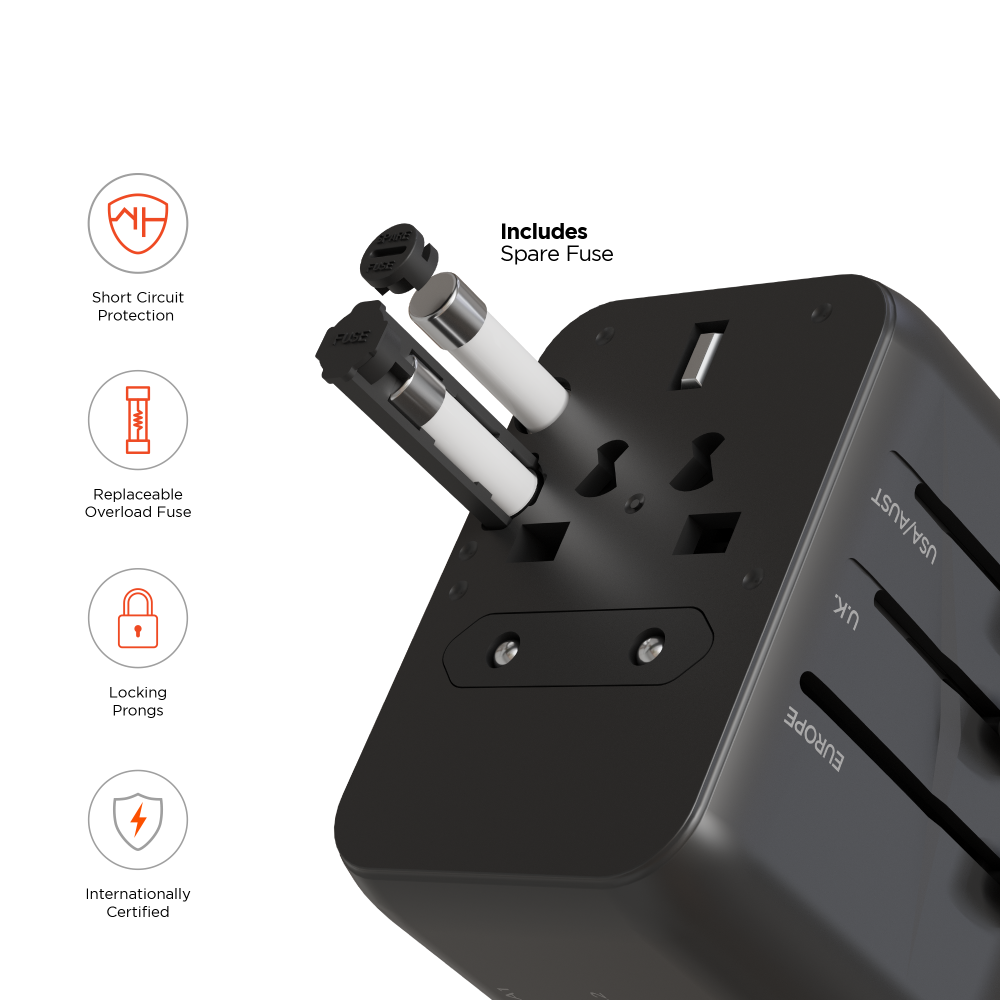 Safe Charging Anywhere
Integrated overload protection automatically shuts off the adapter to protect you and your devices from short circuit and overcurrent failures. Internationally certified by the FCC, CE, and RoHS.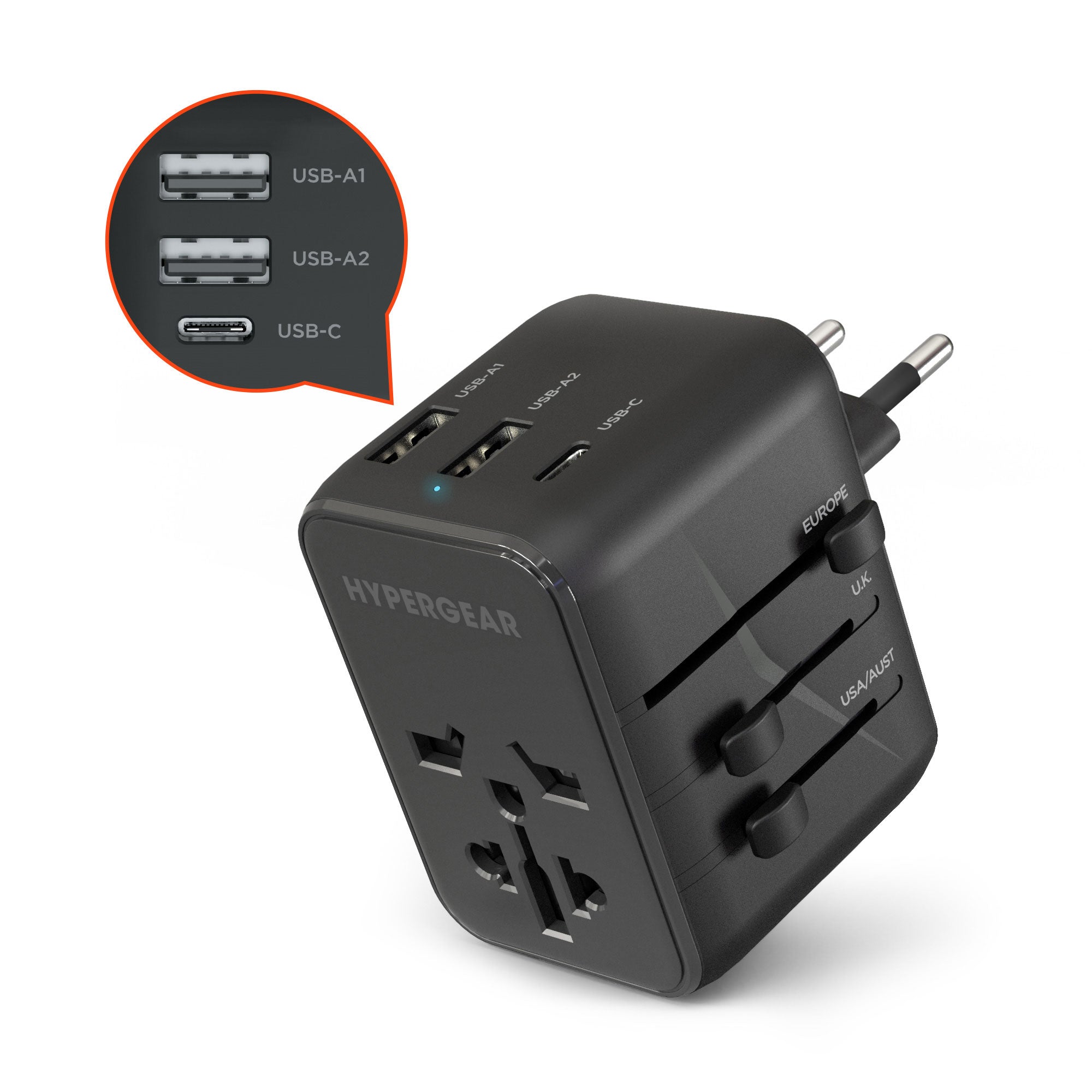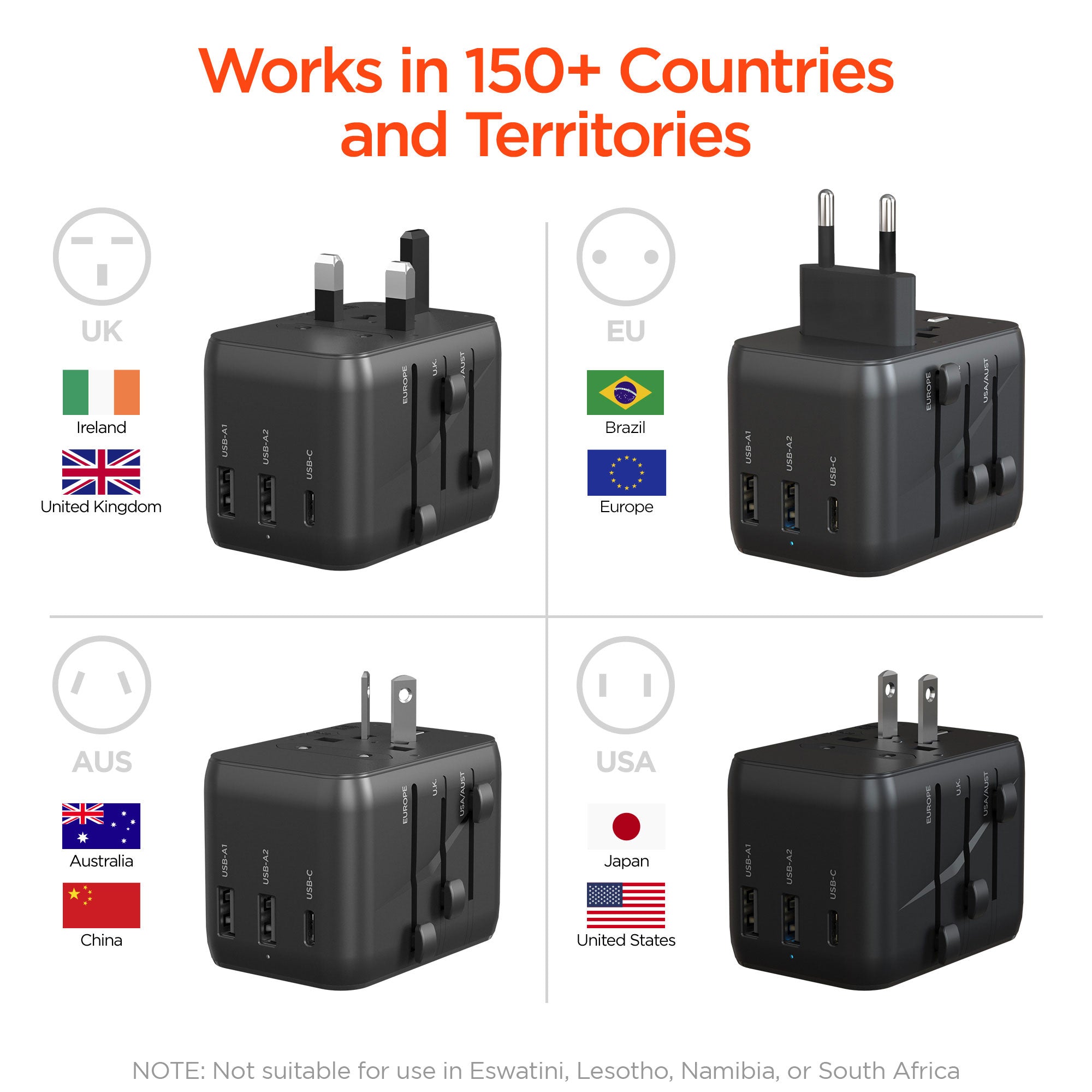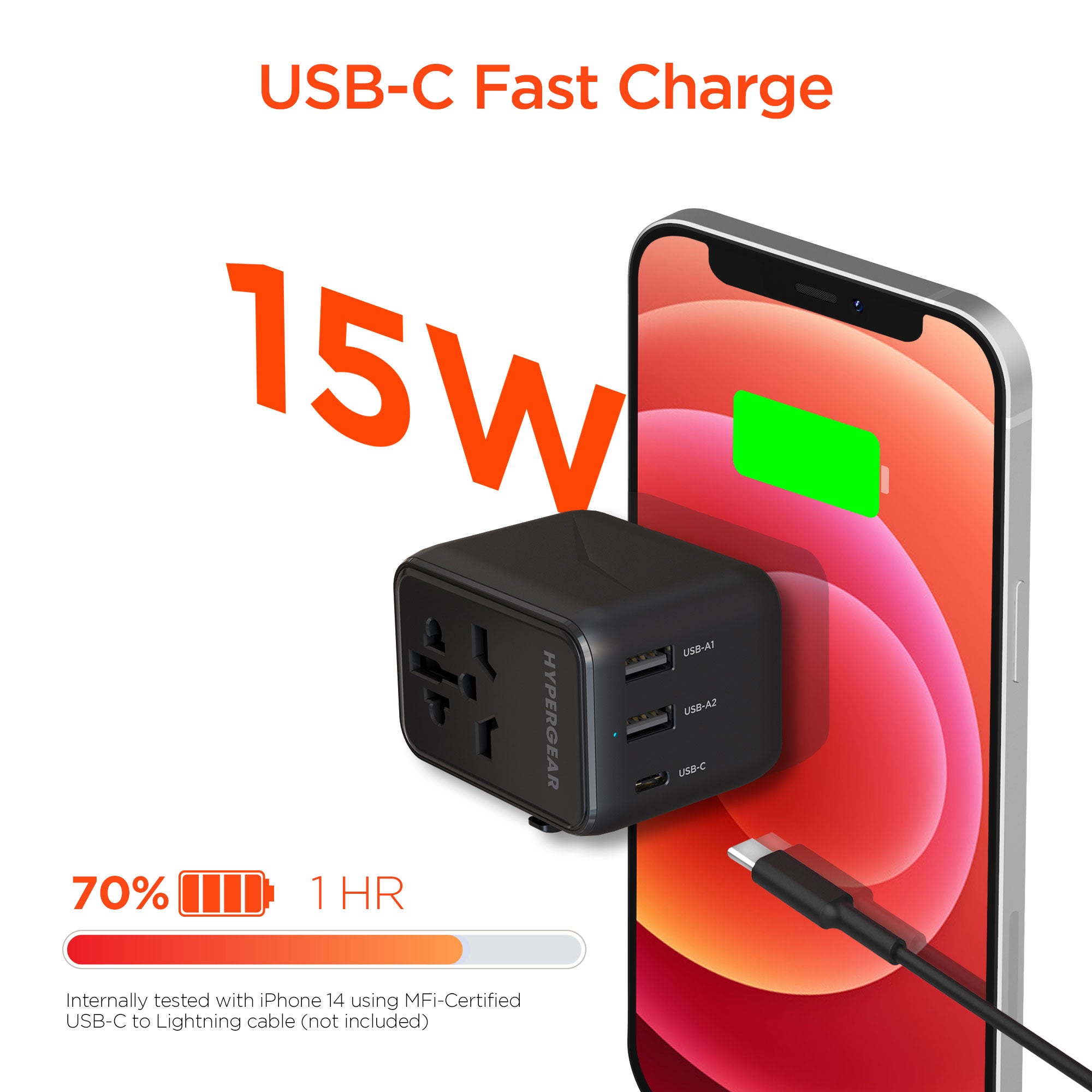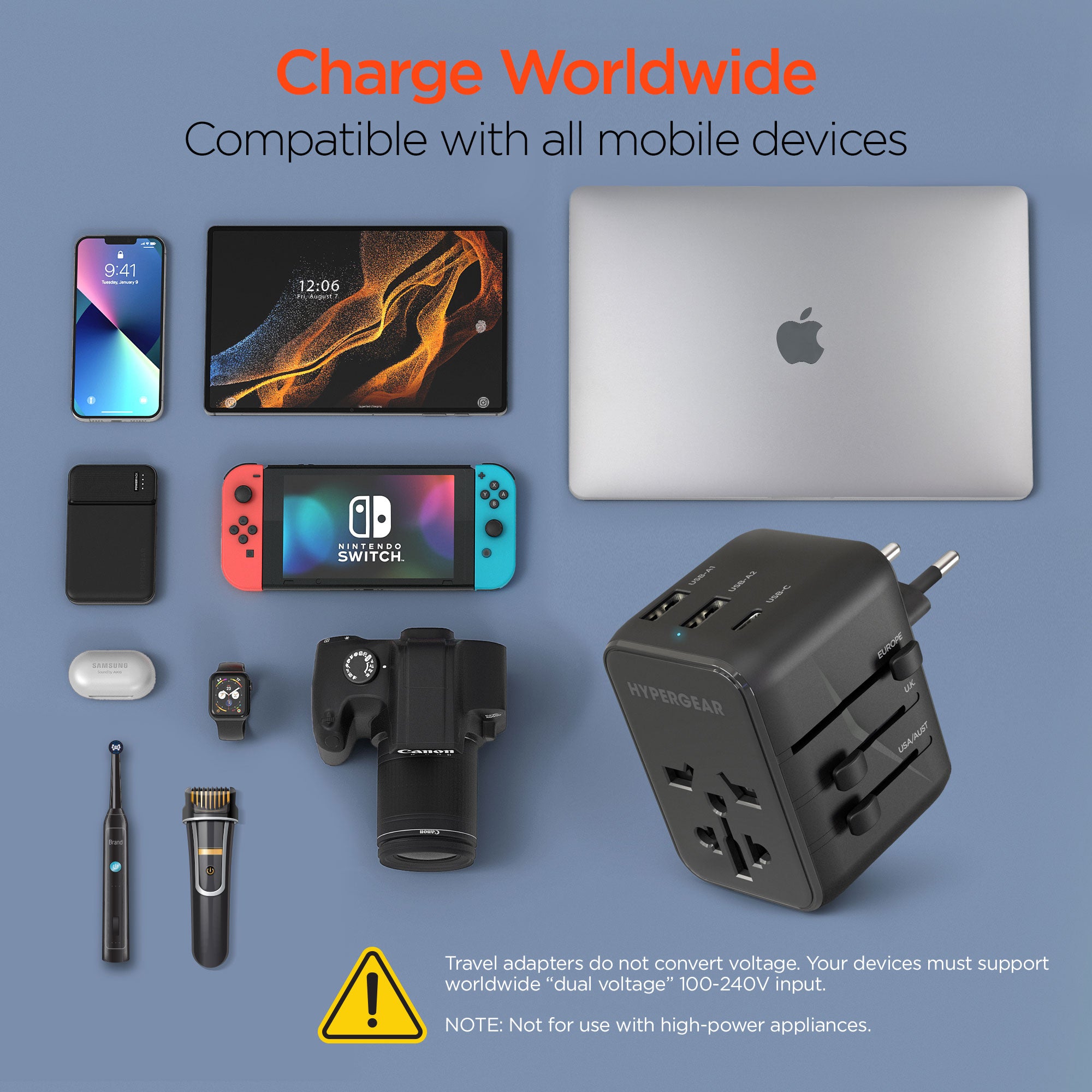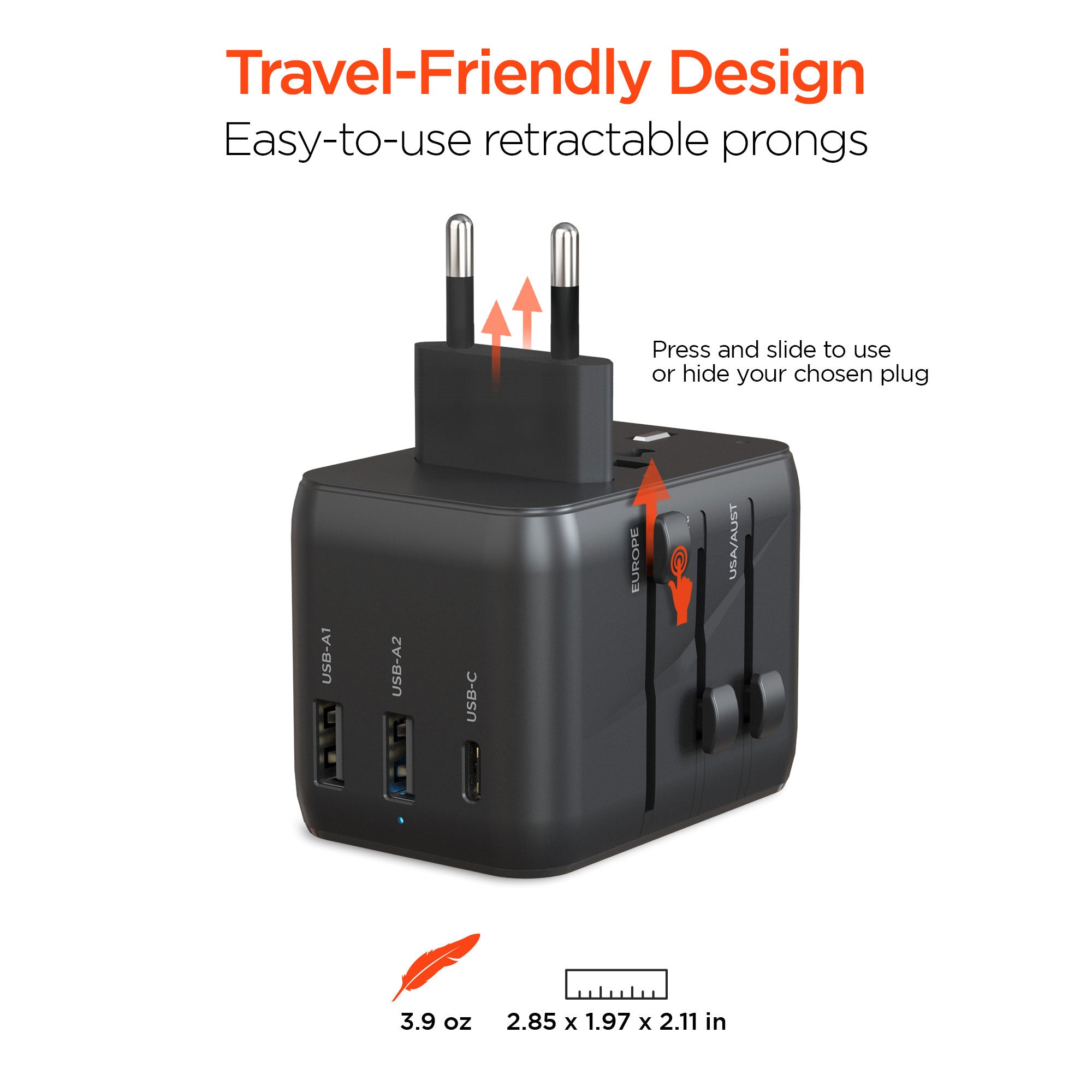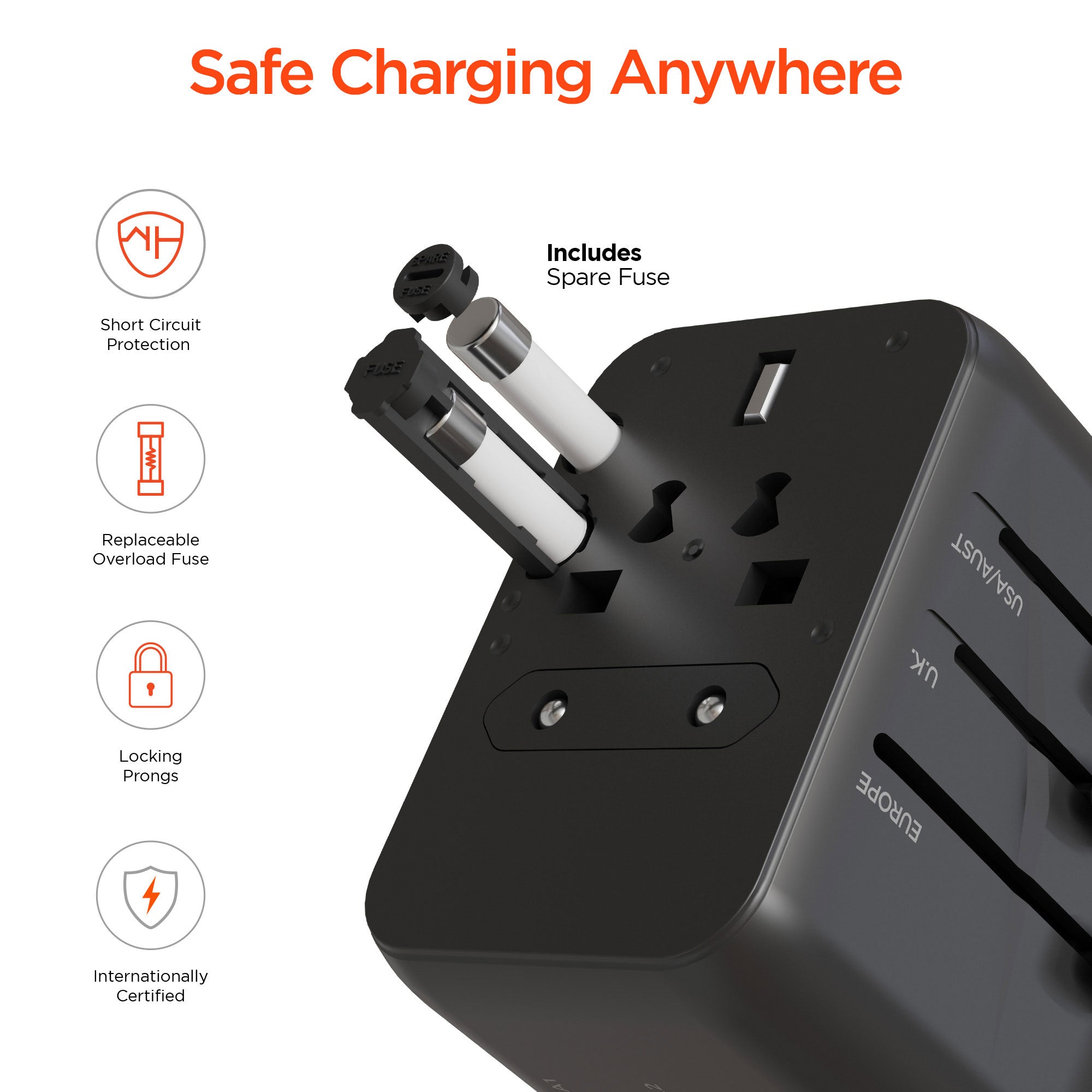 Free shipping on all US orders over $50
Orders Ship within one business day
30 Day Return Policy
Hassle-free Returns
Stay connected wherever you go! Designed to work in over 150+ countries, territories, and island regions, this 4-in-1 travel adapter combines a 15W USB-C fast charge port, two high-speed USB-A ports, and a powerfully universal AC socket into one compact, lightweight, and easily packable package.
California Prop 65 Warning
WARNING : Cancer and Reproductive Harm www.P65Warnings.ca.gov

Orders Ship within one business day

30-day Returns

Hassle-free Returns