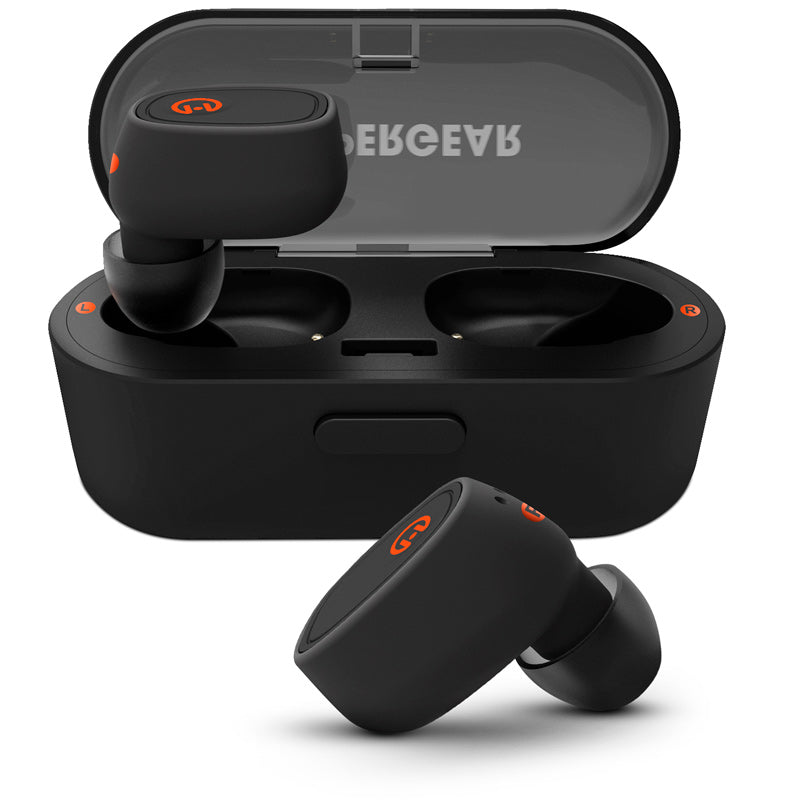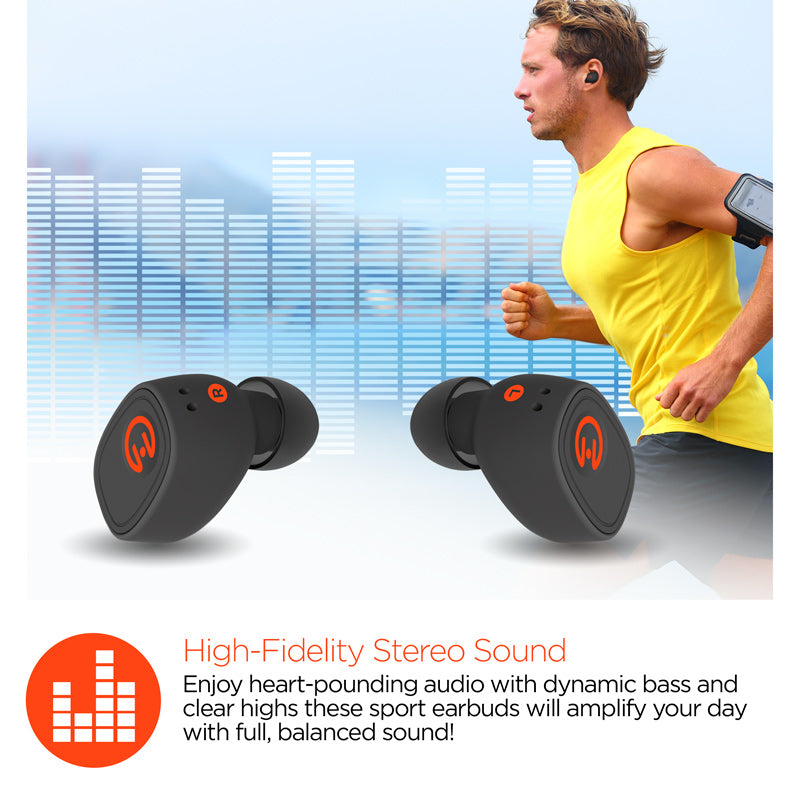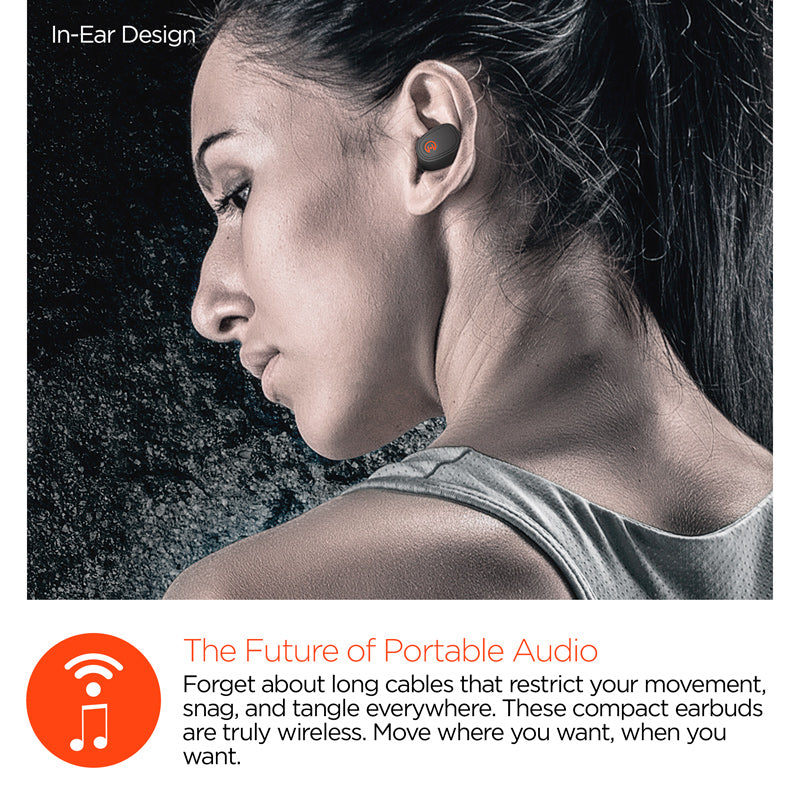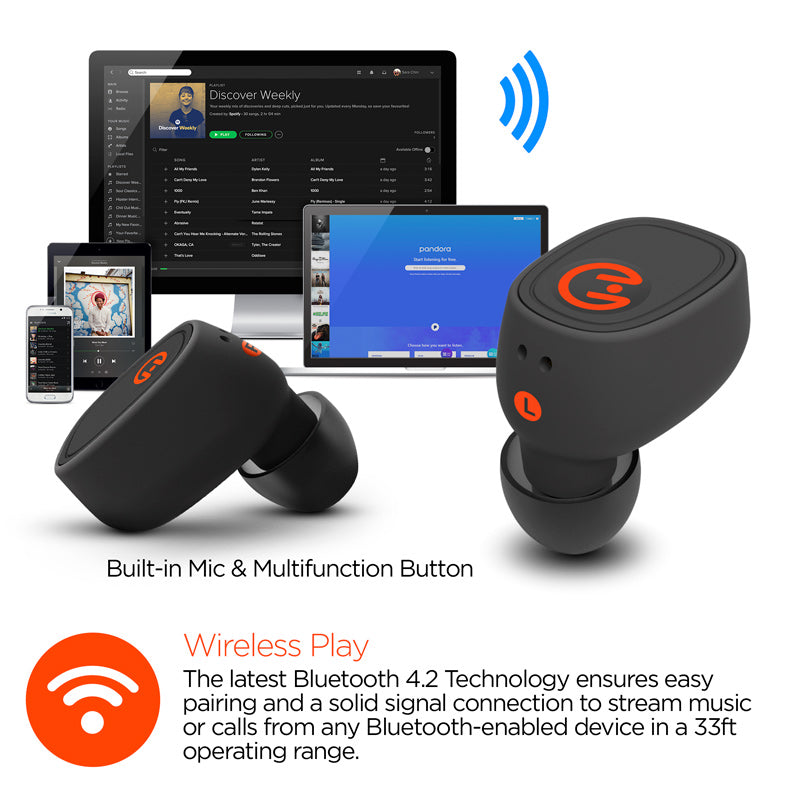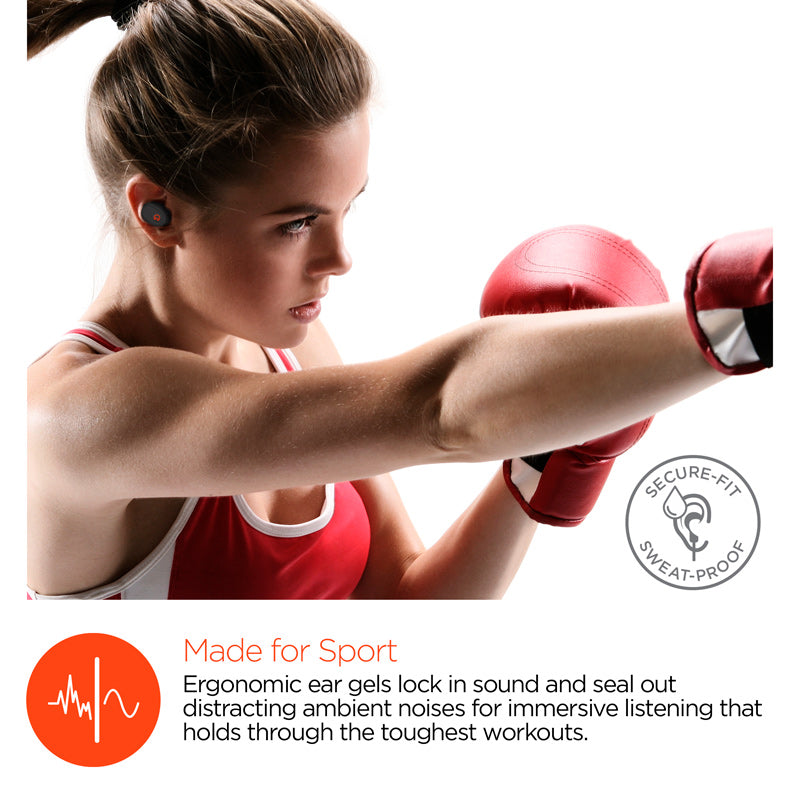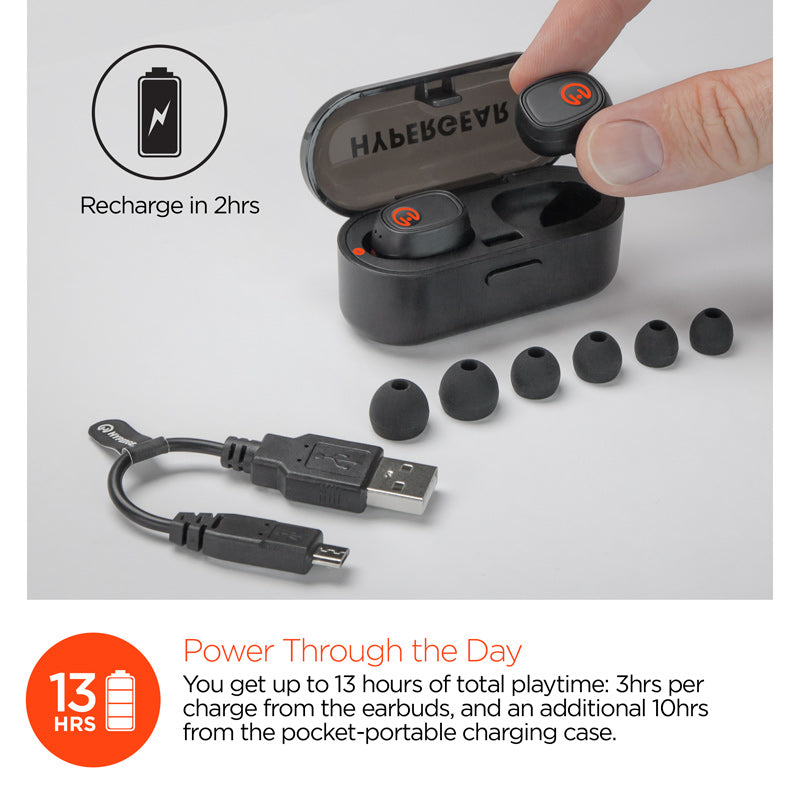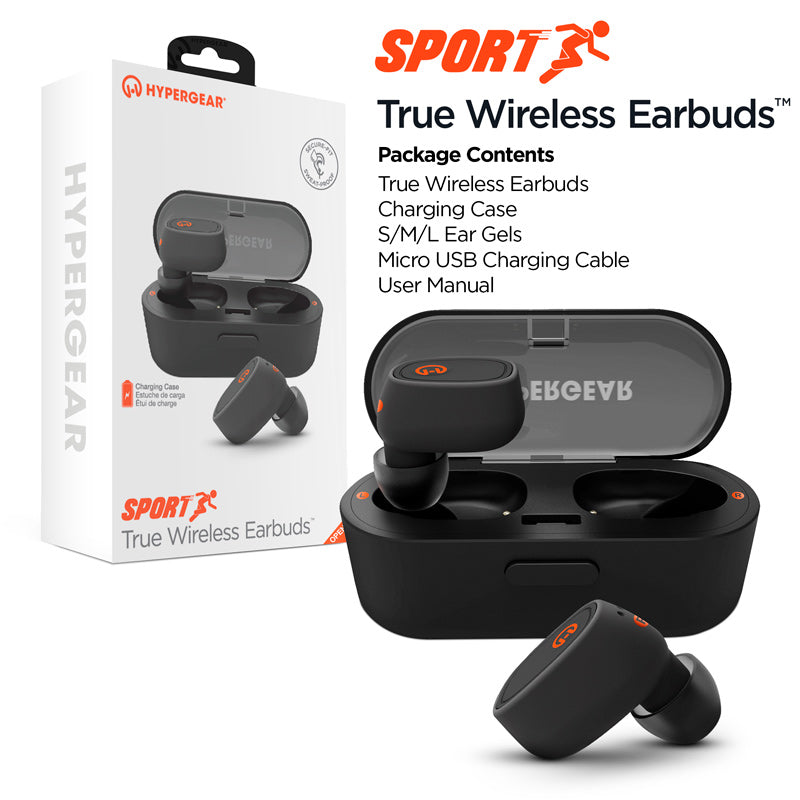 Free shipping on all US orders over $50
Orders Ship within one business day
30 Day Return Policy
Hassle-free Returns
Wireless takes on
a Whole New Meaning.
Tired of being wired? The future of portable audio is here, and it's completely wireless! True Wireless Earbuds are free from the cables, head- and neckbands of traditional headphones, giving you the freedom of unrestricted movement. Whether you're working, exercising, or simply powering through the daily to-do list, these compact earbuds offer reliable Bluetooth streaming of music and calls from any smart device for up to 3hrs on a single charge. The sleek travel case has a built-in battery that offers the convenience of on-the-go charging for an additional 10 hours of playtime. Ergonomic ear gels provide a sweatproof secure fit for maximum noise isolation and enhanced performance, while the built-in microphone and multi-function button let you manage your music and calls directly from the earbuds. Say goodbye to snags and tangles and experience sound that is made to move!
Portable
Charging Case

Quick Pair
Technology

Up to
13 hrs*

Music plus
Calls
---
Power Through the Day.
The pocket-sized travel case features a built in battery that can recharge the earbuds in between listening sessions for an additional 10 hours of playtime. Every time you stash the earbuds away, they can charge back up and be ready for round 2, 3, 4, and beyond!You get up to 13 hours of total playtime: 3hrs per charge from the earbuds, and an additional 10hrs from the pocket-portable charging case.
---
Wireless Music and Calls.
The latest Bluetooth 4.2 Technology ensures easy pairing and a solid signal connection to stream music or calls from any Bluetooth-enabled device in a 33ft operating range. Want to take or make a call, change tracks, adjust the volume? The built-in multifunction buttons let you navigate your playlist and quickly switch between music and phone calls all directly from the earbuds.
---
Made For Sport.
Made For You.
Enjoy heart-pounding audio with dynamic bass and clear highs these sport earbuds will amplify your day with full, balanced sound! Forget about long cables that restrict your movement, snag, and tangle everywhere. These compact earbuds are truly wireless--there are no dangling wires, head- or neckbands, so you have total freedom to move wherever you want, whenever you want.
---
Hold through the
Toughest Workouts.
Ergonomic ear gels lock in sound and seal out distracting ambient noises for immersive listening that holds through the toughest workouts. A special hydrophobic nano coating guards against sweat and dust. These earbuds will stick with you while you sweat it out, so you can push yourself harder and longer without holding back.
---
Guaranteed Reliability
HyperGear products are performance tested and vetted through a rigorous quality inspection process to ensure reliability. HyperGear offers friendly customer service and a Limited One Year Warranty to the original purchaser that the product shall be free of defects in design, assembly, material, or workmanship.
Package Contents:
• True Wireless Earbuds
• Charging Case
• S/M/L Ear Gels
• Micro USB Charging Cable
• User Manual
*Actual play time may vary based on sound volume and audio content
California Prop 65 Warning
WARNING : Cancer and Reproductive Harm www.P65Warnings.ca.gov
Customer review
Me like ear holes now. They make Jane Indivisble!
Customer review
They won't pair to each other I tried for two days only one pair and cuts the other connection off total waste of money
Customer review
Adquirí uno de estos audífonos pero al parecer el auricular del lado derecho no funciona... Lo primero que hice fue ponerlos a cargar pero nunca cambia la lucecita roja y al conectarlos con mi celular no emite ningún sonido.... Como me podrían ayudar
Customer review
Tengo problema con mis hypergear 14293 los compre entre agosto y septiembre del año 2019 y ya no me funciona el cargador .
Customer review
I don't have any problems with the sound quality, but the bluetooth keeps on disconnecting all the time and connects right away. It is annoying! Also the earbuds unpair with each other while using it.

Orders Ship within one business day

30-day Returns

Hassle-free Returns