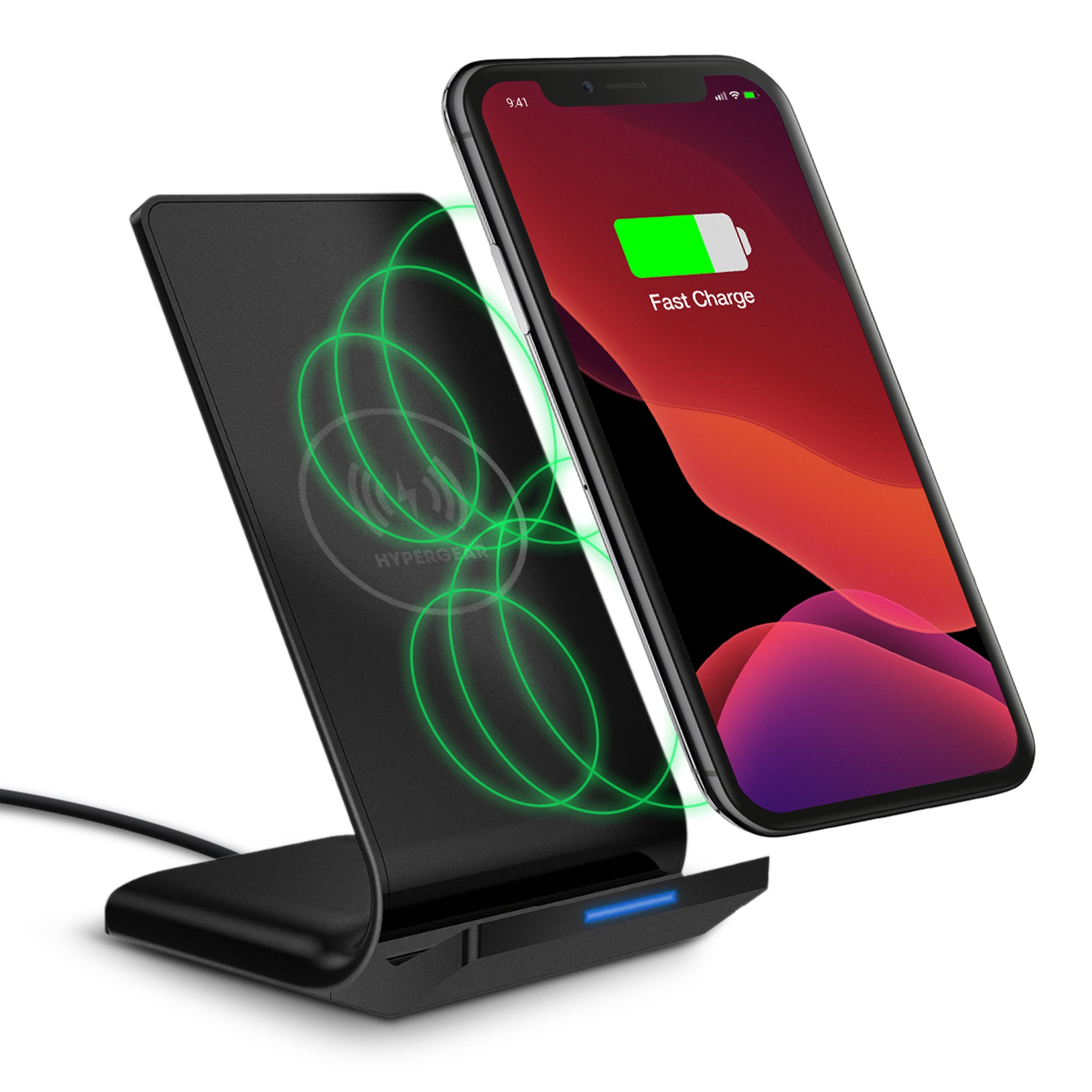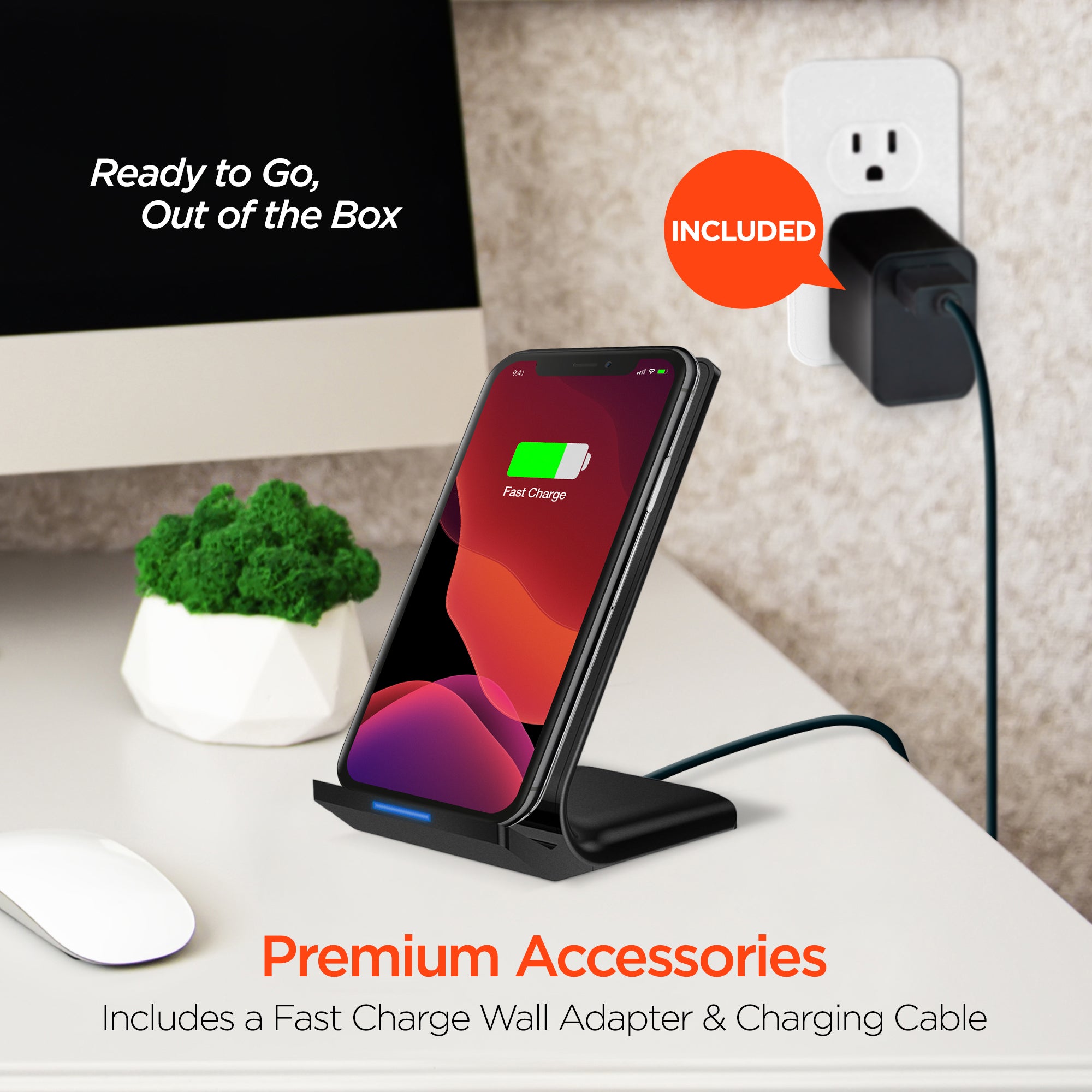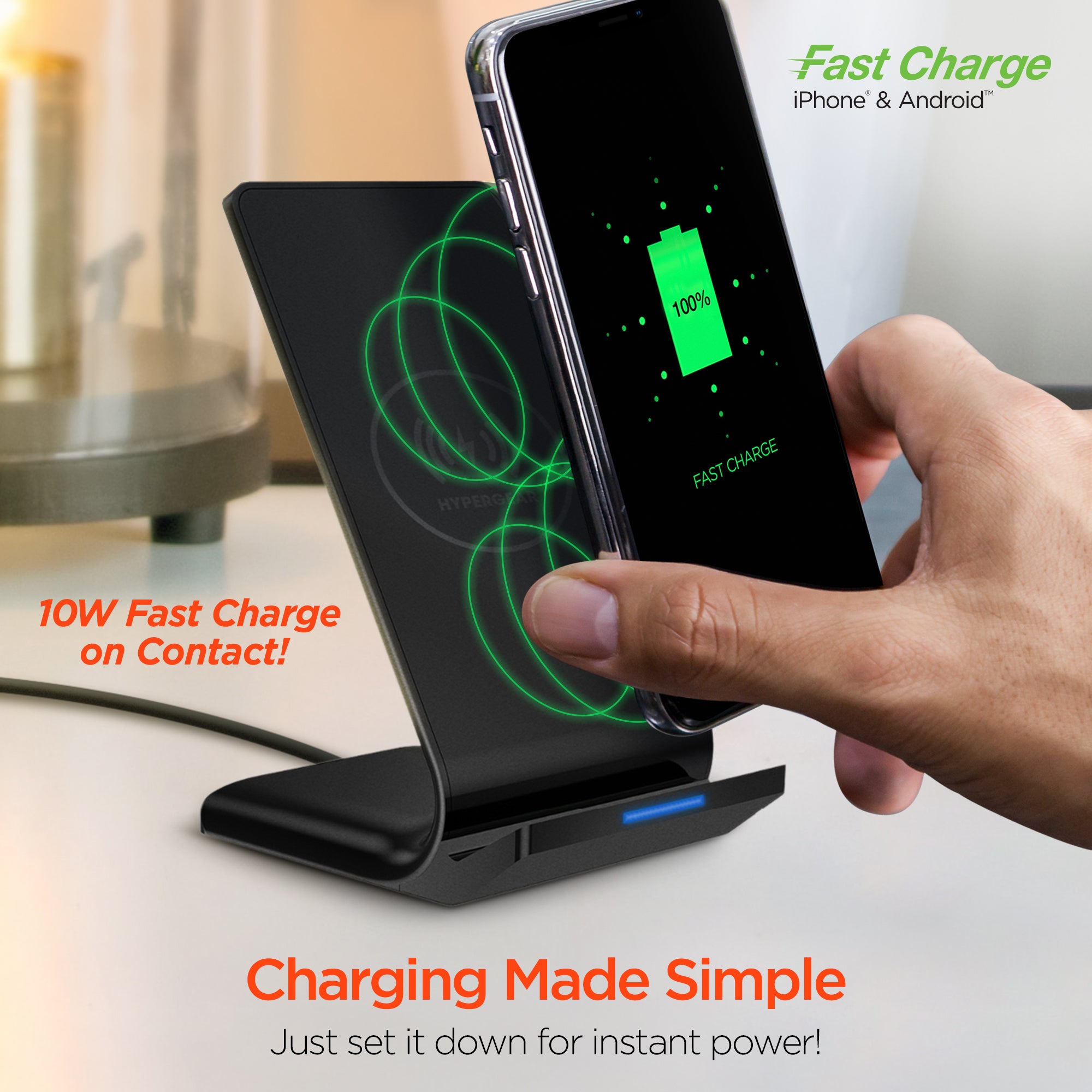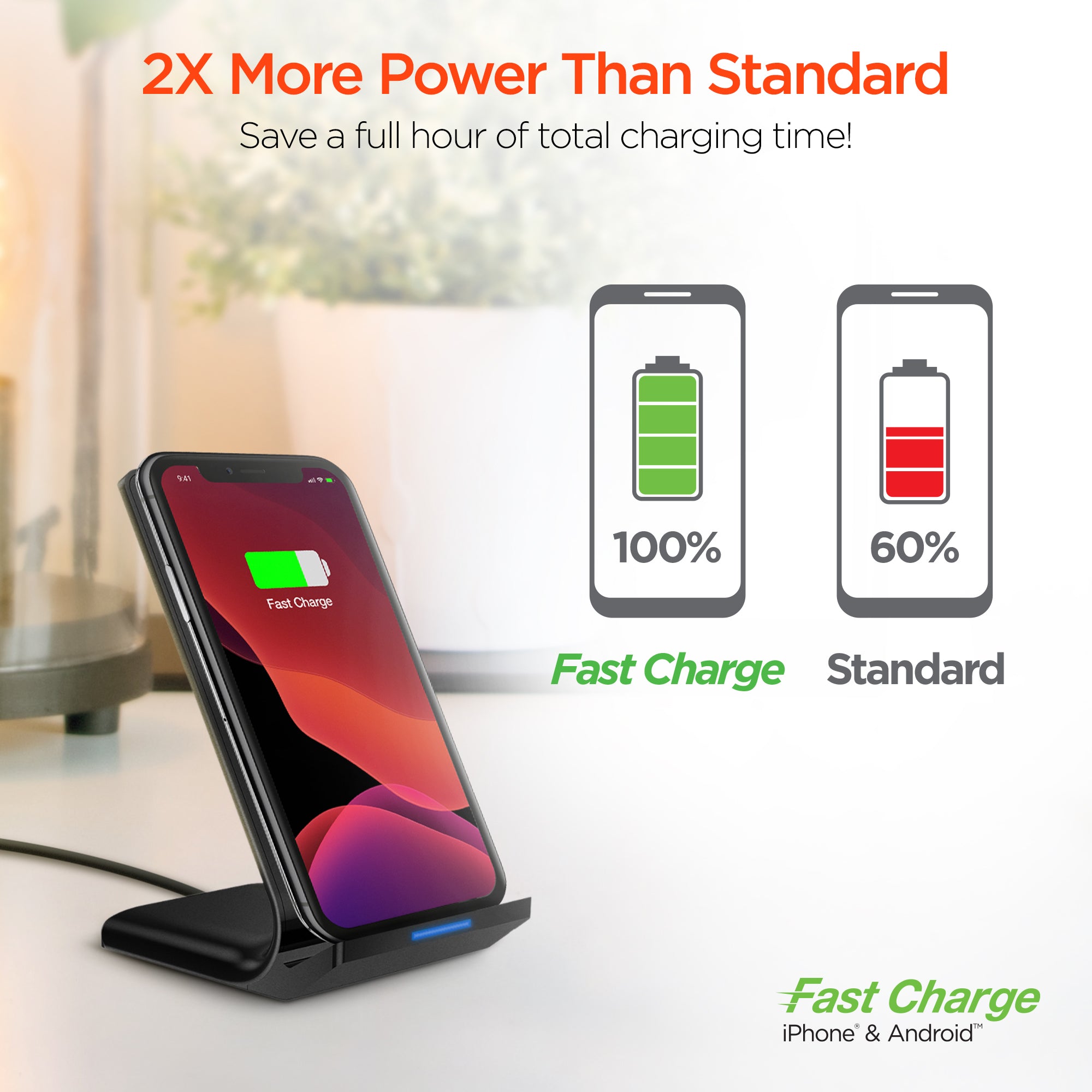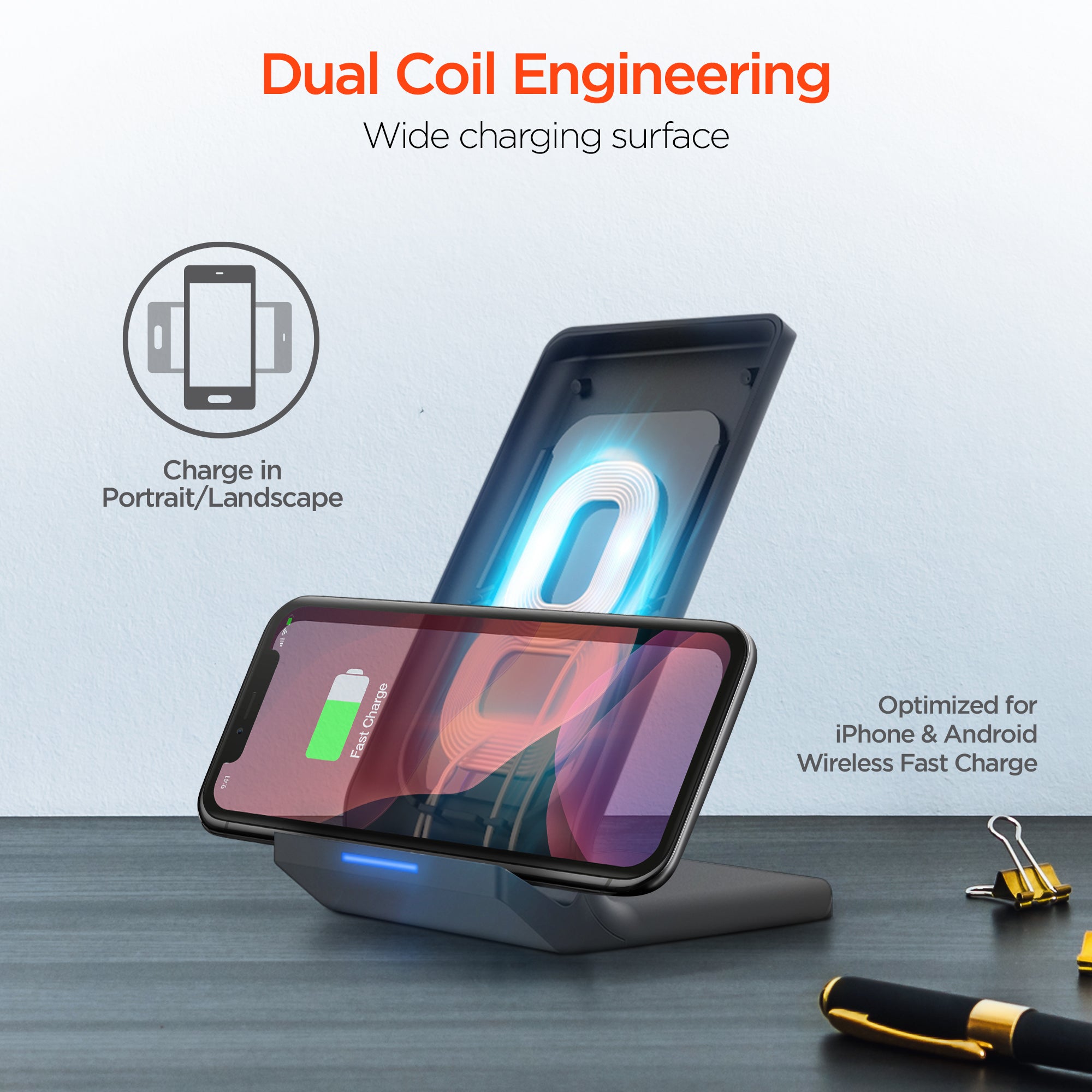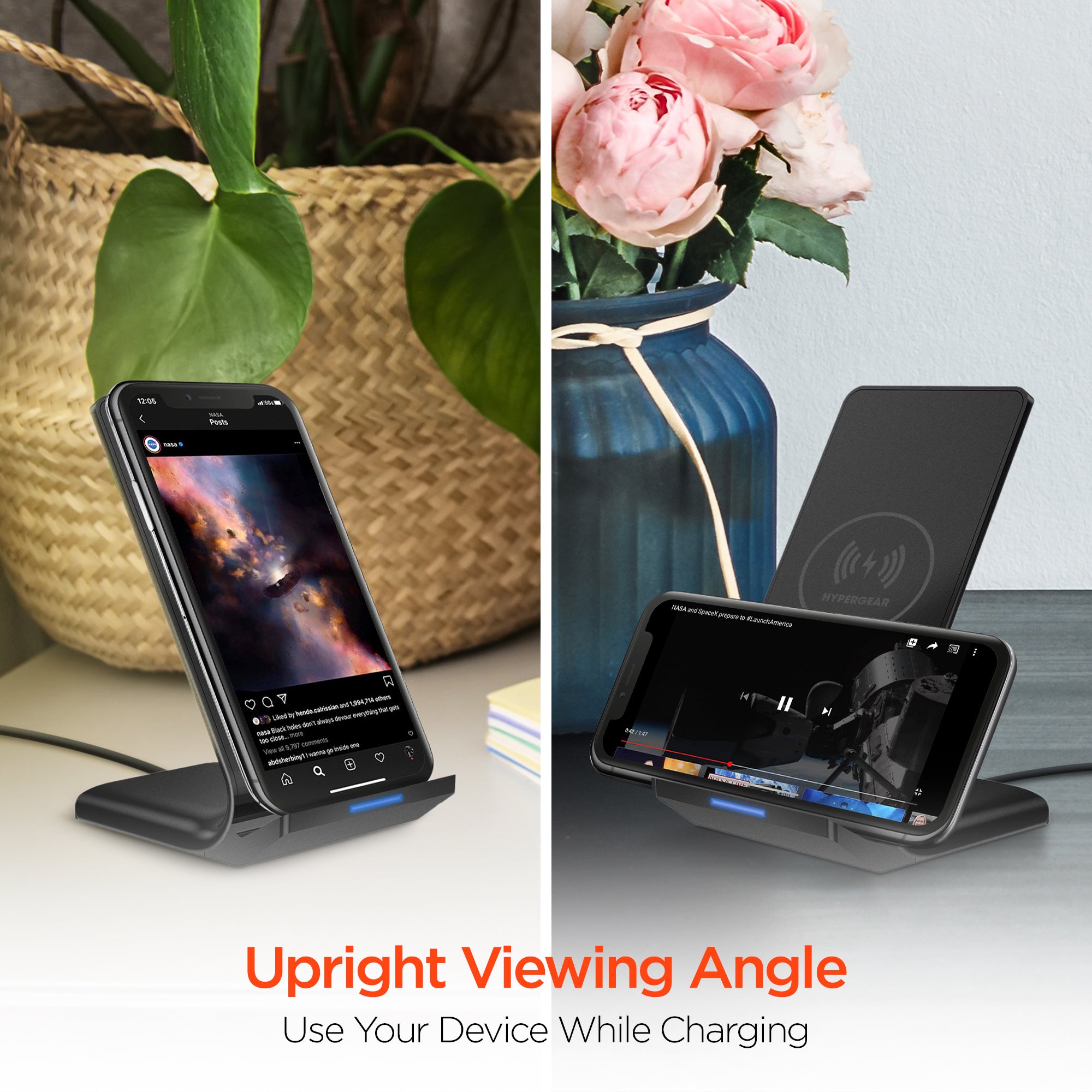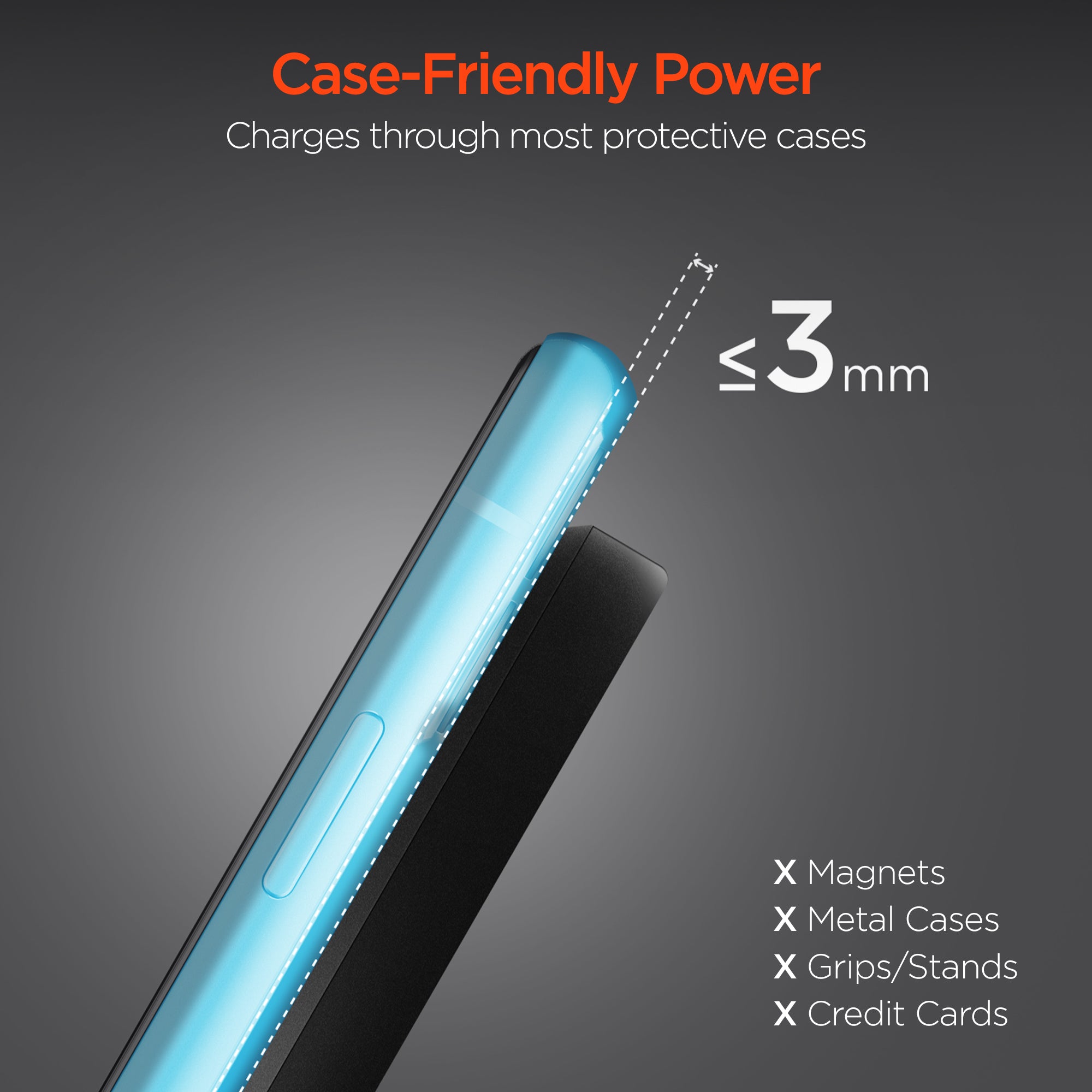 Free shipping on all US orders over $50
Orders Ship within one business day
30 Day Return Policy
Hassle-free Returns
The Future is Wireless!
Fed up with constantly plugging and unplugging charging cables? The Wireless Fast Charging Stand allows you to charge your phone without hassling with cords simply by placing it against the upright pad. It conveniently charges on contact and delivers 2X the power of a standard wireless charger, cutting down your total charging time by at least an hour!
Wireless
Fast Charge

Ventilation
Ring

Anti-Slip
Grips

Case
Compatible
---
Simplicity Perfected
 

Upright Viewing Angle

 

Use Your Device While Charging

 

Case-Friendly Power

 

Charges through most protective cases

 

 

Premium Accessories

 

Includes a Fast Charge Wall Adapter & Charging Cable

 
---
Fast Charge On Contact
Get back to 100% faster than ever before. Engineered with double the power of standard wireless and wired chargers, the 10 watt maximum output can save you a full hour of total charging time!
Made for Qi-Enabled Devices
Charge all Qi-enabled devices or devices equipped with a Qi-Enabled receiver. Qi-ready devices include the latest iPhone and Samsung Galaxy smartphones.
---
Dual Coil Engineering
Unlike most wireless chargers with just one coil, HyperGear offers two built-in coils for a wider charging area so you don't need to worry about precise placement. Your device can easily charge in portrait or landscape.
Heat-Efficient Design
Most wireless chargers can get warm while in use, the integrated ventilation ring quietly and effortlessly helps keep the device cool.
---
Charging Made Simple
This wireless charger pulls wall power directly from your outlet and pushes it into your device wirelessly– No need to plug a cable into those tiny charging ports! Just drop your device onto the pad for instant power!
Nightstand-Friendly LED
The LED power indicator is located at the foot of the stand with a discreet light that won't disturb your sleep.
California Prop 65 Warning
WARNING : Cancer and Reproductive Harm www.P65Warnings.ca.gov
Doesn't charge perfectly
I have trouble with the phone not getting charged when I put it on the charger all night long. What am I doing wrong?
Customer review
This wireless charger is really great, I can charge the phone vertically and horizontally, when I watched movies, the charger served as a stand, and I don't have to worry about my phone going out of power.
Customer review
This is a wonderful wireless charger. I have been using it since I received it. It is very easy to use as you just need to put your phone on the charger. The design of the charger is amazing as it can give you an angle that you don't need to bend down too much of your head to use it now. The sturdiness is amazing. A tip is that you can use it to clean the cables on your desk. I put my iPad charger and MBP charger through this device to hold them. It is a great value of money.
Customer review
I used it in my office and put my phone on this charger when I was working. It is quiet, and has no noise. The phone is slightly hot, but the temperature is lower than the temperature when the adapter is used directly.
Customer review
Successfully charged my iPhone Xs Max which is wrapped a very thick case. Left it charging overnight on my nightstand. My phone never got hot while it was charging. Definitely recommend this wireless charger.

Orders Ship within one business day

30-day Returns

Hassle-free Returns