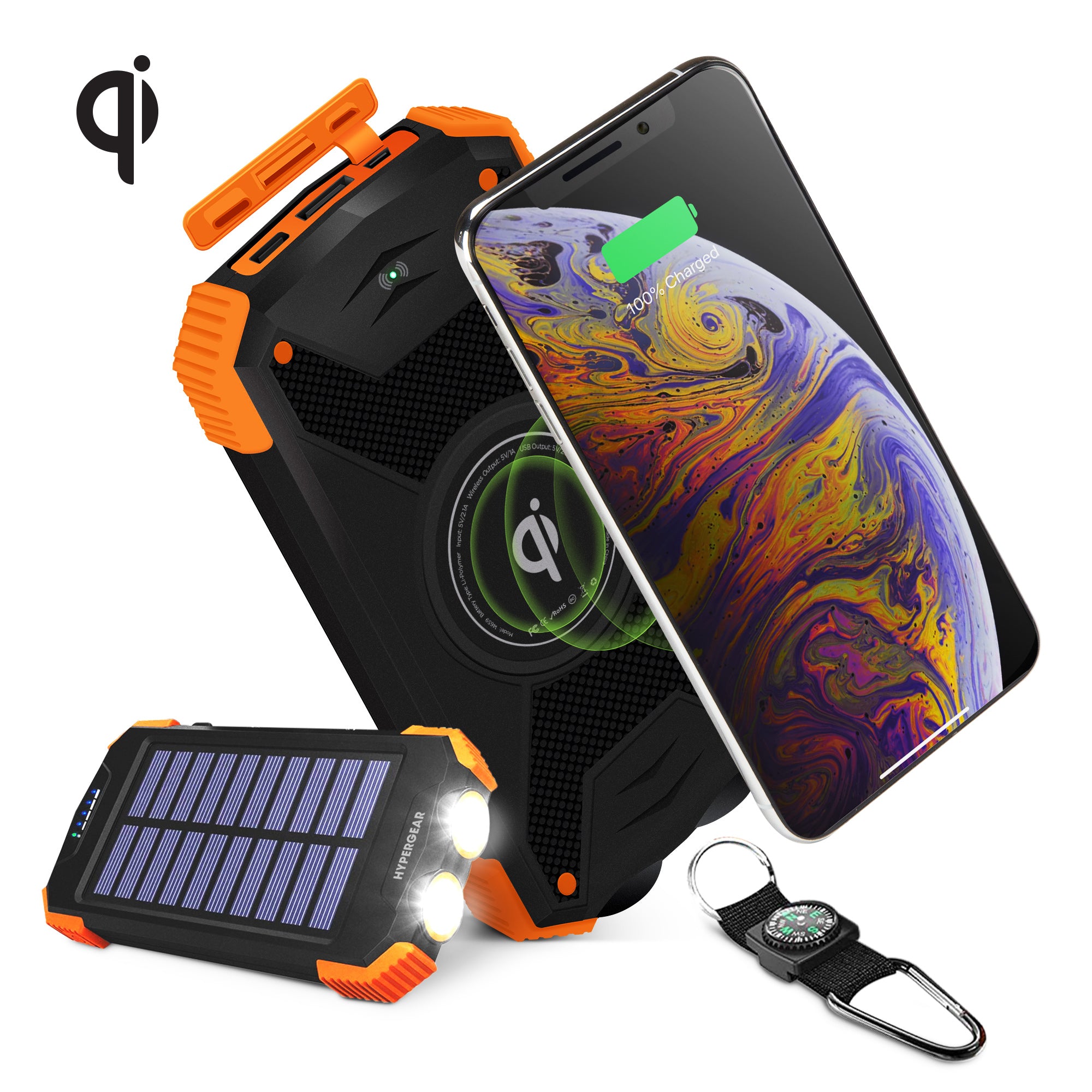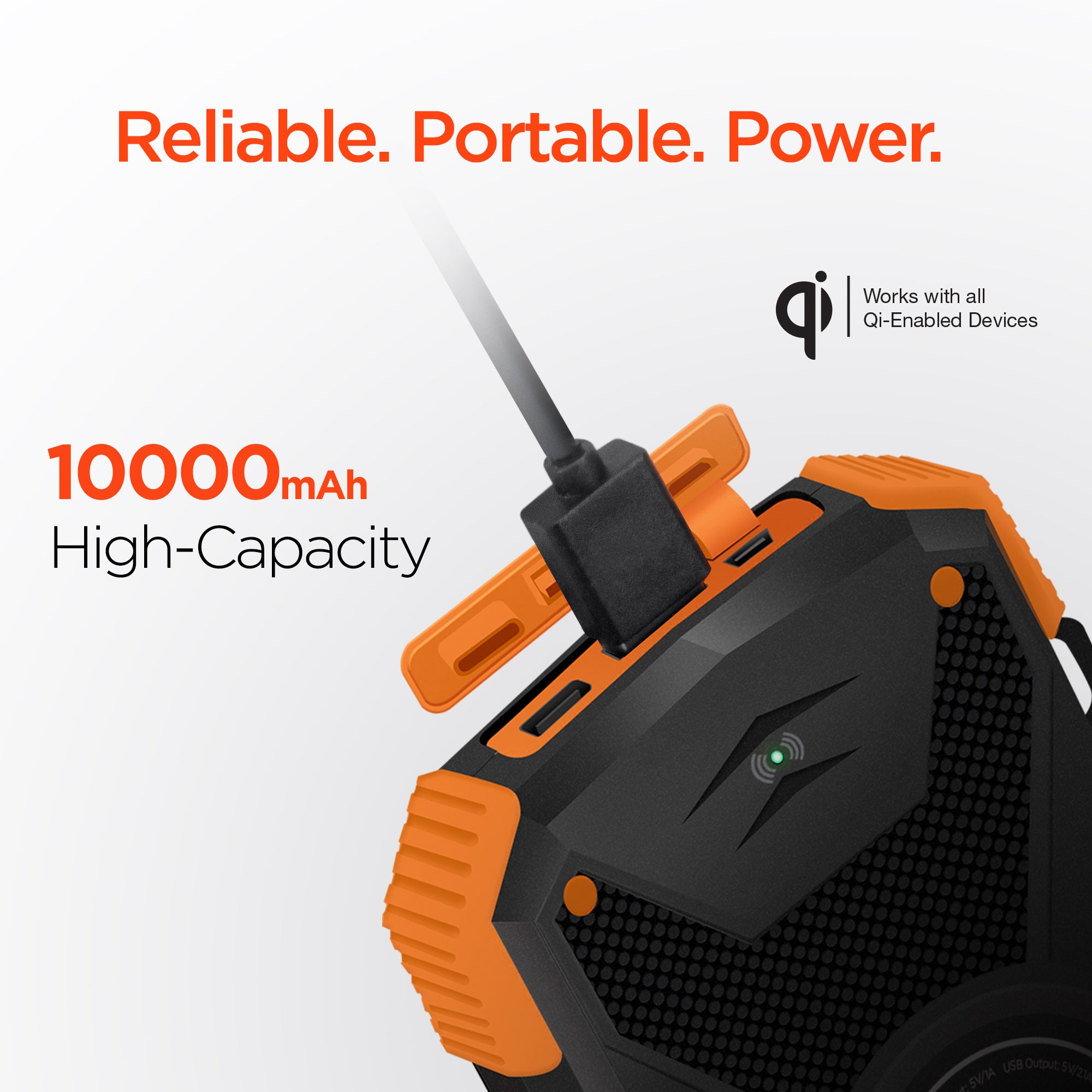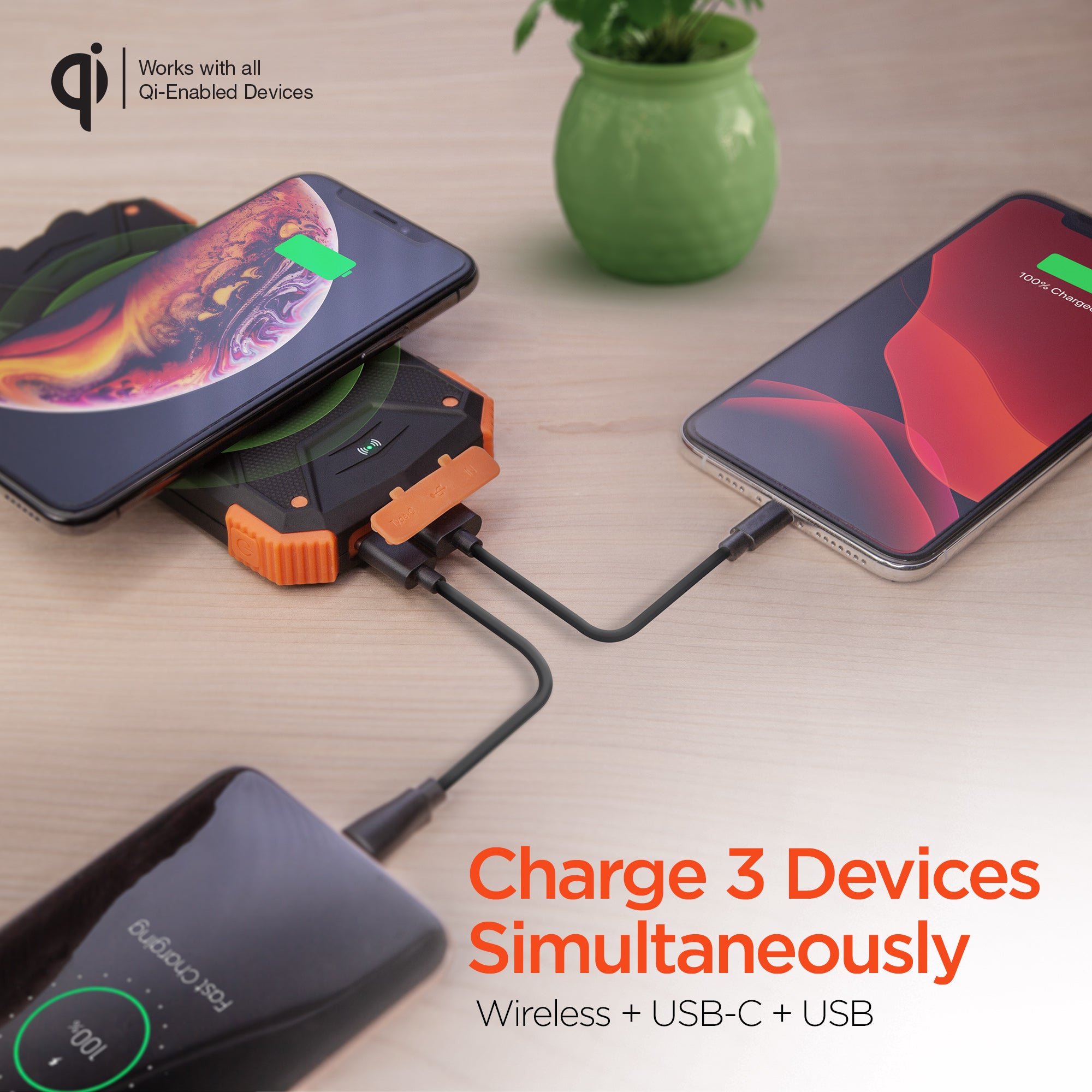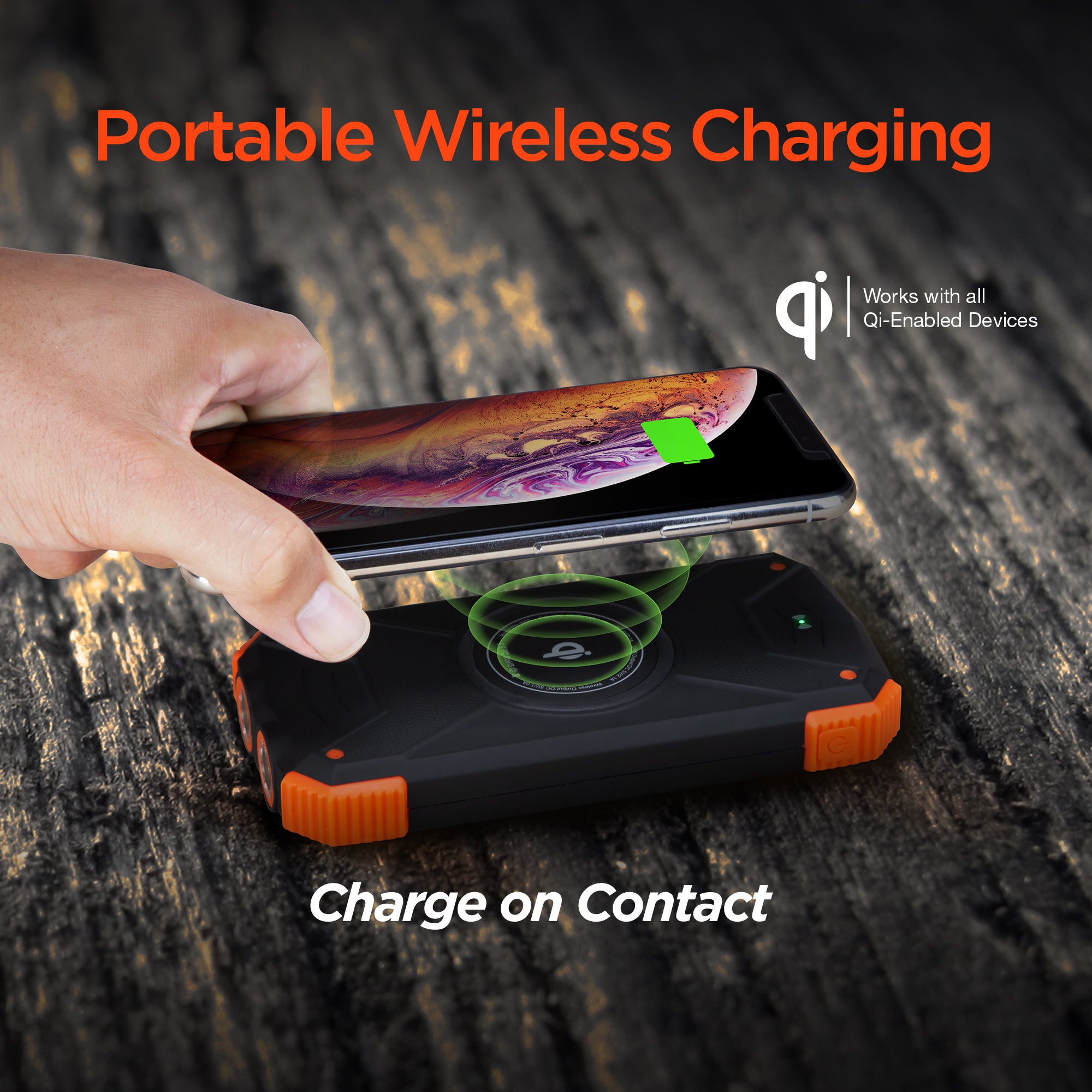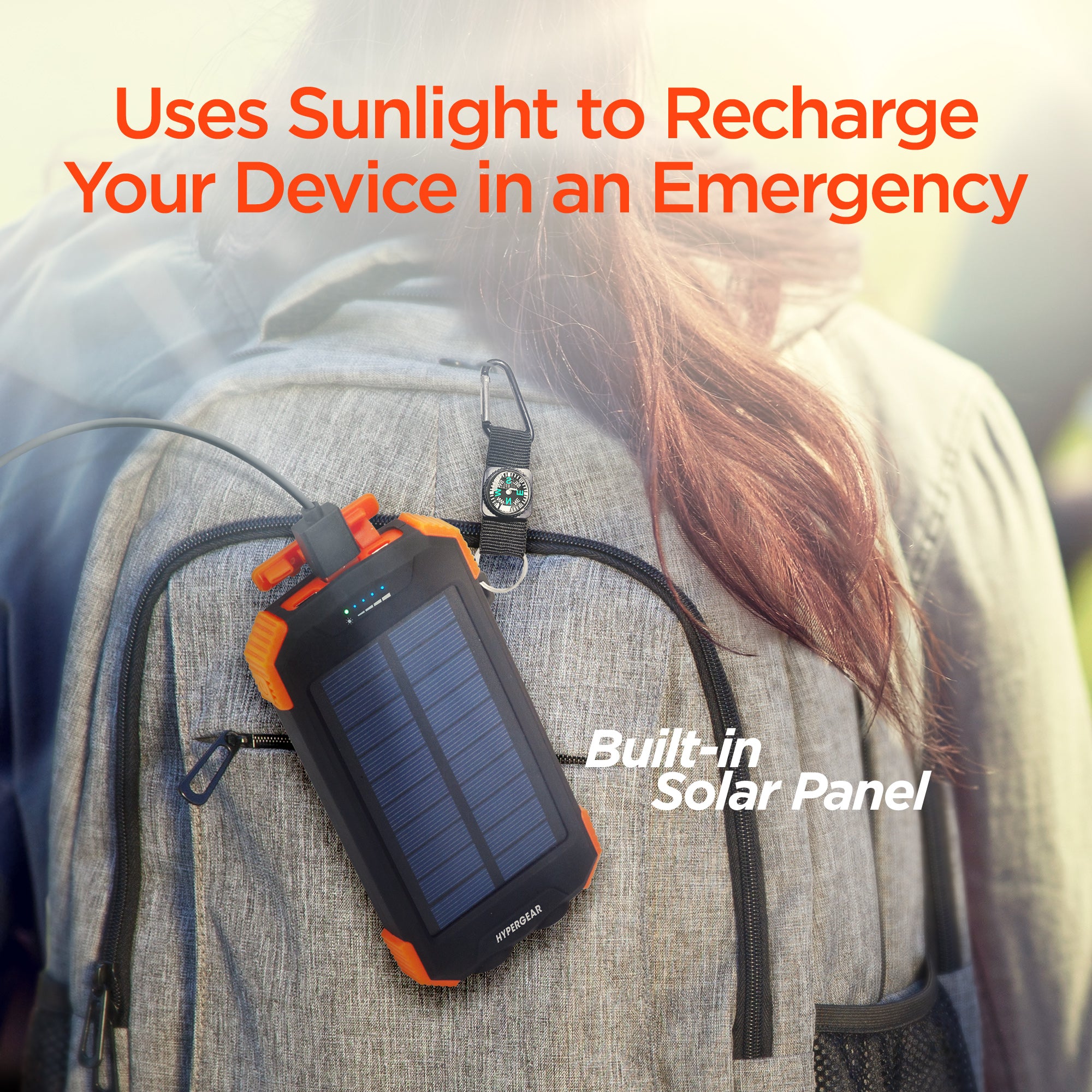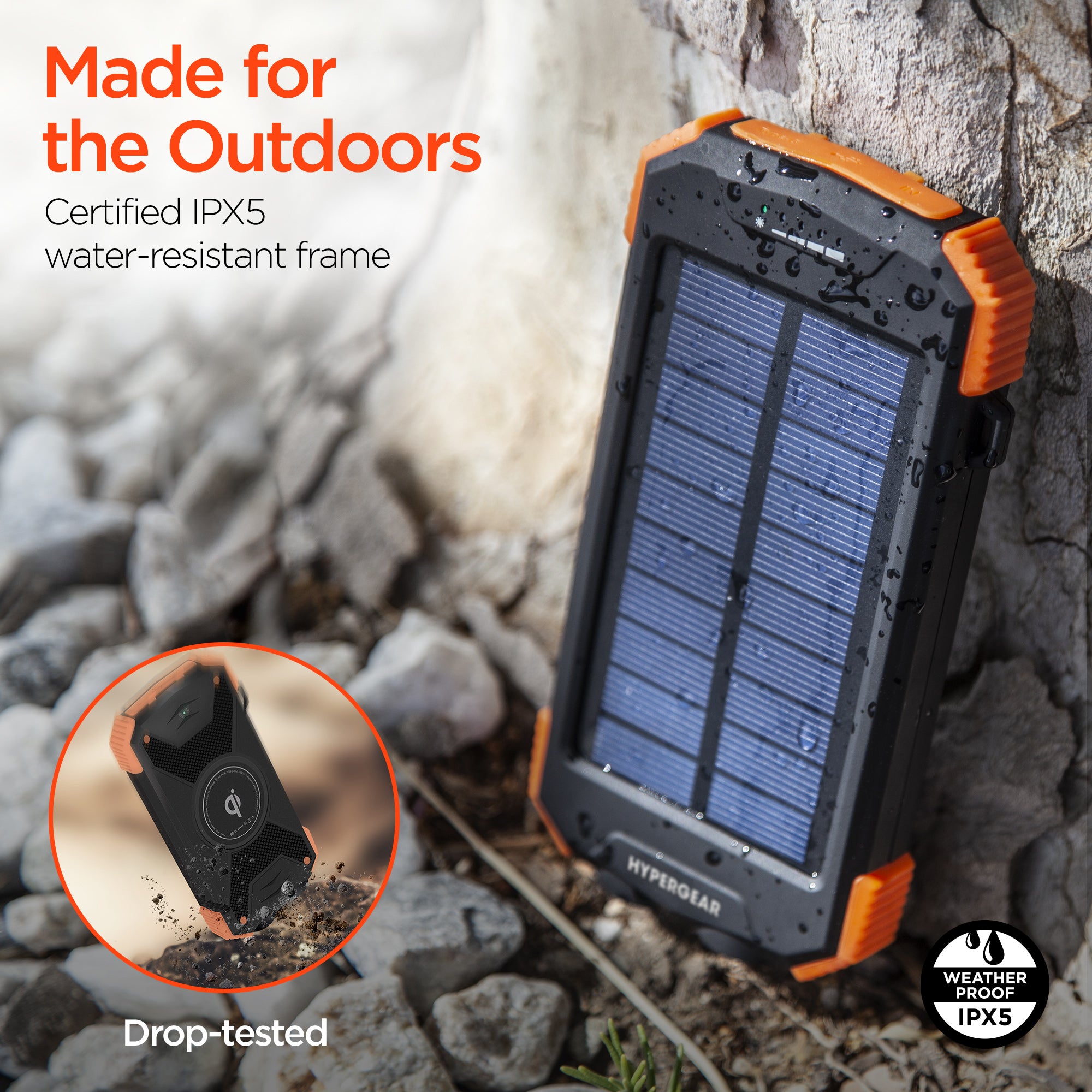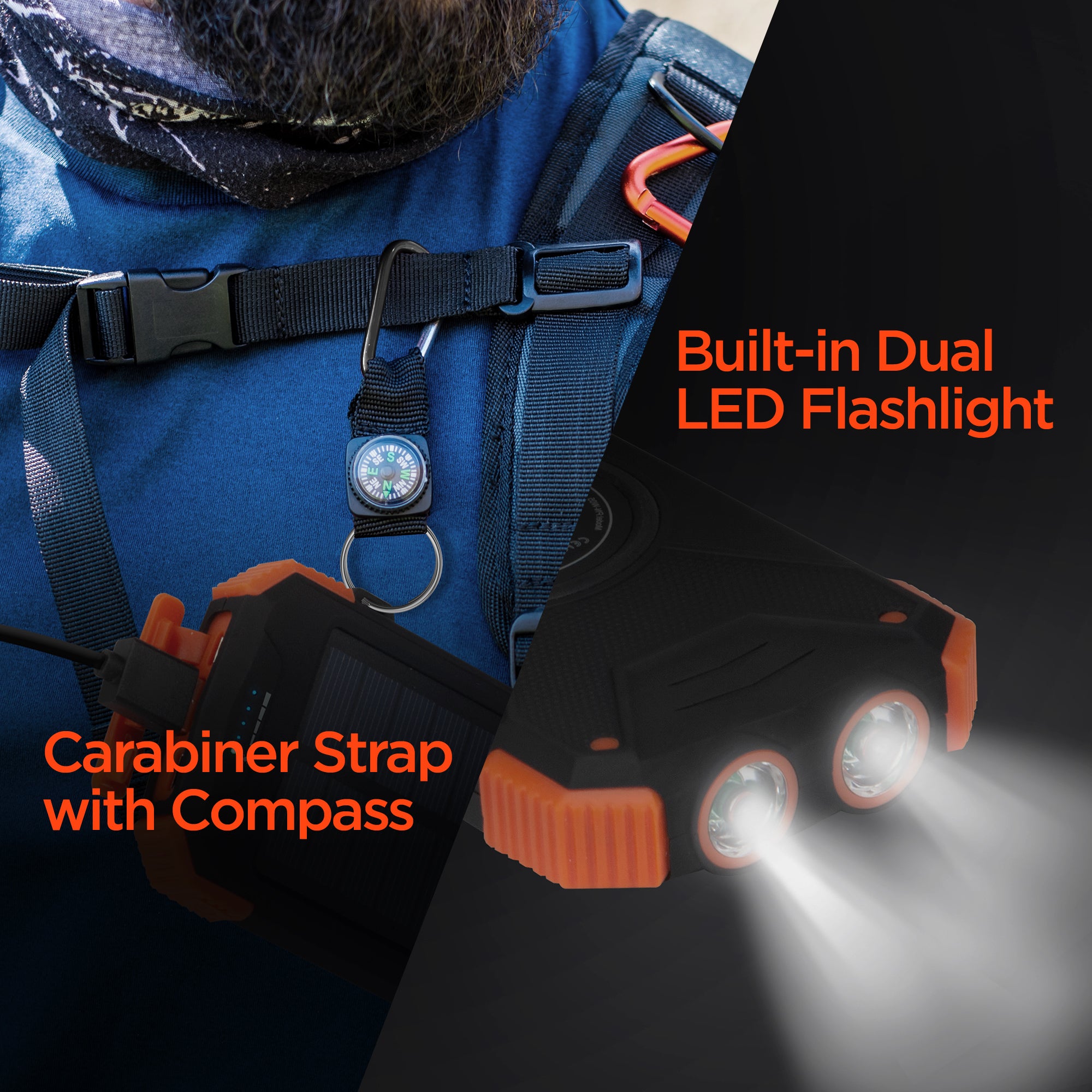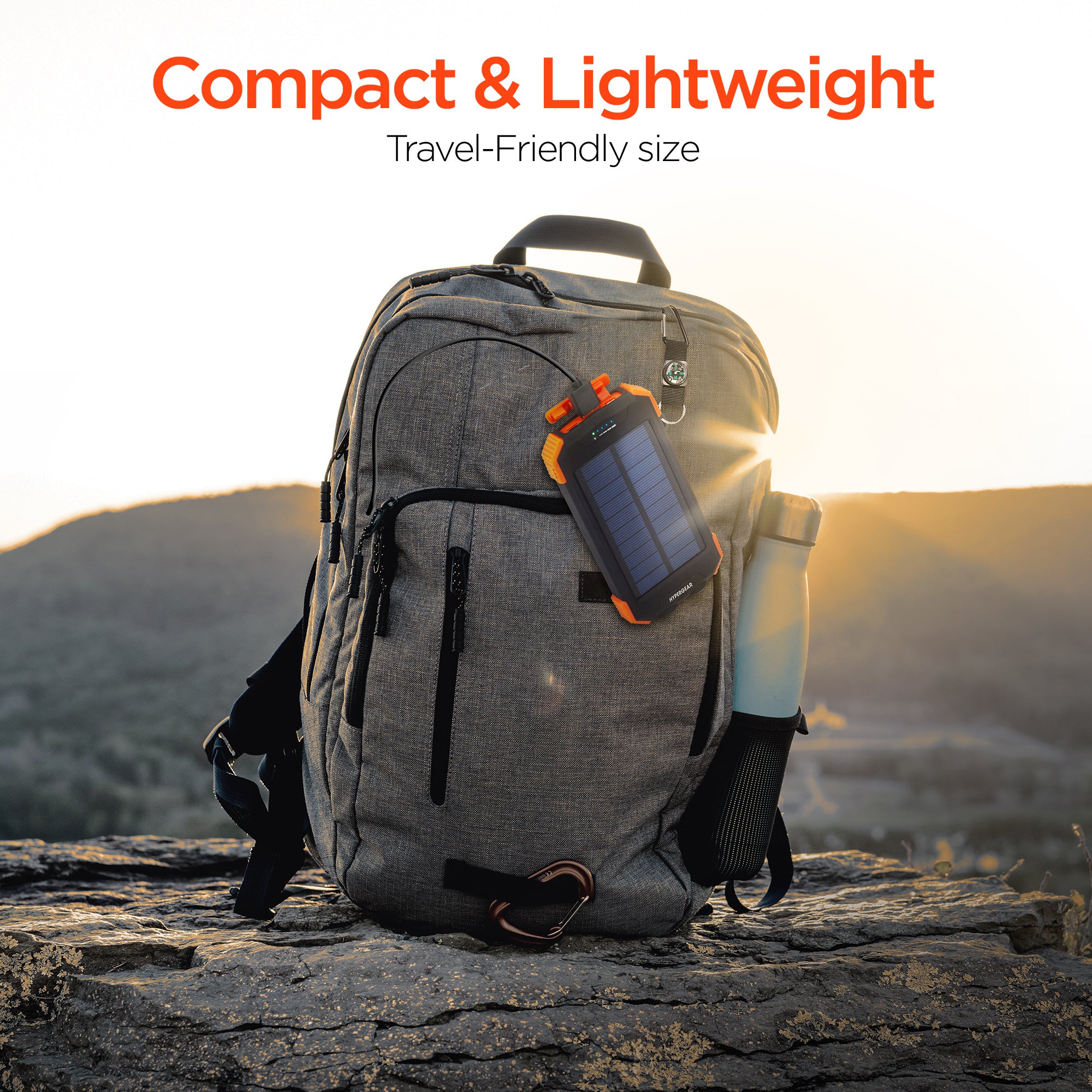 Free shipping on all US orders over $50
Orders Ship within one business day
30 Day Return Policy
Hassle-free Returns
Charge Directly From Sunlight!
Whether you're heading to a campground, beach, or just wandering around town, you need power to stay connected. Not only does this portable battery pack offer a large 10000mAh capacity, a built-in wireless charging pad and 2 high-speed USB ports, it also features a compass, LED flashlight, and a built-in solar panel for emergency recharging! It's the ultimate backup power source for any adventure.
Wireless
Charge

Charge
Simultaneously

High-Speed
USB & USB-C Output

Rapid
Recharge
---
Power Your Adventure
If you're going off the grid, frequently away from an outlet, going on a flight, or a road warrior, this 10000mAh portable powerhouse is just what you need to stay connected!
 

Made for the Outdoors

Certified IPX5
& Water-Resistant Frame

 

Built-in Solar Panel

Uses Sunlight to Recharge
Your Device in an Emergency

 

Compact & Lightweight

Travel-Friendly
Size
---
Charge 3 Devices Simultaneously
Engineered with a Qi-certified wireless charging surface, a USB-C and a standard USB port, this power bank can charge up to 3 devices at the same time.
Made for Qi-Enabled Devices
Charge all Qi-enabled devices or devices equipped with a Qi-Enabled receiver. Qi-ready devices include the latest iPhone and Samsung smartphones.
---
Universal USB Power
Engineered with a USB-C and a standard USB port, you can charge and power your favorite USB devices including Apple & Android smartphones and tablets, digital cameras, wearables and more.
Solar Powered Security
The built-in solar panel allows you to recharge the power bank using pure sunlight! Harness the power of the sun anywhere, from the park bench to the mountaintop. It's the perfect addition to your outdoor gear and emergency readiness kit.
NOTE:
The solar charging feature is for emergency back-up use only and should not be used as the main power source.
---
No Lights? No Worries!
A bright white dual LED flashlight activates with the press of a button to keep you from fumbling around in the dark. There are also two SOS strobe light modes for peace of mind in an unexpected emergency.
Ready for Adventure
Designed with drop-tested Certified IPX5 water-resistant rugged frame, this power bank is the ultimate outdoor companion. Pack it along for your next hike, picnic, or beach trip!
---
California Prop 65 Warning
WARNING : Cancer and Reproductive Harm www.P65Warnings.ca.gov
Flashlight - need to press the power button a bit harder to get it to turn on
I too had problems with the flashlight. However, it seems I needed to press the power button a bit harder. When I did that, the flashlight turned on and off as documented. Hope that helps others.
Hi CV! In order to activate the flashlight and turn it on and off, you simply do a long press each time. No need to push down harder, push hold for at least 3 seconds. Hope this helps!
Does not work as advertised
Can power my iPhone up to three times when full, but it does not charge on solar power. Have left it out in the sun for 18 hours and all it gets is hot.
WTH
Solar charger works great but how the hell do you turn on the flashlight? Maybe mine just isn't working but there only appears to be one button on the thing and it does not make the flashlight come on.
Hi Jennifer, Ther power button will also power the flashlight. Here are the steps for using the flashlight:
Long Press (2 SEC) for ON
Press again for Slow Flash
Press again for Emergency SOS Mode
Press again for Off
Long Press (2 SEC) in any light mode to turn the flashlight off
Powerfully Effective Charger
I've had a multitude of chargers but this Hypergear device is the mother of them all. I am still becoming familiar with its features but right now I am extremely impressed with a far going from 41% to 100% in record time. I am still trying to make the solar charge panel engage.
Customer review
This is a great portable power bank! It has some great features like water resistance, it is dust-proof, shatter-resistant, slip-proof (thanks to its rubber outer layer and included suction cups), and fire-proof with its flame resistant material. It is a big 10,000mah battery inside of the nice slim body of the solar charger. The fact that you can use the sun to charge it makes it one of the best power banks for portability since you don't need to be constantly attached to a wall outlet. It also has dual USB out ports one is 5 volts 1 amp and the other is 5 volts 2.1 amps for faster charging or for tablets. Overall the build quality of this solar charger is great and now I don't have to worry about running out of juice while on.

Orders Ship within one business day

30-day Returns

Hassle-free Returns