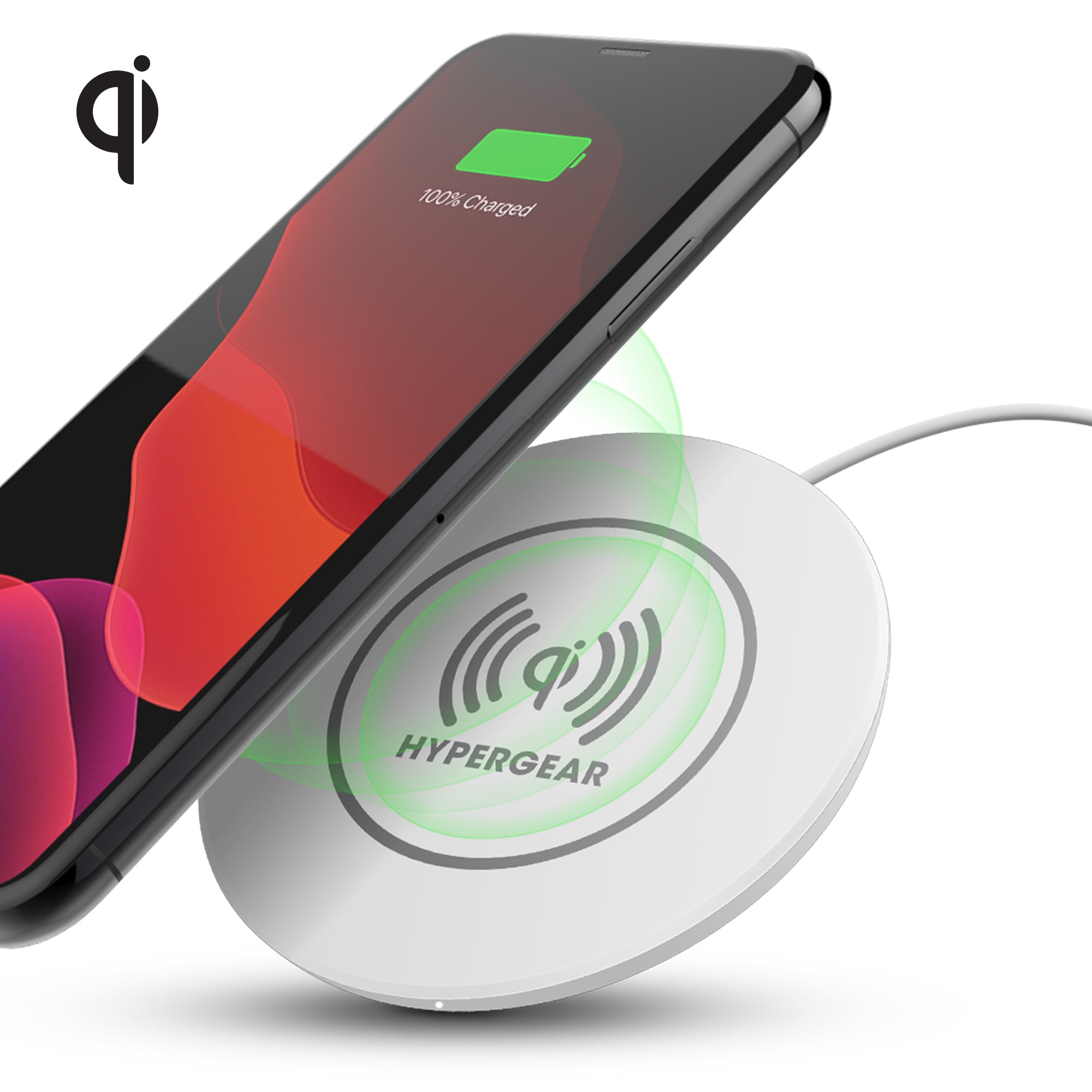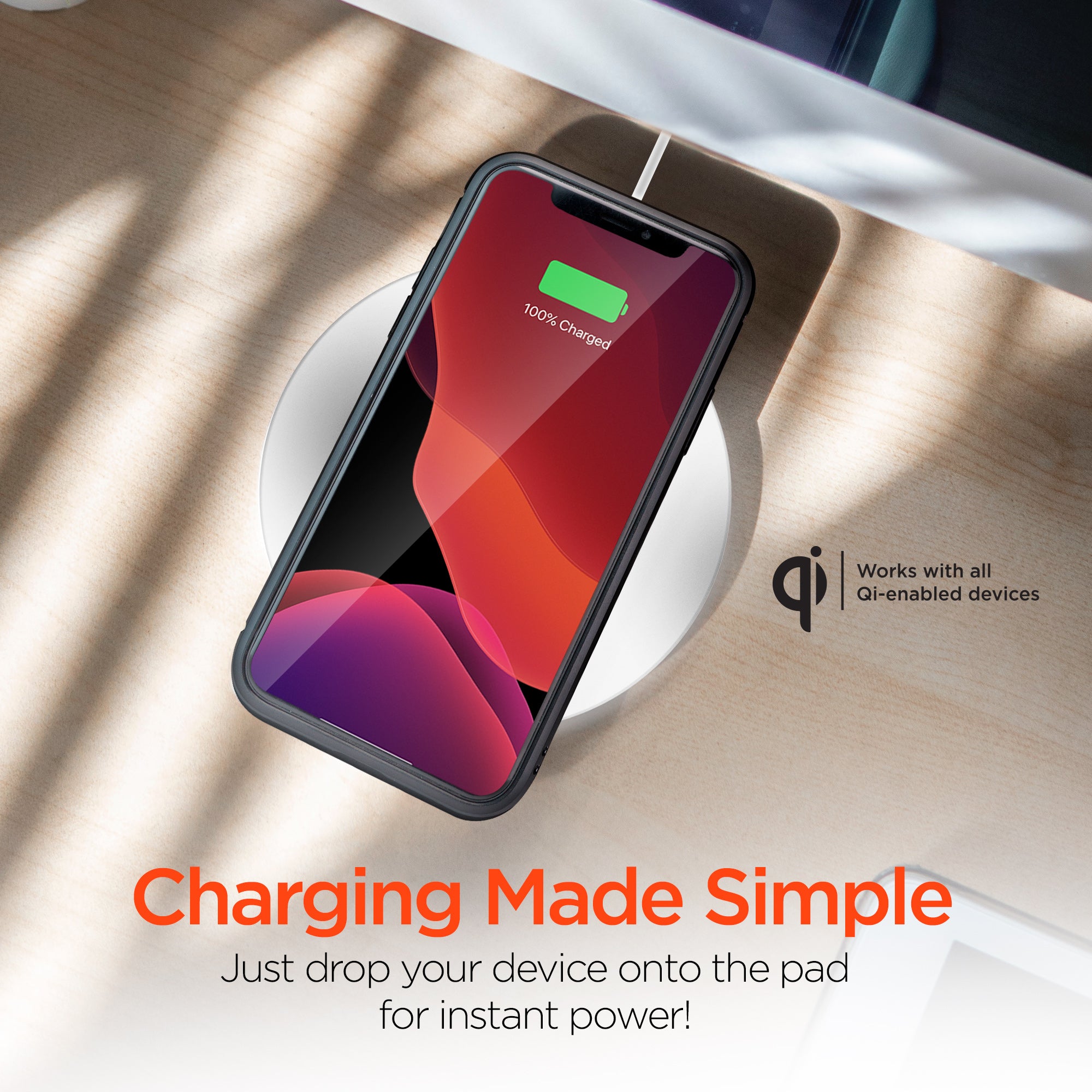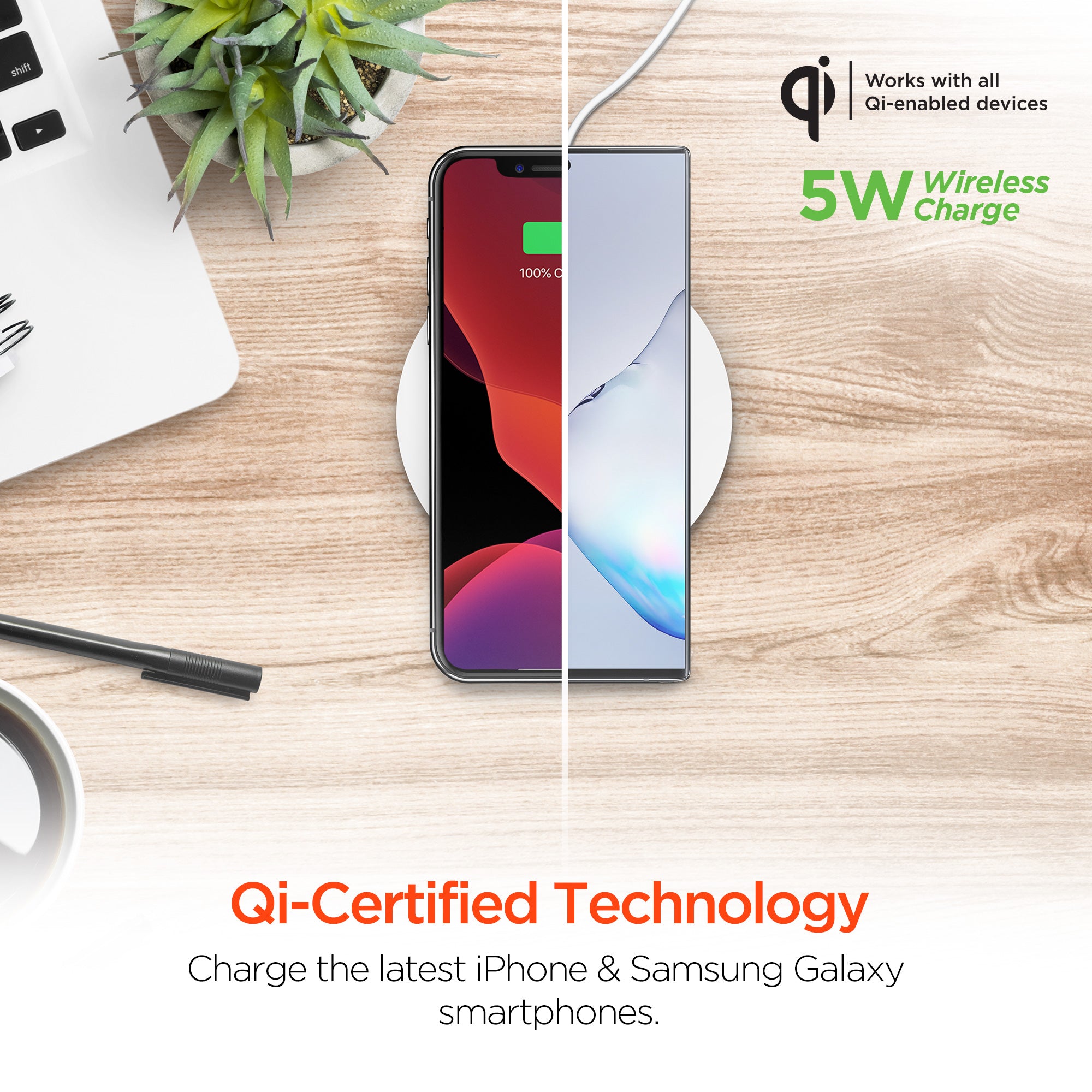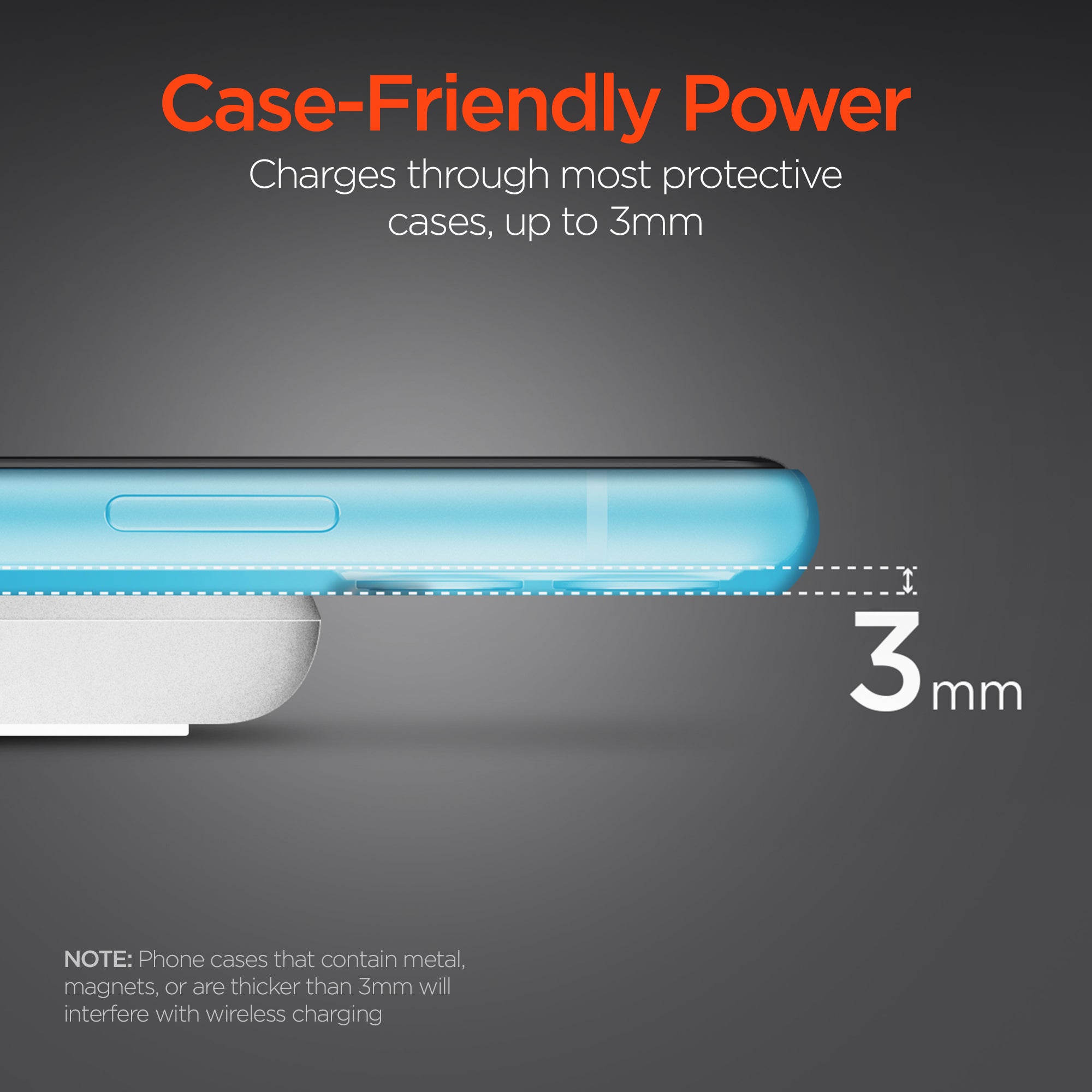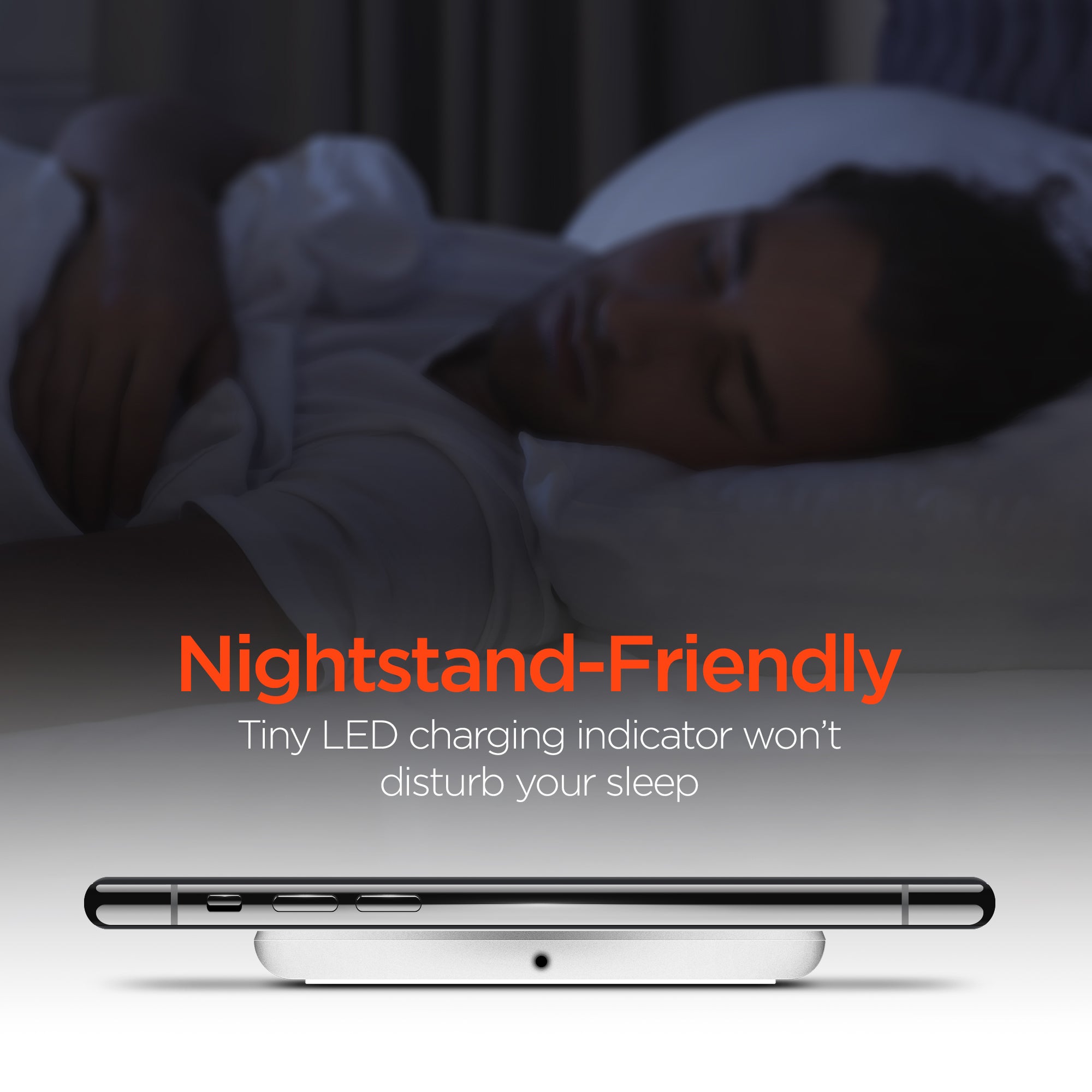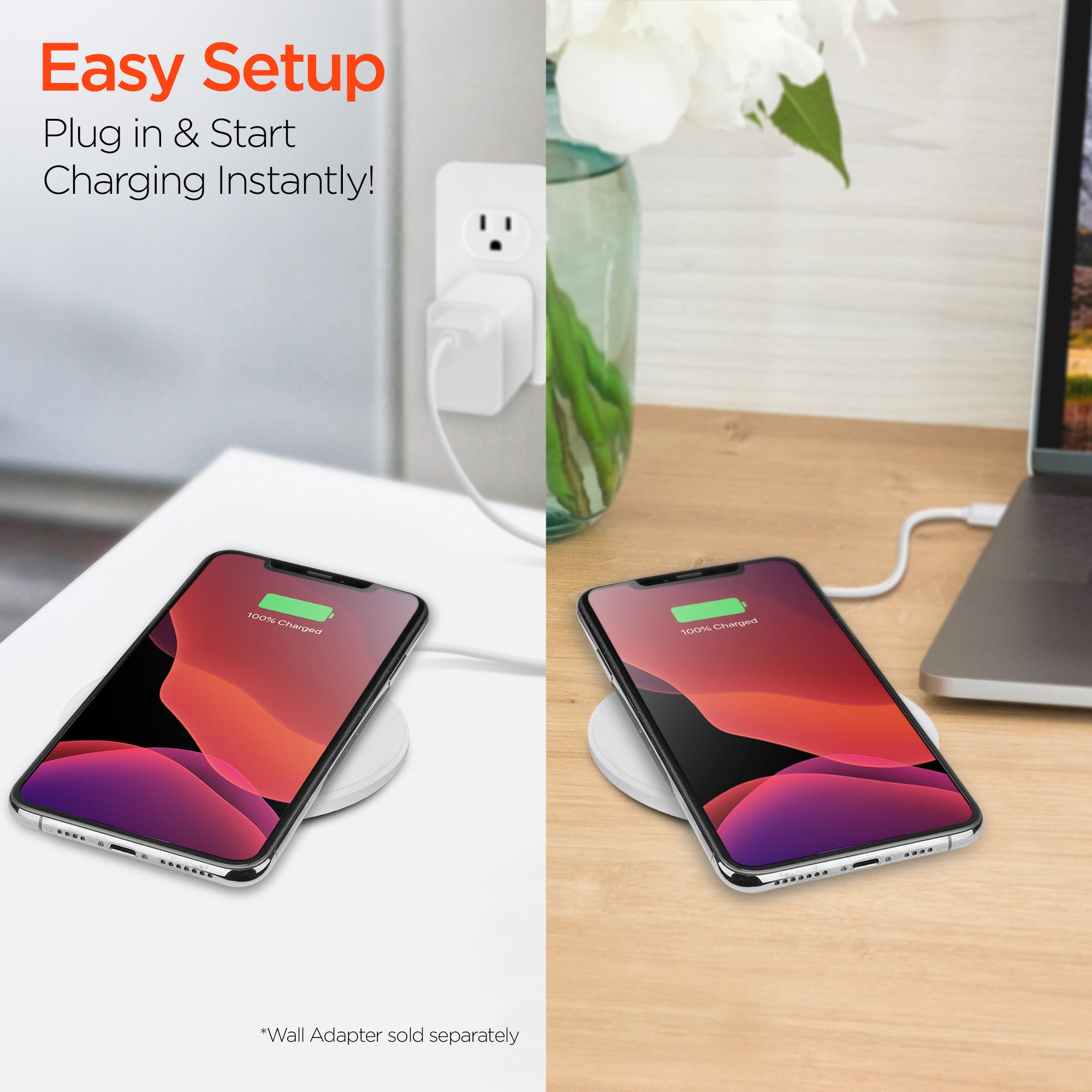 Free shipping on all US orders over $50
Orders Ship within one business day
30 Day Return Policy
Hassle-free Returns
Simplify Your Charging Habits
Simplify your charging habits. No more plugging and unplugging charging cables everytime you need to step away from your desk or table, just set your Qi-enabled device on the Wireless Charging Pad to charge on contact and pick it up when you're ready to go! The ultra-slim charger is a sleek and practical addition to any desk or tabletop.
Wireless
Output

Case
Compatible

LED
Indicator

Quiet
Operation
---
Qi Certified Technology
Charge all Qi-enabled devices or devices equipped with a Qi-enabled receiver. Qi-ready devices include the latest iPhone and Samsung Galaxy devices.
---
Charge On Contact
No need to constantly plug and unplug charging cables each time you want a power boost. This charger is always ready to deliver wireless power. Just drop your phone onto the pad to immediately start charging!
---
Case-Friendly Power
There is no need to remove your device from its case every time you need to power up. This charger is designed to work through most protective cases, up to about 3mm.
---
Nightstand-Friendly
The tiny LED charging indicator light won't cast a sleep disturbing light, so it can conveniently rest by your bedside table.
---
Ready to Charge
This charger includes a 3ft Micro USB cable, so you can plug in and start charging right out of the box. Note:Wall Adapter sold separately.
---
California Prop 65 Warning
WARNING : Cancer and Reproductive Harm www.P65Warnings.ca.gov
Customer review
With the development of technology in recent years, it is very common to have more than one cellphones like me and my girl. Sometimes we have to take more than one charger with us when traveling or business trip, especially we literally rely on our cellphone for everything. Making phone call, taking picture, using all different app, playing game, watching video, etc. you name it. So that is the reason I bought this wireless charger. It works very well. It is small, light and easy to carry. I usually put it together with my laptop. And it is very quick to fully charge both of my cellphone, which is very fabulous. I like it and am more than willing to buy another one for my girl soon. Thank you!
Customer review
I have arthritis and have had trouble charging my with the plug in attachment and it was even worse taking out the charger cord. Hated when I had to charge my phone. The ease of charging my phone with this wonderful device is fantastic. Charge actually seems to last longer than before. Love love love this. WILL NEVER GO BACK TO OTHER CHARGERS!!!! Just place my phone on device and walk away. Just pick up phone and go when done.
Customer review
Awesome charger! Much slimmer than my Samsung version. I bought this for a mod on my Toyota Tacoma... now I have wireless charging in the console. I liked it so much that I purchased another.
Customer review
I ABSOLULTELY LOVE THIS CHARGER. I have a galaxy note 7. I use it for both work travel and at my desk. It is so much easier to use then plugging in to the mini usb socket that always seems to come unplug or wear out. I keep it on my desk most of the time. It makes it easy to keep my phone charged. I also use this while I am traveling. With the USB connection it easily fits in to most night stands at the hotels I stay in to. I used this once during a trade show where I was in charge of a booth. It made it easy to continually charge my phone while I was using it as a scanner app and I needed to constantly charge my phone.

Orders Ship within one business day

30-day Returns

Hassle-free Returns