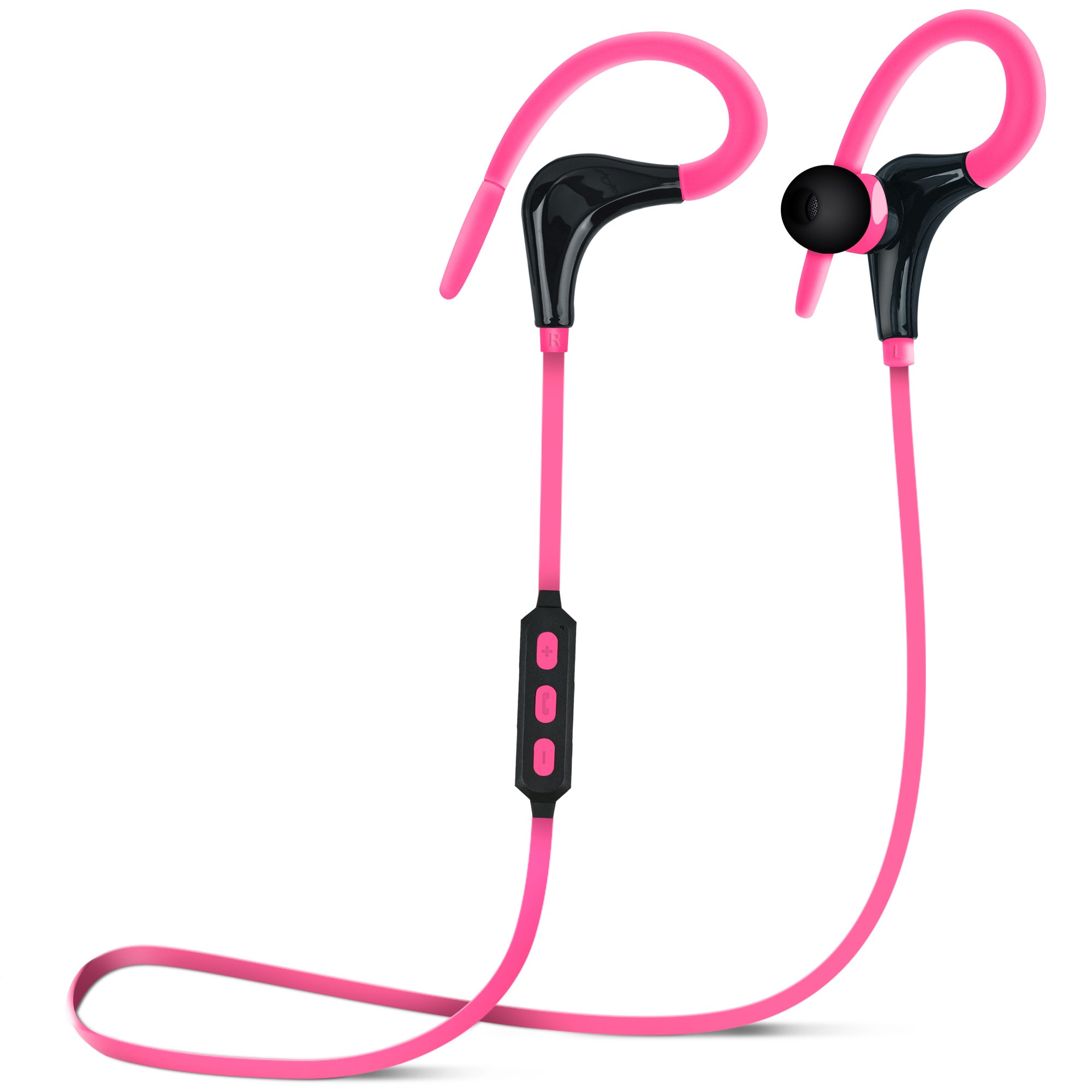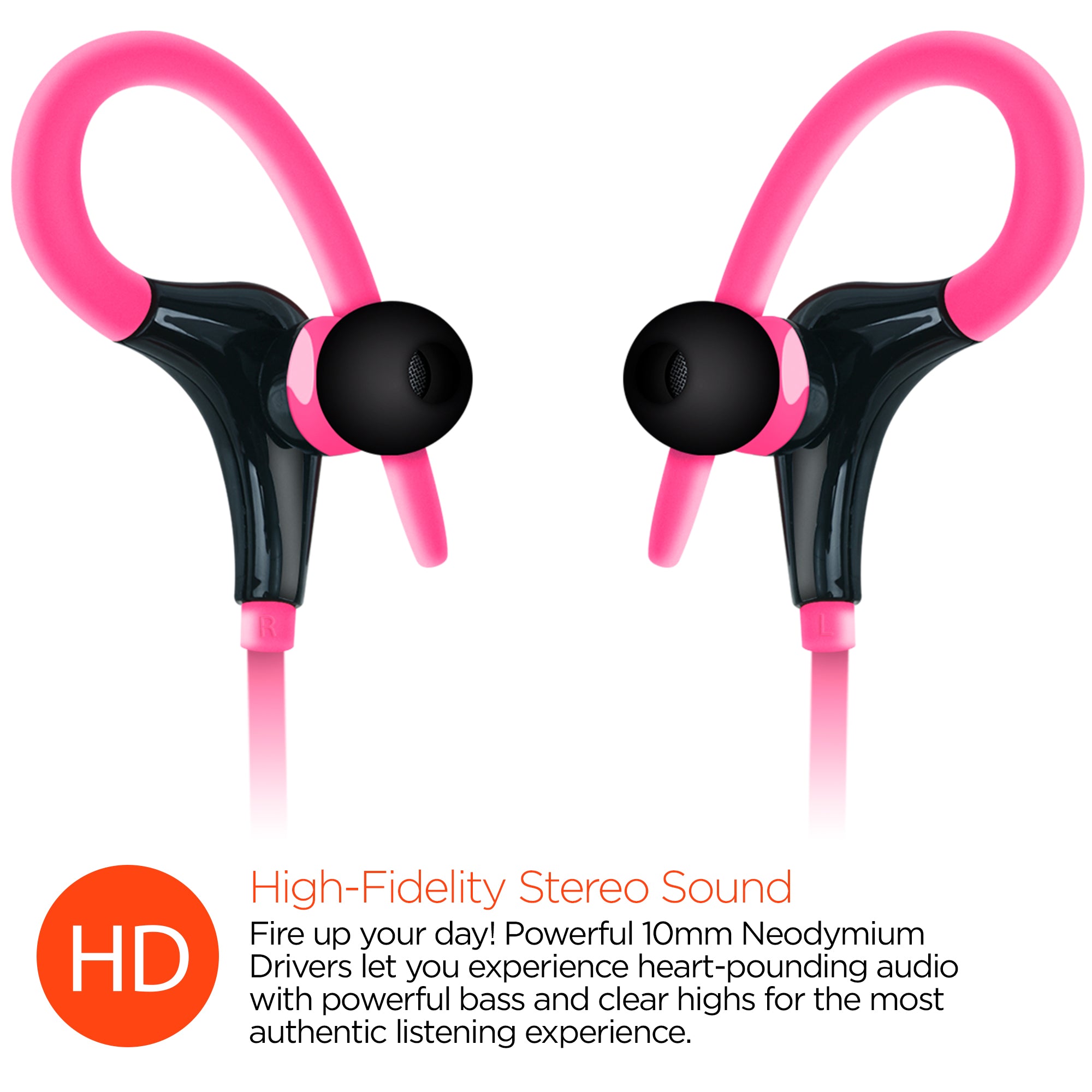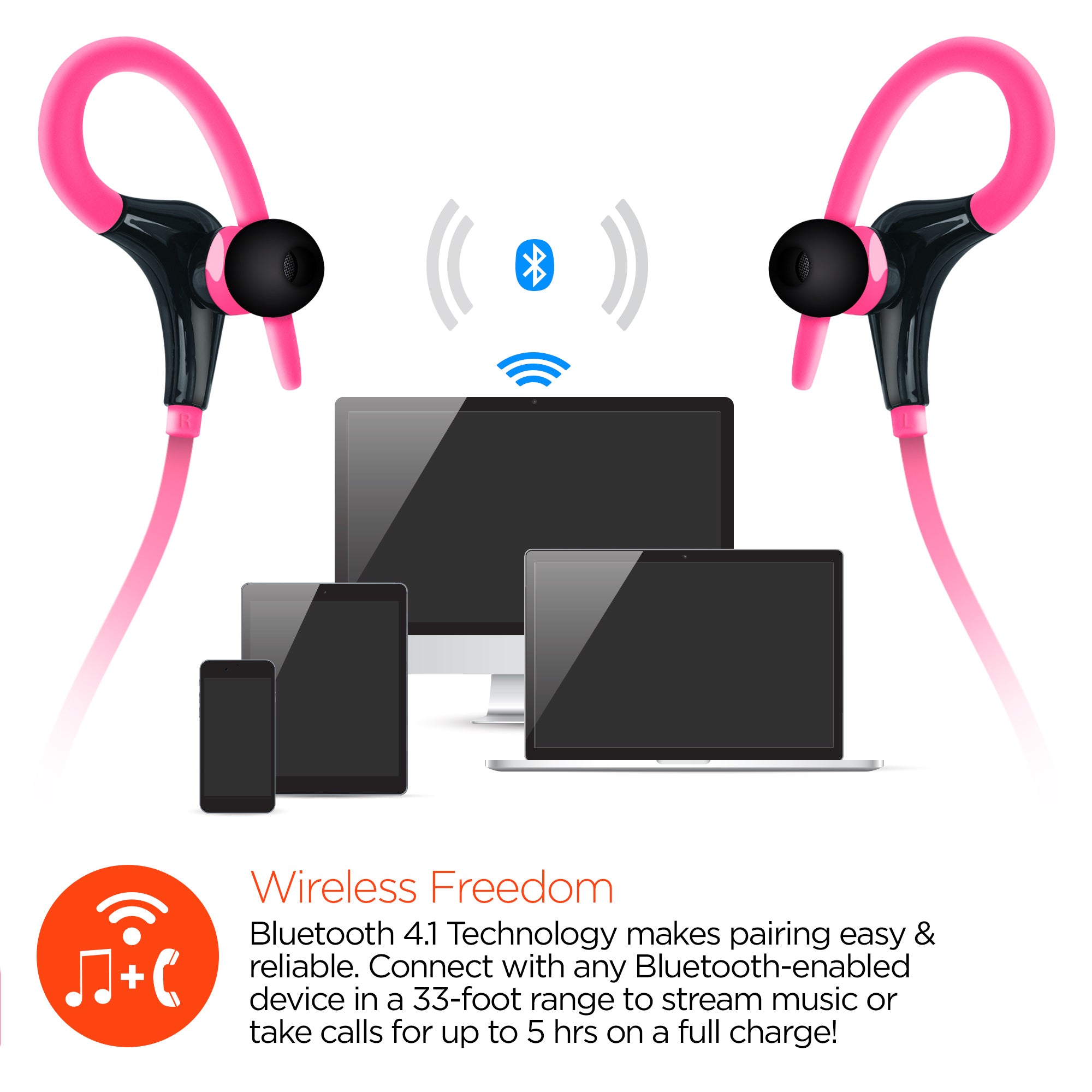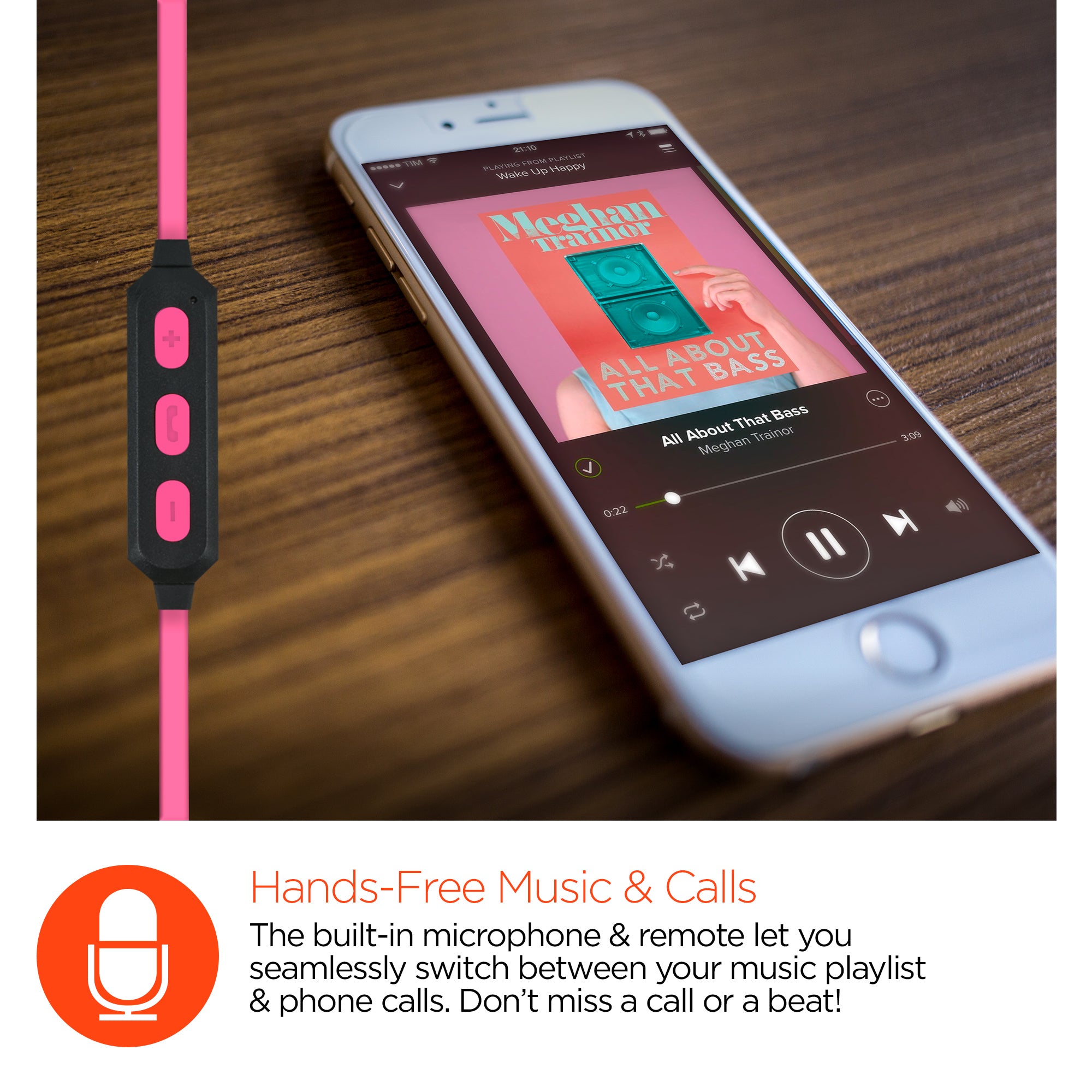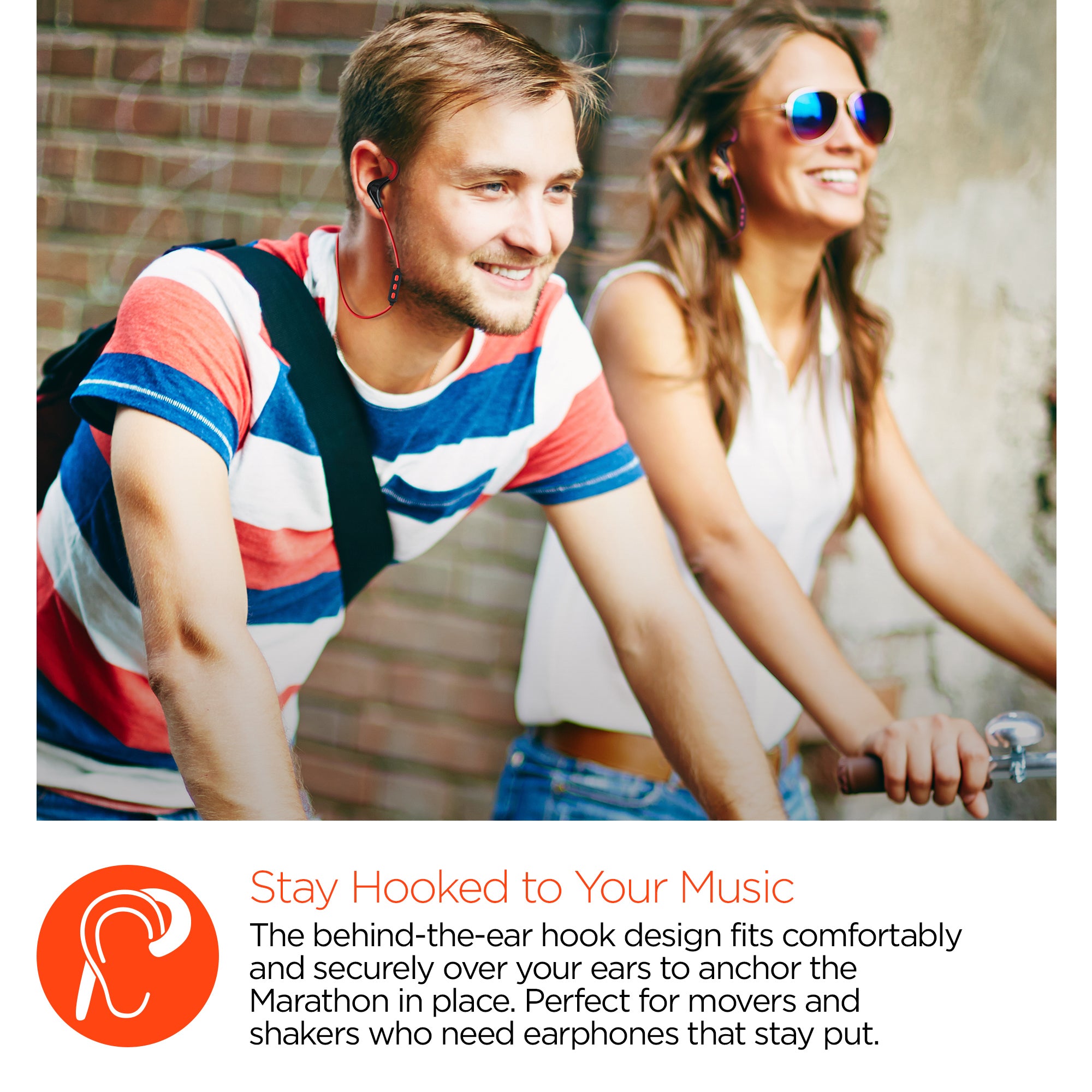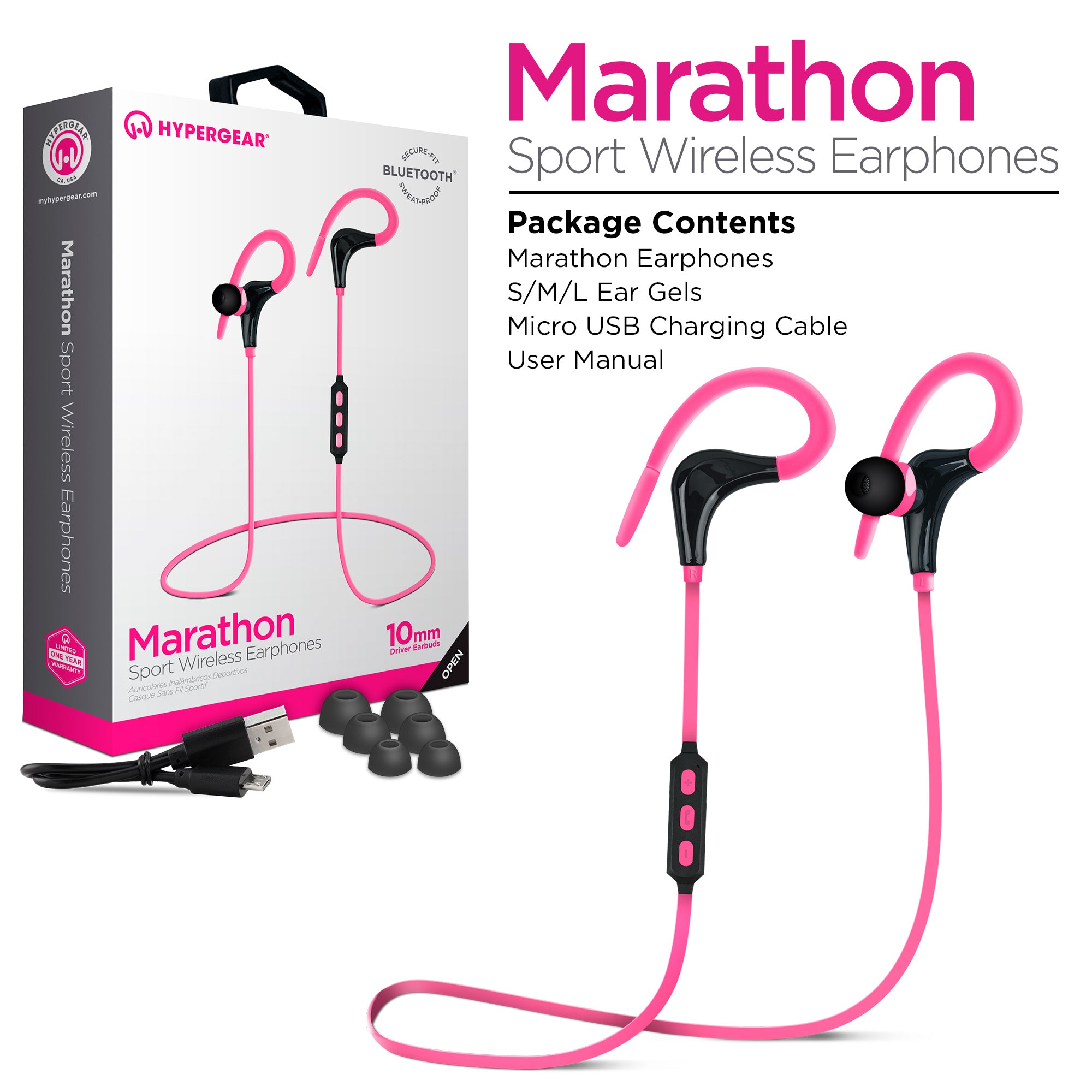 Free shipping on all US orders over $50
Orders Ship within one business day
30 Day Return Policy
Hassle-free Returns
Universal Compatibility
Marathon Earphones are made to work with the latest Apple and Android smartphones, tablets, wearables and gaming devices.
---
High-Fidelity Stereo Sound
Fire up your day! Powerful 10mm Neodymium Drivers let you experience heart-pounding audio with powerful bass and clear highs for the most authentic listening experience.
---
Wireless Freedom
Engineered with the latest Bluetooth 4.1 Technology for the best sounding and most reliable wireless transmission possible (up to 33 ft range!). Enjoy quick and easy pairing and a solid signal connection that ensures you never miss a call or beat.
---
Stay Hooked to Your Music
The behind-the-ear hook design fits comfortably and securely over your ears to anchor the Marathon in place. This is especially perfect for movers and shakers who need earphones that stay put.
---
Made for Active Lifestyles
Ergonomic ear gels provide a sweatproof secure fit for maximum on-the-go performance. The lightweight silicone is soft and flexible so you can listen all day with zero ear fatigue. Three size options ensure the perfect fit that will lock in your sound and seal out distracting noises for truly immersive listening.
---
In-Line Noise Cancelling Microphone
Don't miss that call! The Marathon doubles as a wireless headset with a built-in microphone that isolates your voice from background noises for crisp and clear conversations.
---
Convenient Controls
Seamlessly switch between your music playlist and phone calls. The built-in remote is designed with raised controls for fumble-free ease when you want to adjust the volume, change tracks or take calls.
---
Ready When You Are
Our extended lithium-ion battery provides up to 5 hours of playtime and 150 hours standby on a single charge. It only takes about 2 hours for these wireless earphones to quickly recharge.
---
Frustration-free Cable Management
Stay connected to your sound day after day, without worrying about snags or fraying or workout interruptions. The Marathon is designed with a durable flat cable that actively resists tangling.
---
Engineered for Sport
Push past your limits! A special hydrophobic nano coating guards against sweat and dust so your workouts can go uninterrupted. Marathon earphones will stick with you while you sweat it out.
---
Go Bold
Express your personal style! With 3 vivid color options of color coordinated earhooks and cables, you can match your earphones to the day's outfit, mood or workout.
---
Guaranteed Reliability
HyperGear products are performance tested and vetted through a rigorous quality inspection process to ensure reliability. HyperGear offers friendly customer service and a Limited One Year Warranty to the original purchaser that the product shall be free of defects in design, assembly, material or workmanship.
California Prop 65 Warning
WARNING : Cancer and Reproductive Harm www.P65Warnings.ca.gov
Customer review
Just love this headset. What I can review is that I've sweated profusely with these on with no issues. I've gotten rained on several times and still going. I purchased these about 6 months ago and waited to write a review as I do with all products to give it time to do its job. Just can't work without these headphones anymore, I got spoiled with these!!
Customer review
Extremely pleased with this headset. It definitely exceeded my expectations considering the price of the headset. You just can't beat the price in my opinion. Put them in your ear, connect to your phones Bluetooth and just jam away. Whether you're working out or at a construction site, you will not hear anything around you. Leaving you between working out and your music or working and your music. If you keep the volume at its lowest you'll still hear what's going on outside of your headset, otherwise, crank that puppy up and zone out the world. Has some decent bass to it too, not insane bass but enough to get your body moving to the beat.
Customer review
Now that I have the iPhone Xs, I was in the market for Bluetooth headphones that sounded good, but didn't cost over a $40. I refuse to pay that much for headphones I'm sure will be dropped and/or stepped on accidentally. These headphones sound amazing! The sound is clear and when playing music the bass is great. The headphones are comfortable to wear as well.
Customer review
The amount of items you get for the price was a nice surprise. It came with a very nice packaging, charging cable and many extra earbuds. The best in the market so far.
Customer review
Sound quality was surprisingly very good and these earbuds can get very loud. Paring with my IPhone was simple as well as learning how to use the headphones. I have never had an issue with the charge running out. Thank you HyperGear!!!

Orders Ship within one business day

30-day Returns

Hassle-free Returns