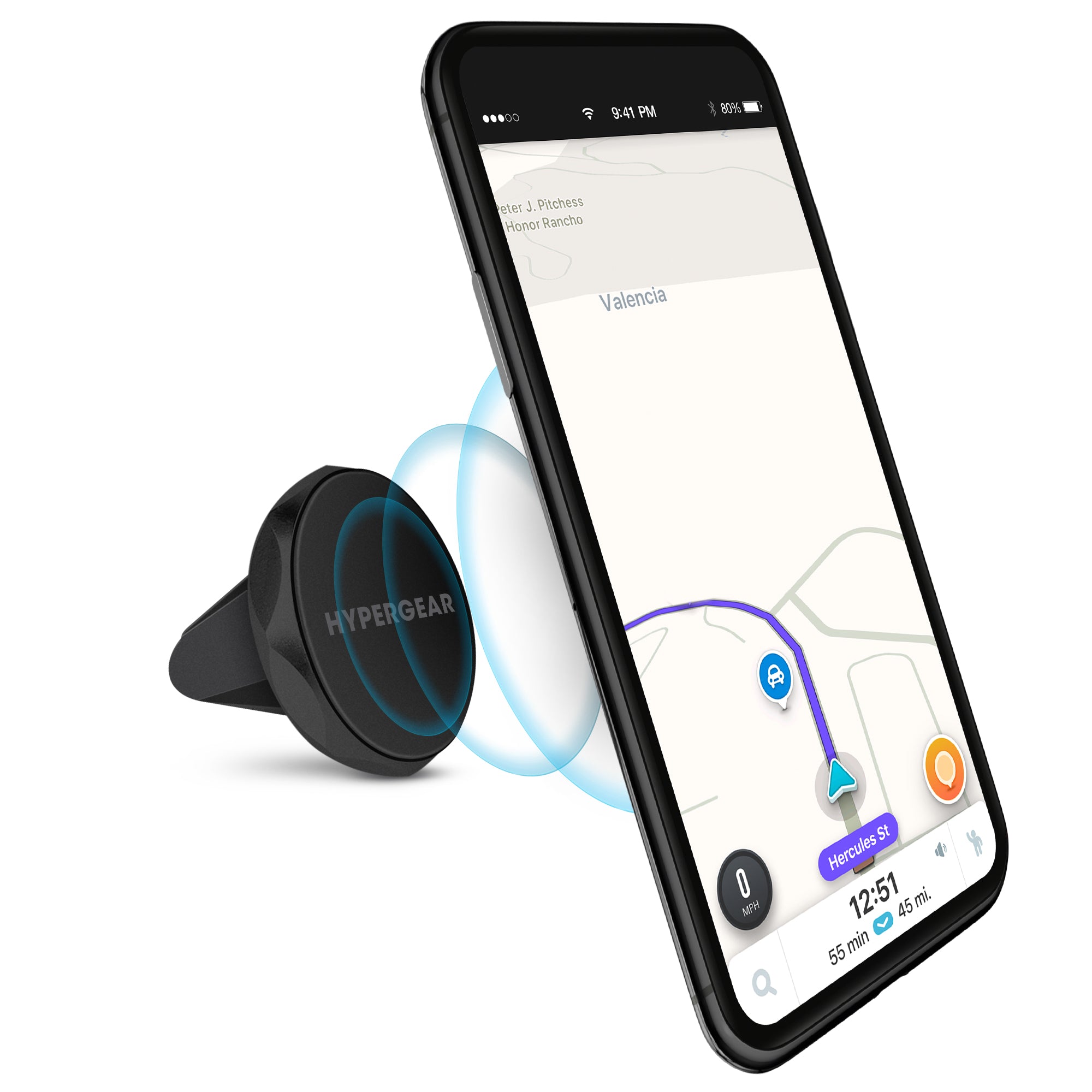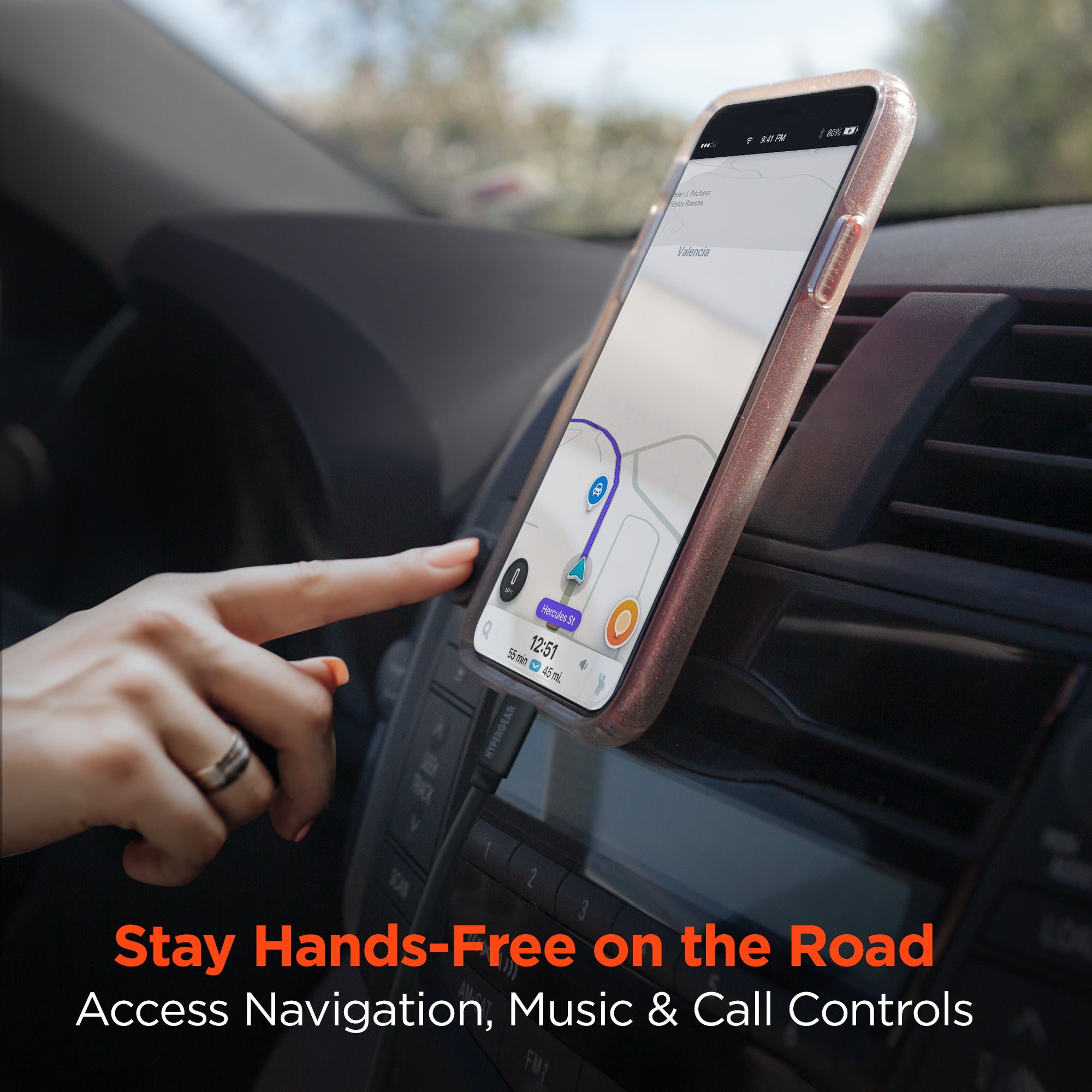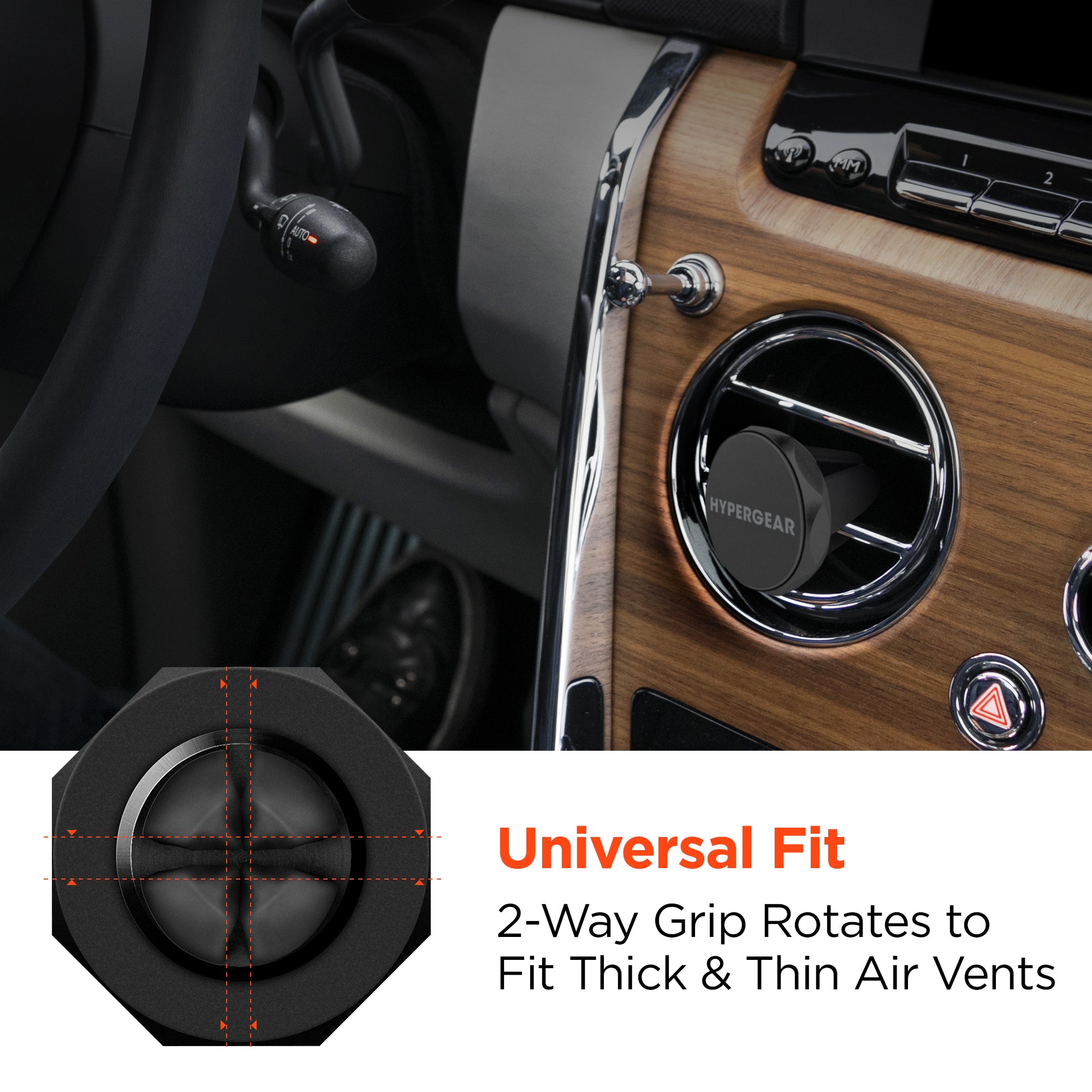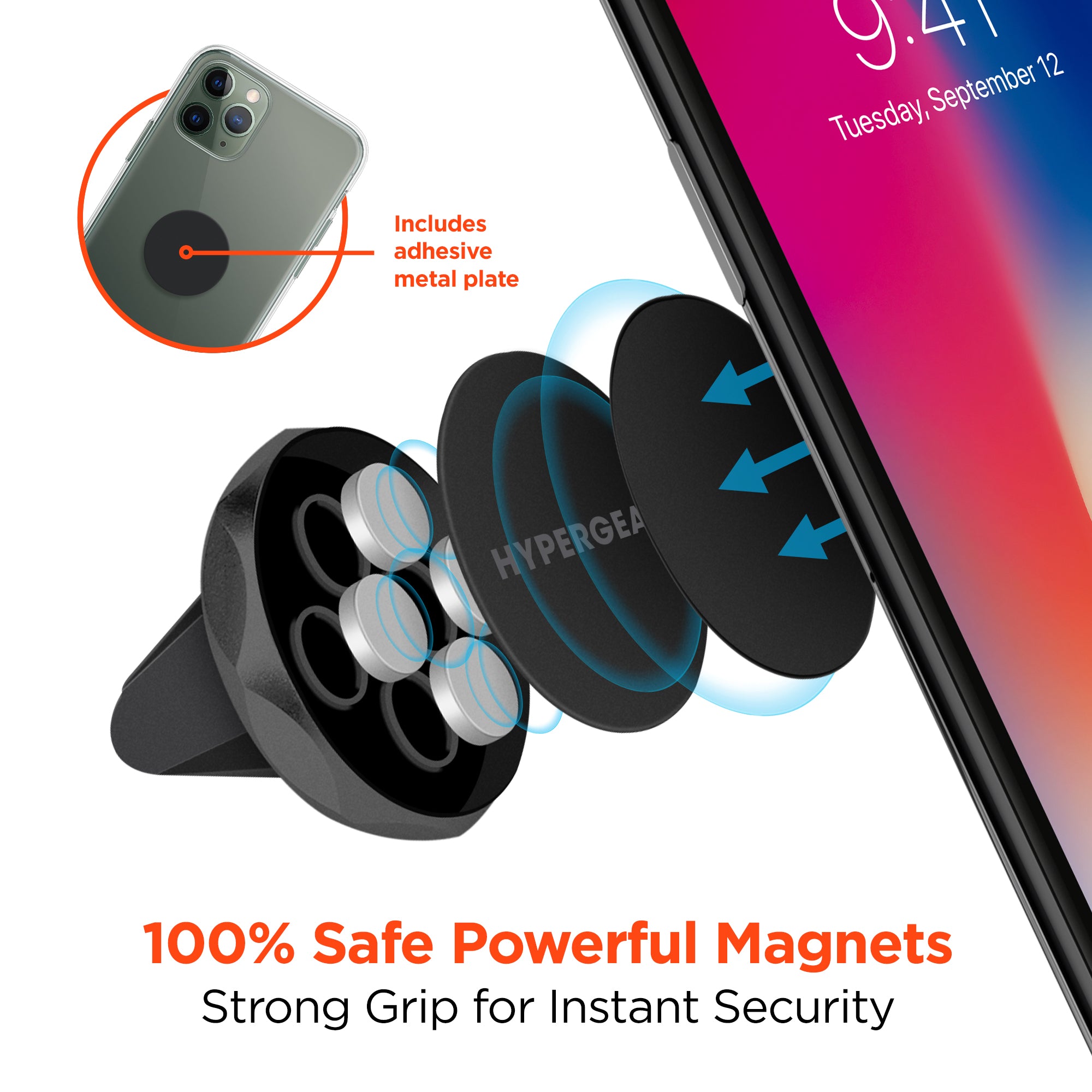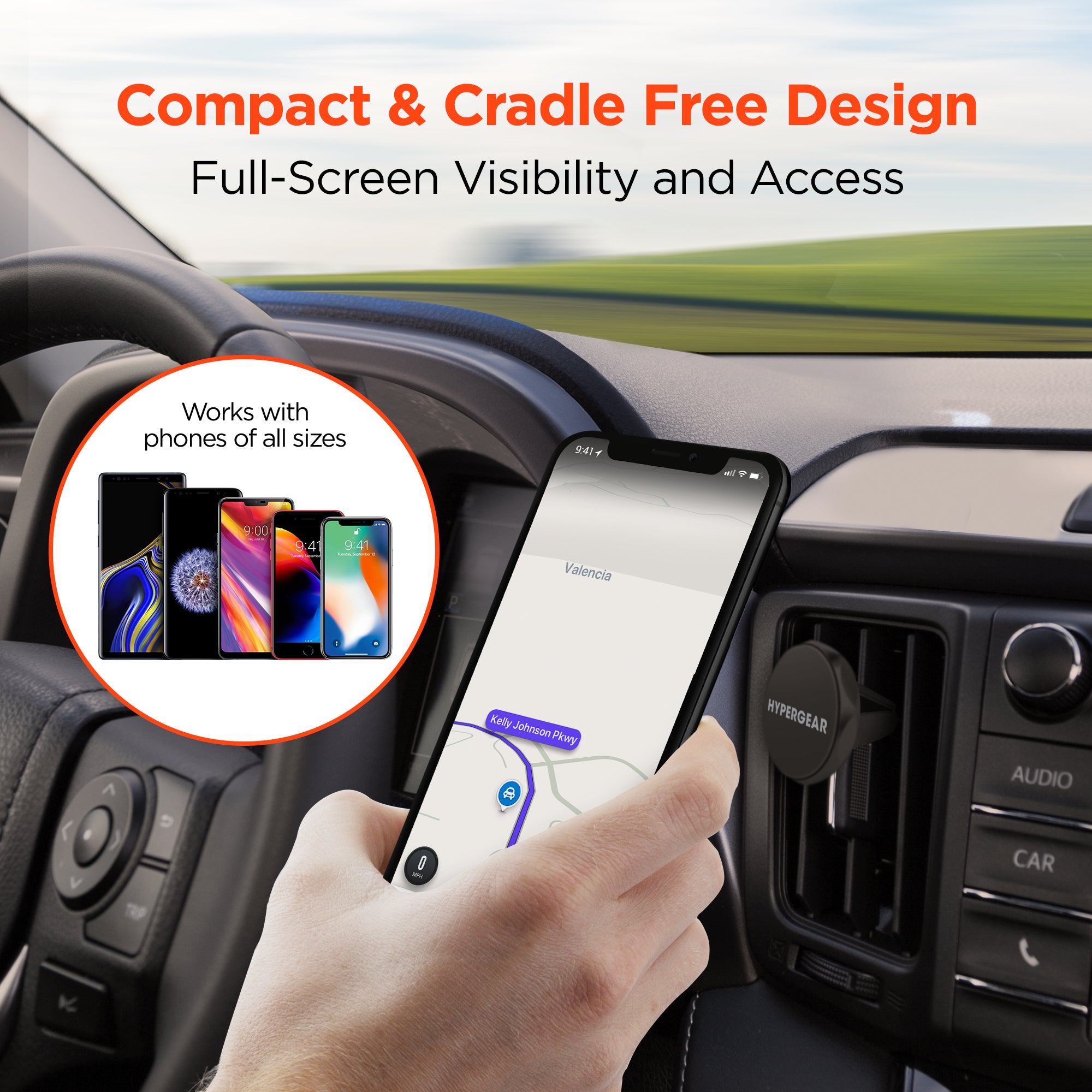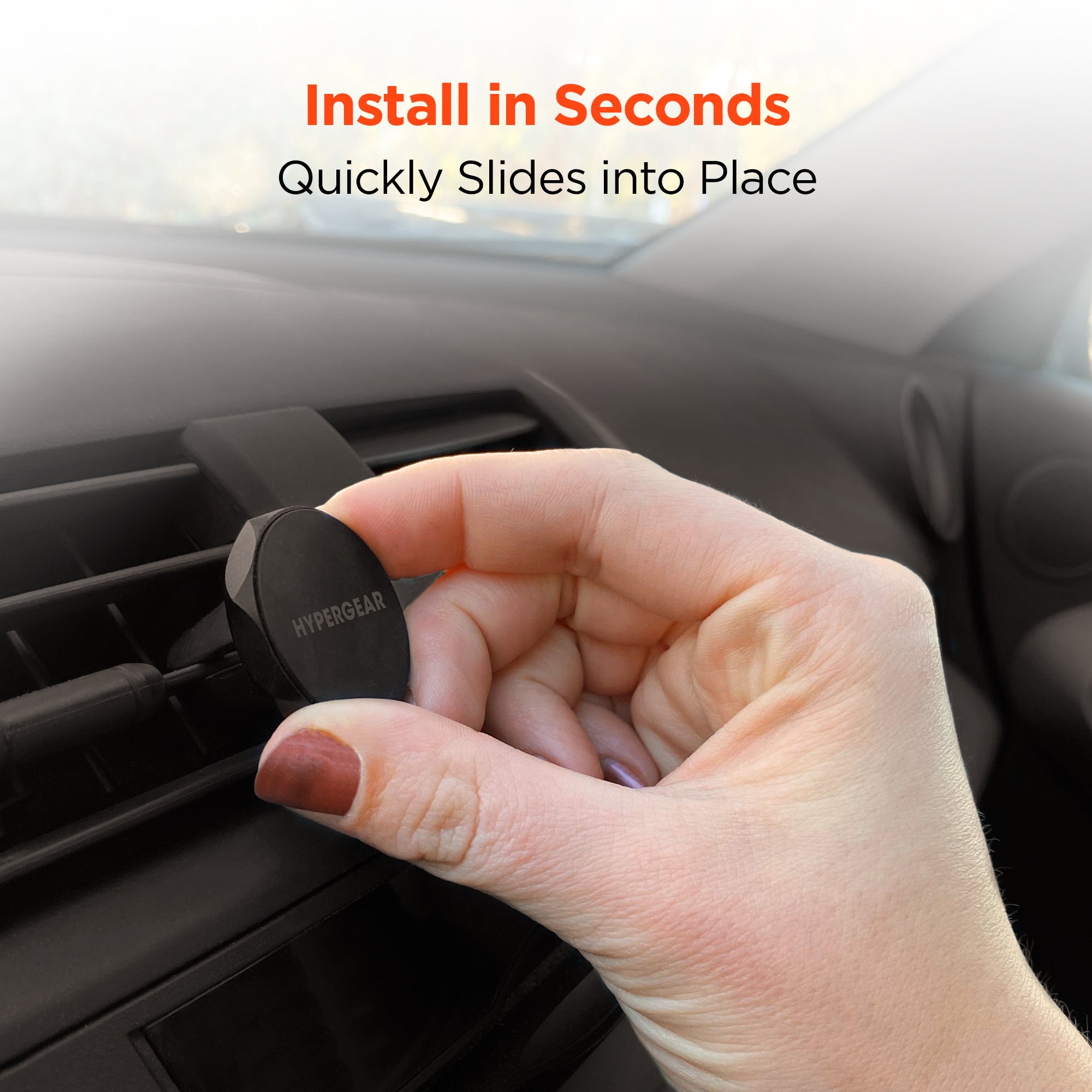 Free shipping on all US orders over $50
Orders Ship within one business day
30 Day Return Policy
Hassle-free Returns
Hands-Free & Powered Up
It's never been easier to go hands-free in your car! This cradle-less magnetic mount is designed to keep your phone at eye-level and easy reach for hands-free navigation, music and call control. The mount has rubberized grips that easily slide into place on flat air vents of all sizes. Simply hold your phone near the base and feel the powerful magnetic force instantly latch on. Keep your hands free and your eyes on the road!
Safe & Powerful
Magnets

Universal
Vent Grips

Case
Compatible

Portrait/Landscape
Positioning
---
100% Safe
Powerful Magnets
Four neodymium magnets offer the strongest grip available to instantly secure your device to the mount. Once your device is equipped with the adhesive plate, you simply need to hover it over the base to feel it instantly lock in place.
---
Install in Seconds
The rubberized grips quickly slide into place on any flat air vent. No hassle, no struggle. One easy motion and you're ready to go!
---
Compact & Cradle-free Design
This mount offers maximum functionality from a tiny footprint. With no brackets to block ports and buttons, you get full-screen visibility, easy access and can even keep a cable plugged to stay charged on the road.
---
Designed for Air Vents
Magnetically mount your phone directly to your air vent and keep your phone comfortably at eye level and easy reach.
---
GUARANTEED RELIABILITY

HyperGear is so confident in the reliability and performance of this product that we offer a hassle-free Limited Lifetime Warranty.


California Prop 65 Warning
WARNING : Cancer and Reproductive Harm www.P65Warnings.ca.gov
Customer review
This is one of the best air vent holders due to the very long insertable tail end. Unlike some other products I tried, this does not constantly fall out of the vent when driving or upon removal of my phone. I put the metal disks on the inside of my pop socket so it pops right on and off. My girlfriend and I drive different models of Honda and it works great in both!
Customer review
I love my magnet holder and will buy another one in the future!
Customer review
Easy to use and install. Great for the money. I have had it for a couple of months and even though it is not compatible with my car I still use it and it falls now and then but it's not a big deal since it was stated in the description that it wasn't compatible with my vents. I don't regret the purchase.
Customer review
Ordered this CP holder for my trip to Montreal, it work really well for me. Great product. Problem was I had a flat tire on my rental car, HERTZ picked us up to get another car, 8 miles later I remembered I forgot to get my CP holder from the other car. Soon I found out It was a you get what you pay for product. Missed my Hypergear brand CP holder, only used it for 3 days. Wish MEIDI could replace it for free : )
Customer review
I was bummed this was a cool product and i liked the fact the metal that goes on the back of your phone is not a huge ugly square. I have a XR and freaked out when my phone dropped off the dash. For some reason it will not stick. I believe it is because of the glass. I reapplied the second one (directly to the back of my phone) and same thing stuck it to the vent and bam! Fell off ! The magnet is strong but this product needs a dif adhesive

Orders Ship within one business day

30-day Returns

Hassle-free Returns