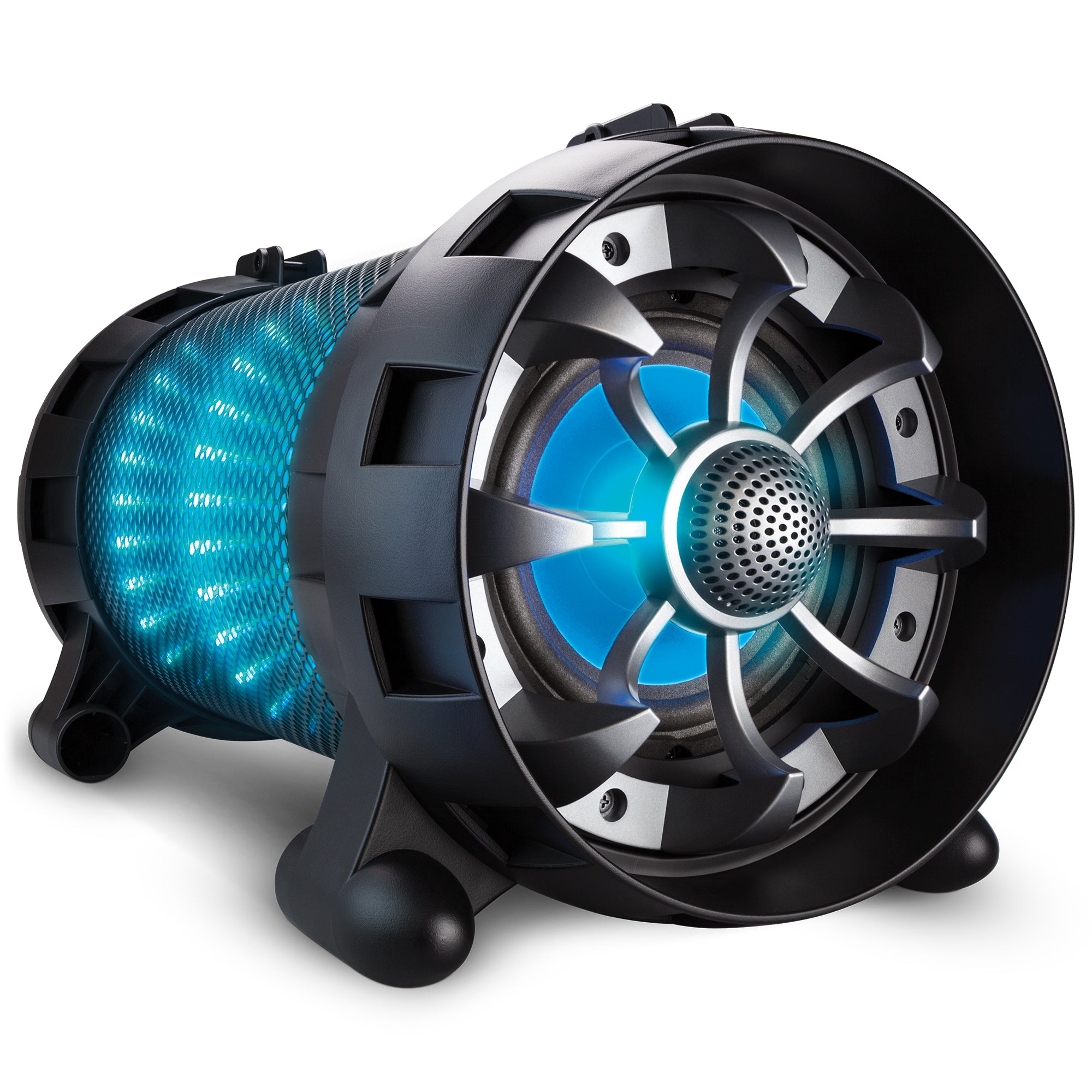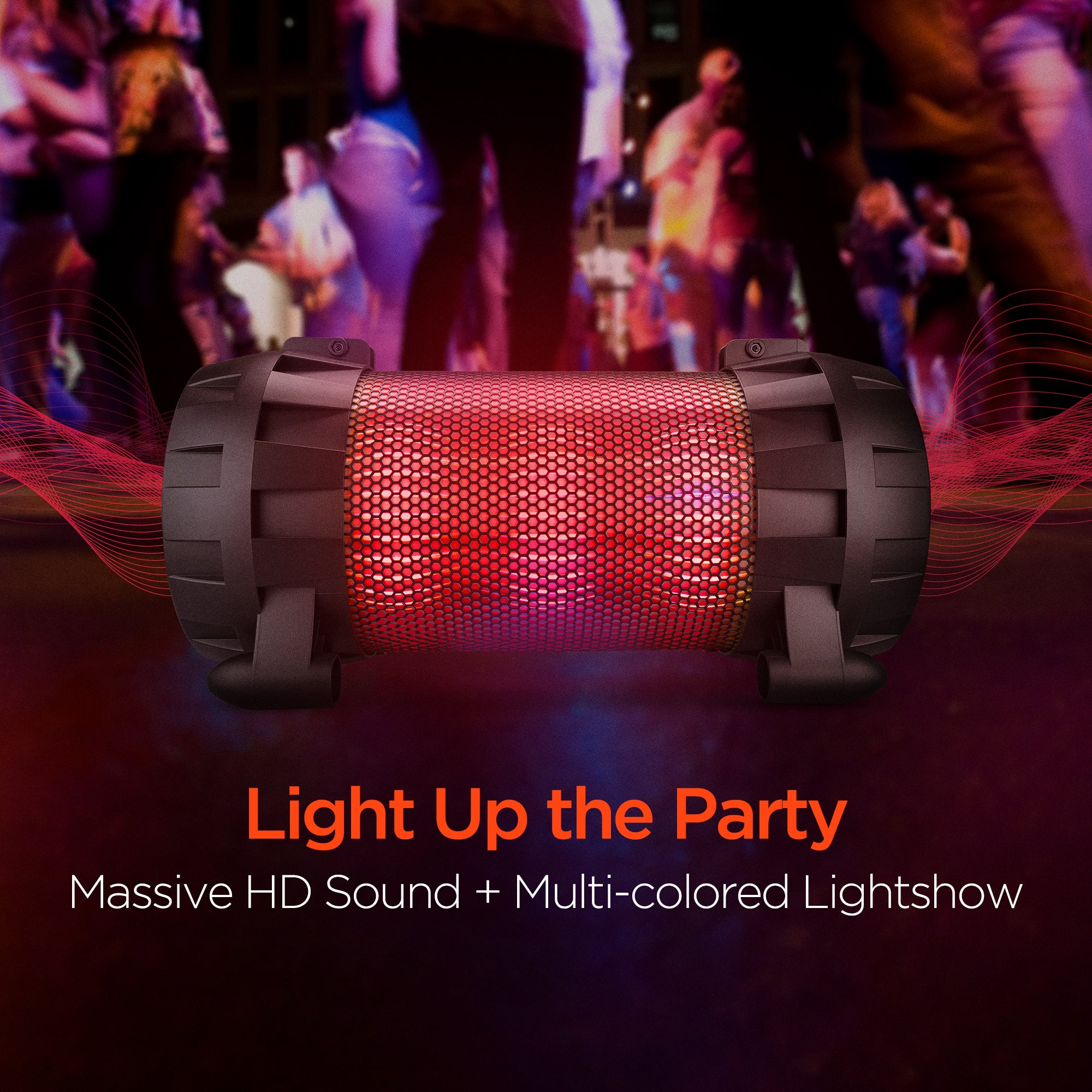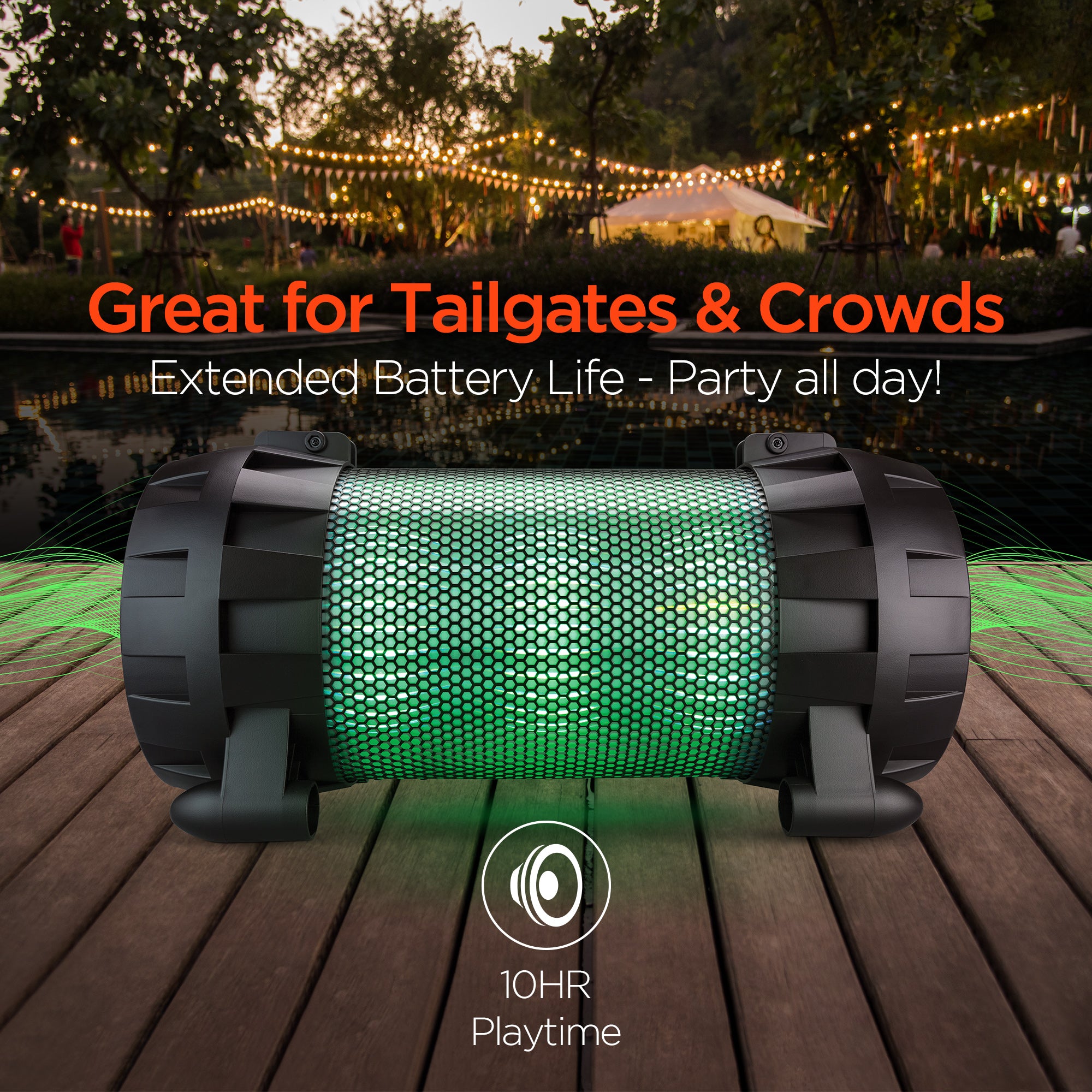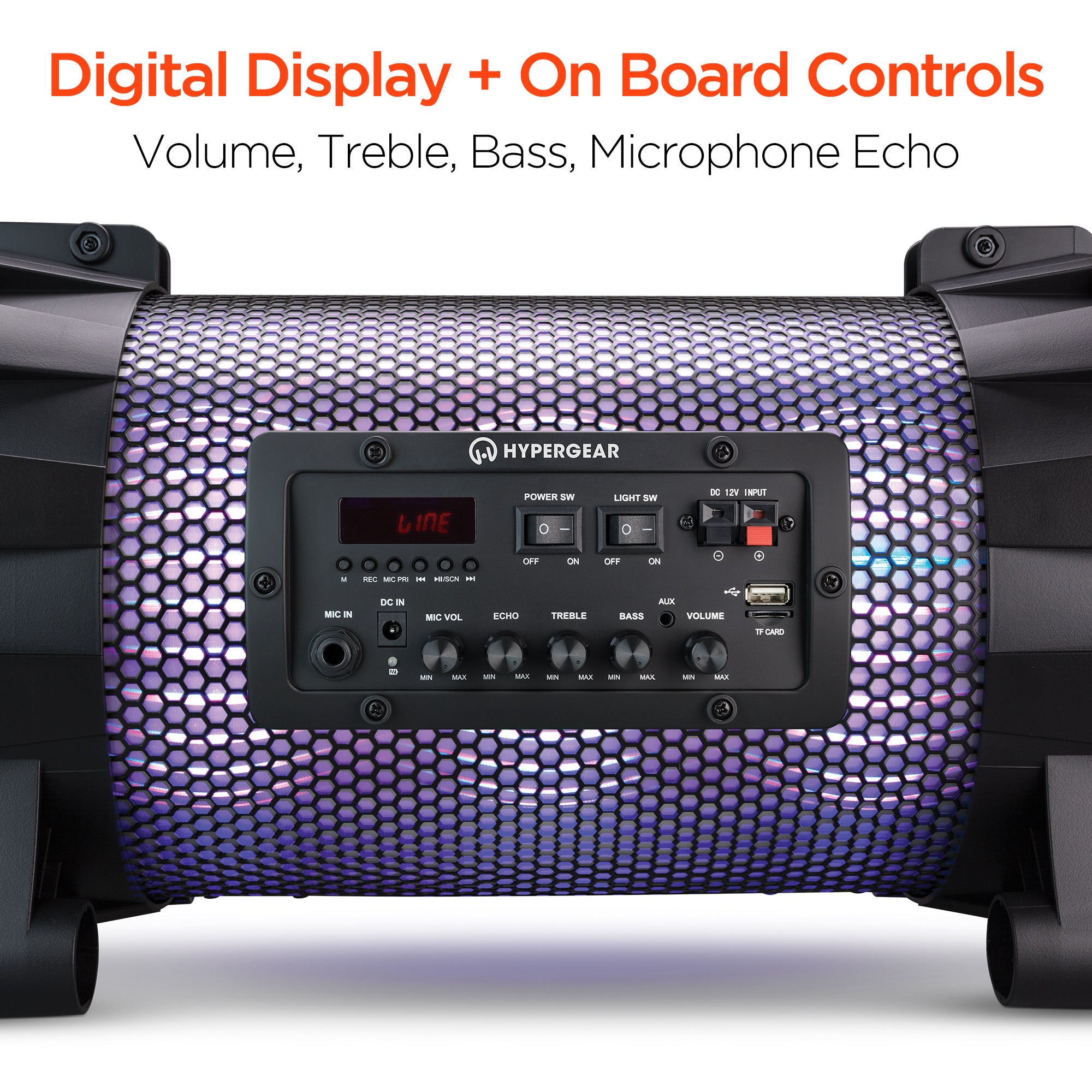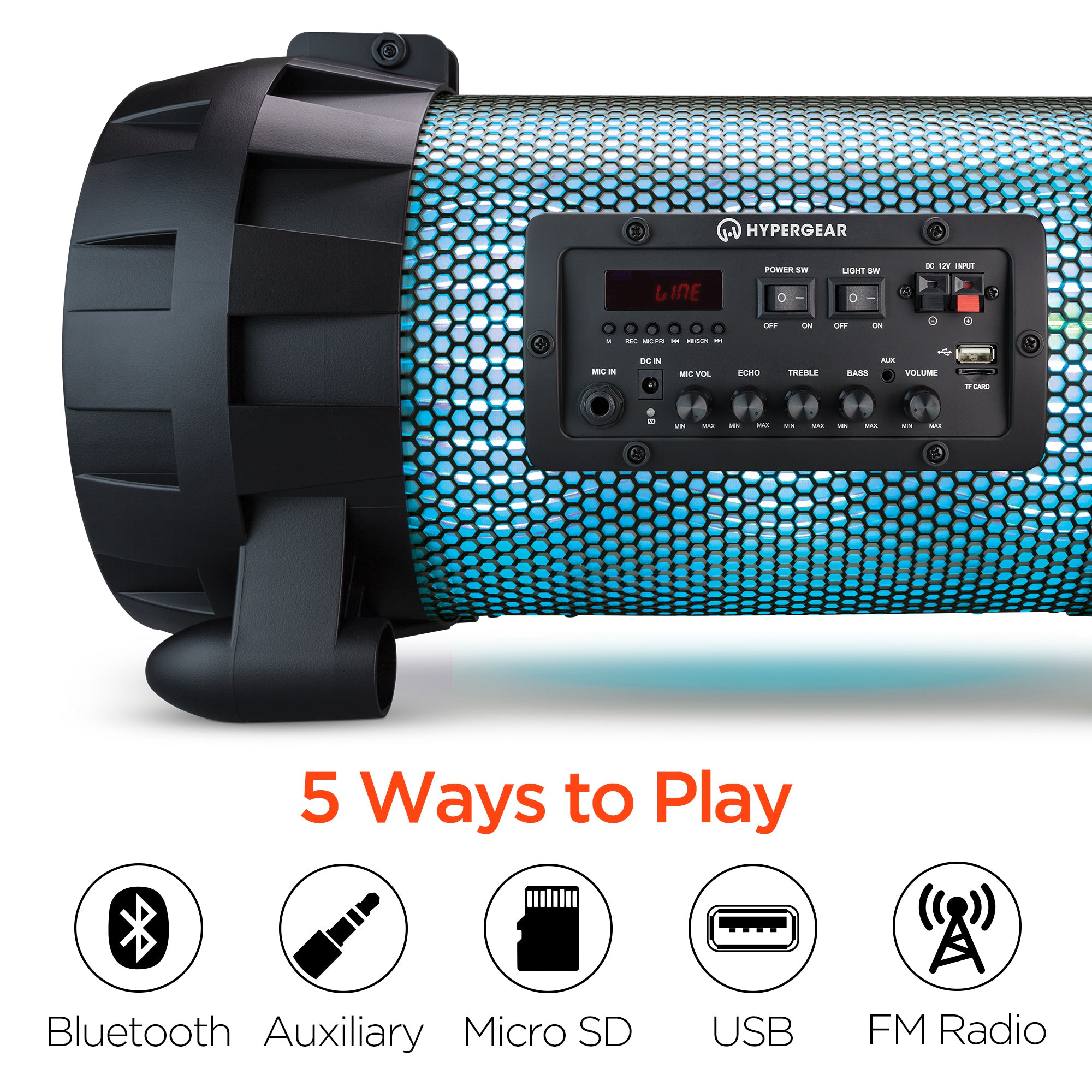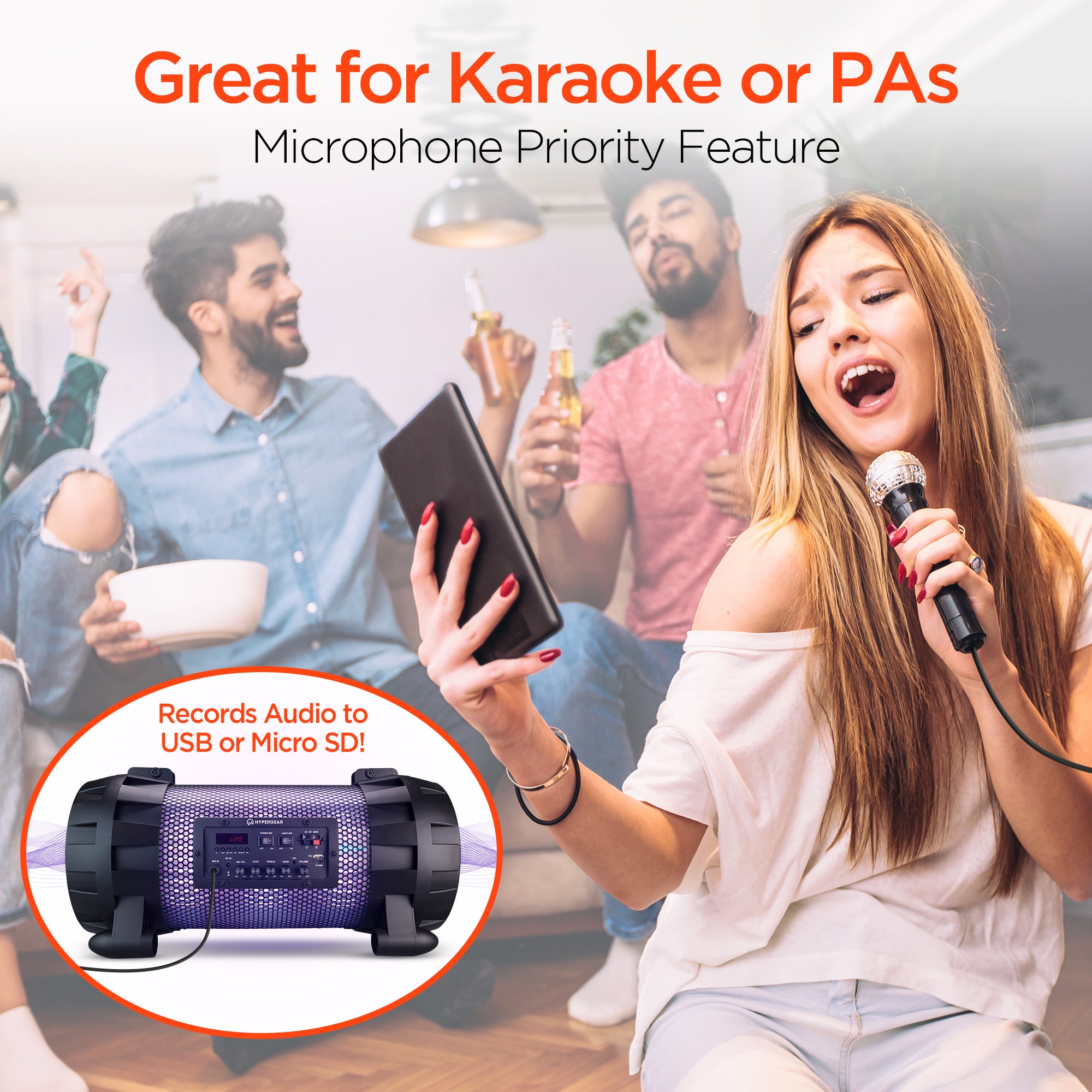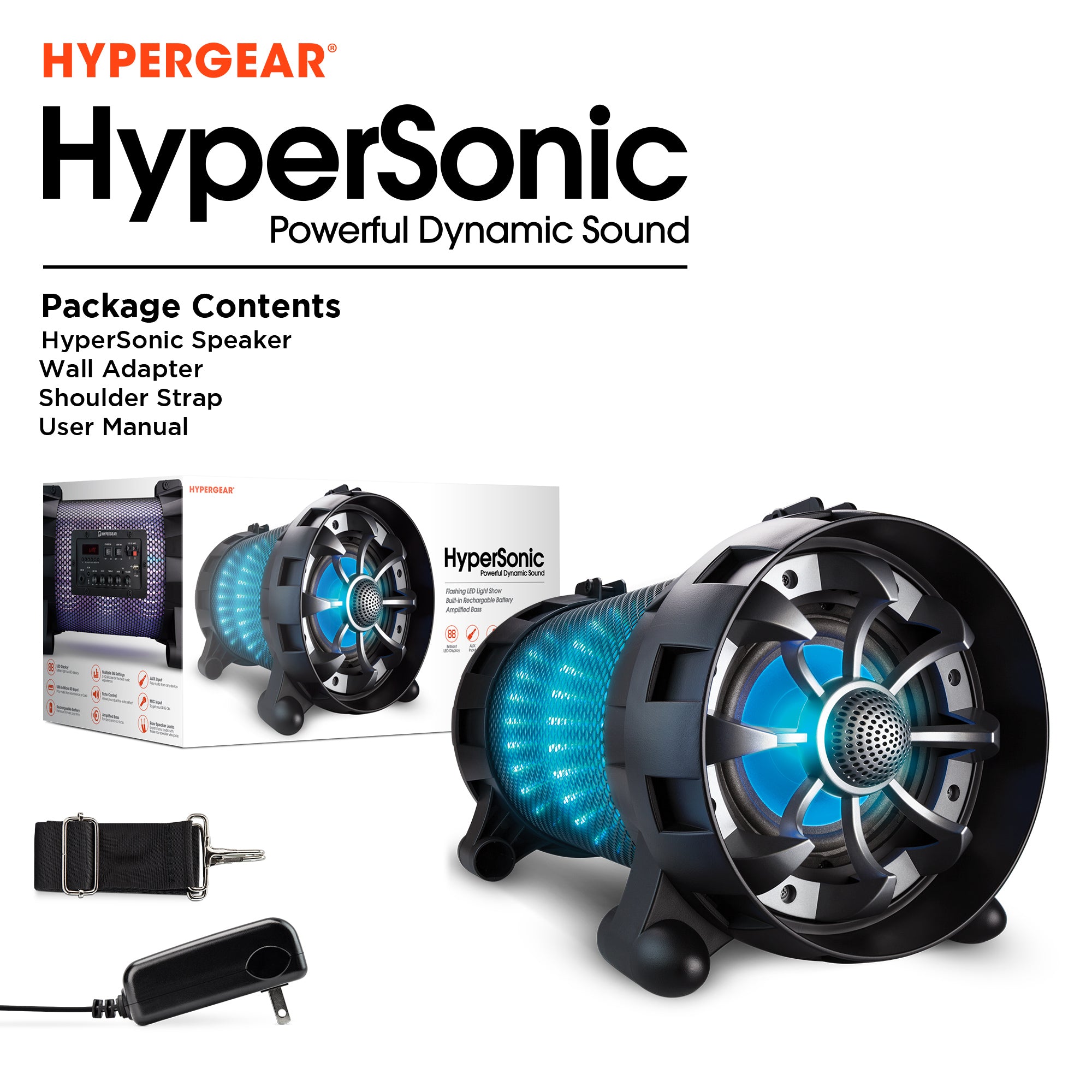 Free shipping on all US orders over $50
Orders Ship within one business day
30 Day Return Policy
Hassle-free Returns
Massive Sensory Experience
The HyperSonic portable speaker is in a league of its own pairing massive sound with unmistakable looks and an eye-catching multi-colored light show. It sets the bar as one of the loudest speakers in its class. Crafted for true music enthusiasts, it delivers robust well-balanced sound with a deep bass, clear midrange, and extended highs. The analog knobs allow you to fine-tune the controls to your personal preferences while the guitar-influenced strap enables easy and stylish travel. Now charge it up, light it up, crank it up and start Living Loud!
Amplified
Bass

Mic
Input

Raw Speaker
Jacks

LED
Display
---
Get Music and a Show
Multi-colored LEDs dance across the speaker providing a hypnotic show to match the beat of your tunes. See and Feel your music in a whole new way!
---
Your Music, Your Way
On board controls, and LED digital display, and analog knobs for volume, treble, bass, and microphone echo levels allow you to finely control every aspect of your sound directly from the speaker.
---
Perfect Party Speaker
It's not portable if you're always looking for an outlet. The built-in rechargeable battery lets you rock party-level volumes all day!
---
Listen to what you want, when you want, how you want.
Unlike other portable speakers that only play via Bluetooth, the HyperSonic offers a broad range of compatibility options. Connect with non-Bluetooth devices via the Aux-in port, play audio files directly from a USB flash drive or Micro SD card, or even tune in to FM radio!
---
HD Stereo Sound
With precision bass and clearly balanced acoustic reproduction, you can crank it up and enjoy massive surround sound from a single speaker!
---
Versatile Sound System
Designed with a selectable microphone priority feature and dedicated control knobs for mic volume and echo, the HyperSonic is made to perform. It's a versatile sound system for all your audio and crowd entertainment needs!
---
Guaranteed Reliability
HyperGear products are performance tested and vetted through a rigorous quality inspection process to ensure reliability. HyperGear offers friendly customer service and a Limited One Year Warranty to the original purchaser that the product shall be free of defects in design, assembly, material, or workmanship.
Package Contents:
• HyperSonic Speaker
• 3.5mm Stereo Auxiliary Cable
• Wall Adapter
• Shoulder Strap
• User Manual

*Actual play time may vary based on sound volume and audio content
---
California Prop 65 Warning
WARNING : Cancer and Reproductive Harm www.P65Warnings.ca.gov
Customer review
Manual does NOT give instructions for all the features listed on box
Features on box are miss leading
Website doesn't take bad reviews
Customer review
Manual does NOT give instructions for all the features listed on box
Features on box are miss leading
Website doesn't take bad reviews
Customer review
Manual does NOT give instructions for all the features listed on box
Features on box are miss leading
Website doesn't take bad reviews
Customer review
Manual does NOT give instructions for all the features listed on box
Features on box are miss leading
Website doesn't take bad reviews
Customer review
Manual does NOT give instructions for all the features listed on box
Features on box are miss leading
Website doesn't take bad reviews

Orders Ship within one business day

30-day Returns

Hassle-free Returns