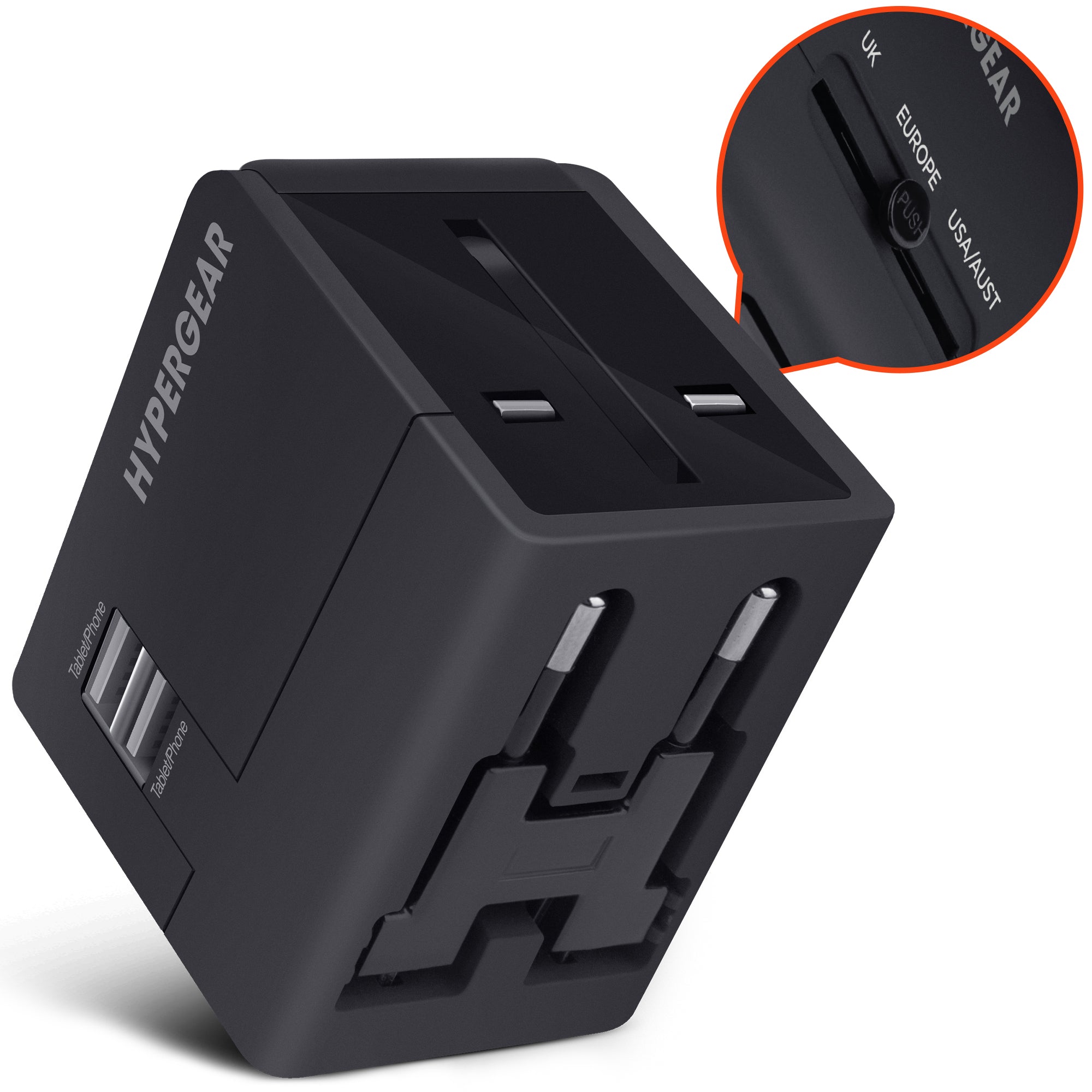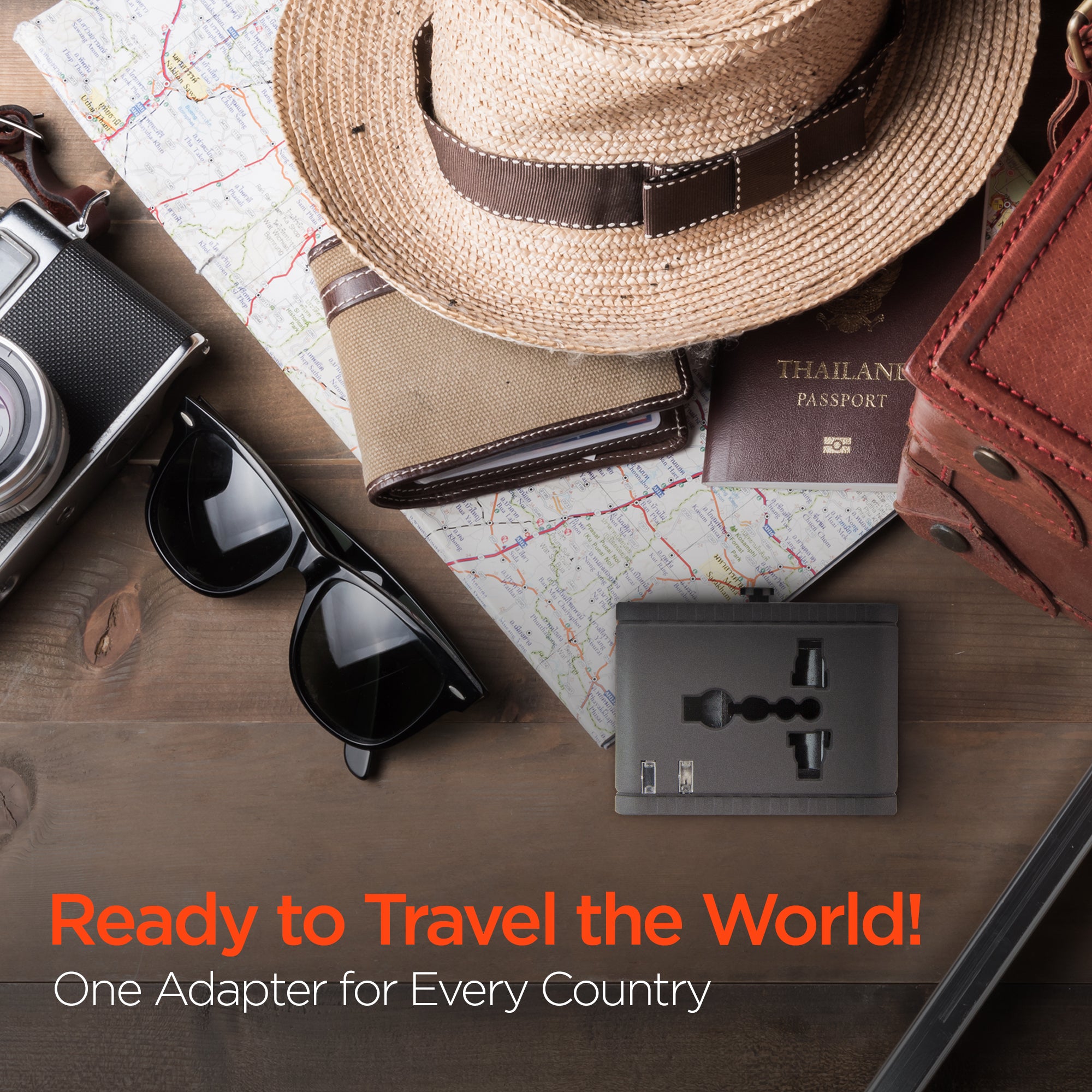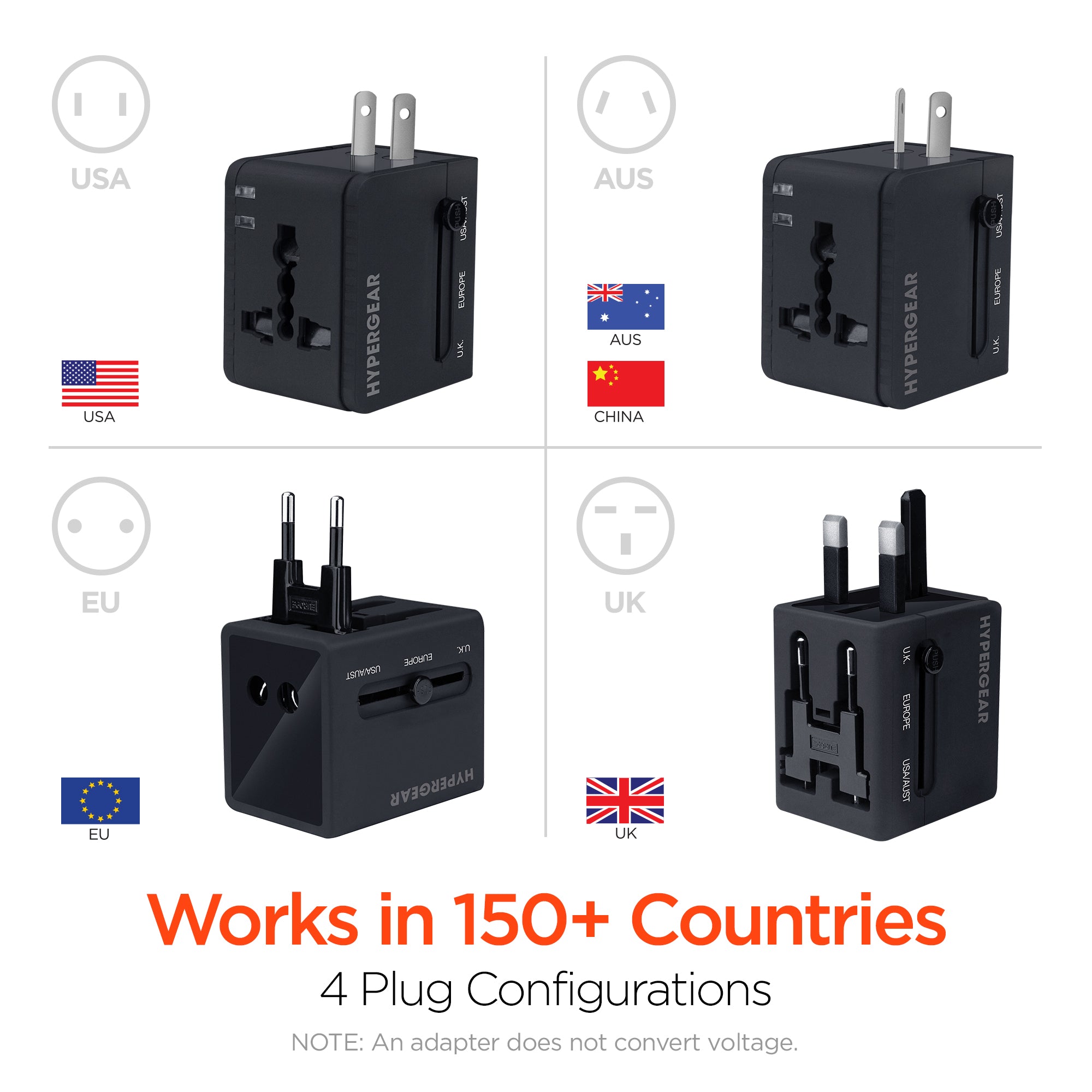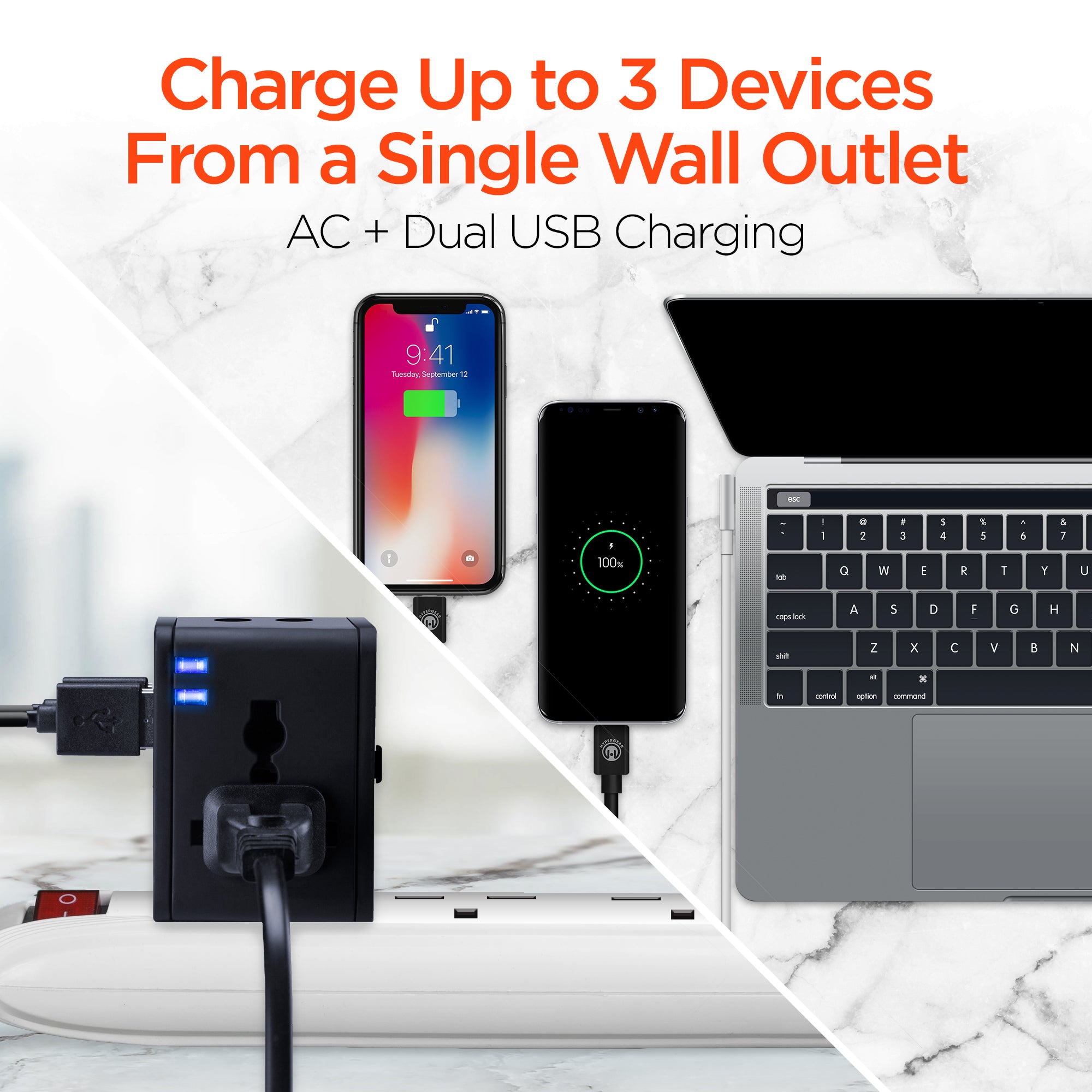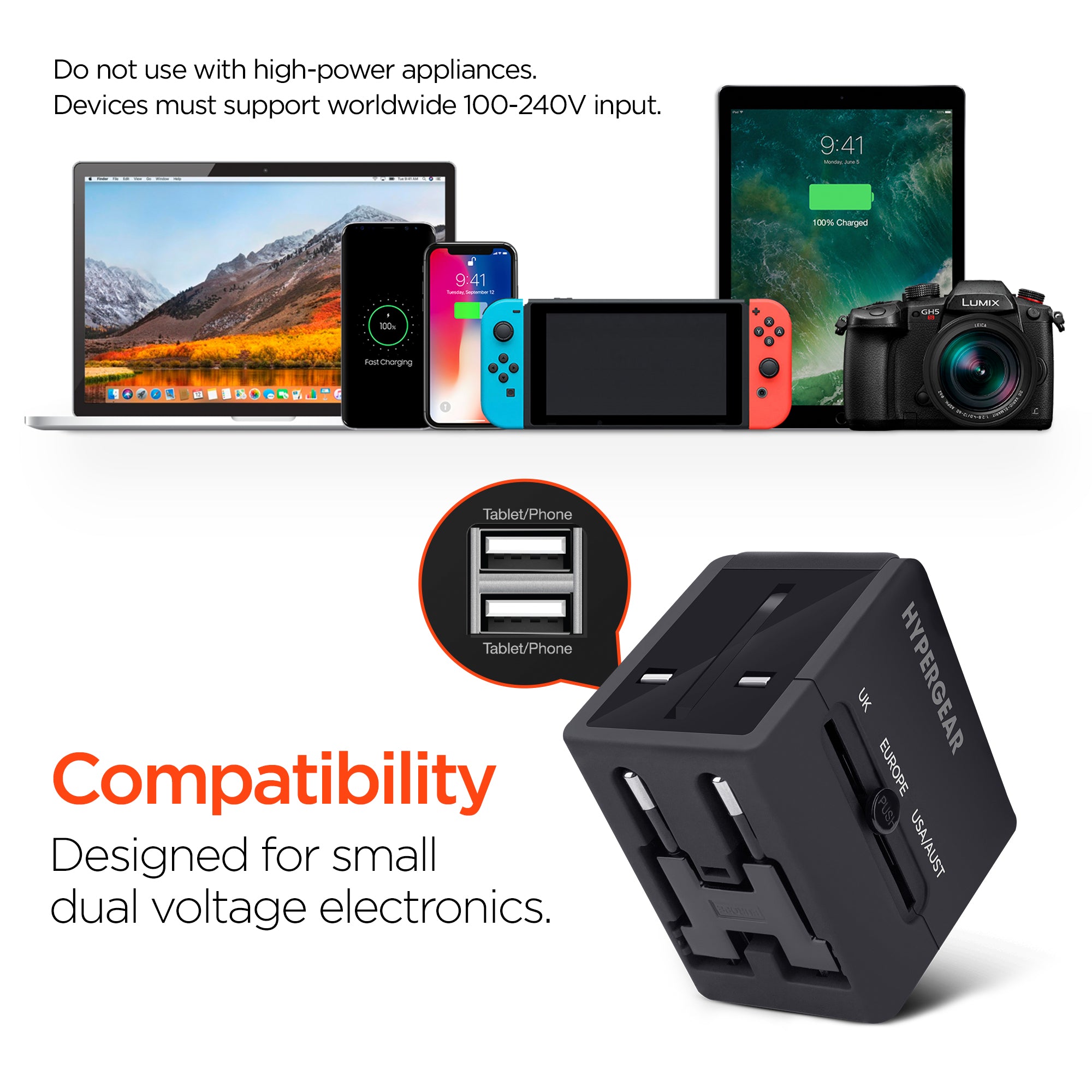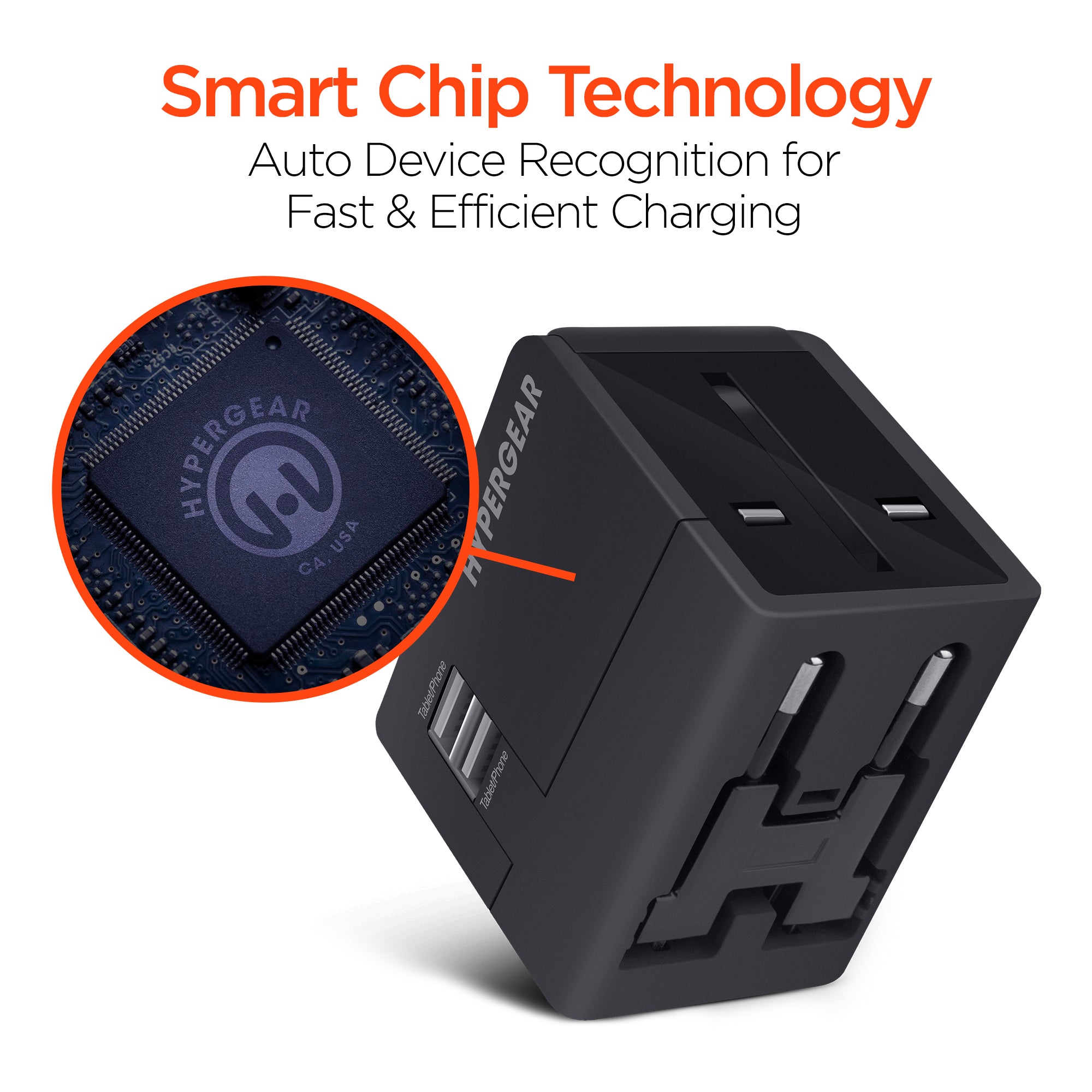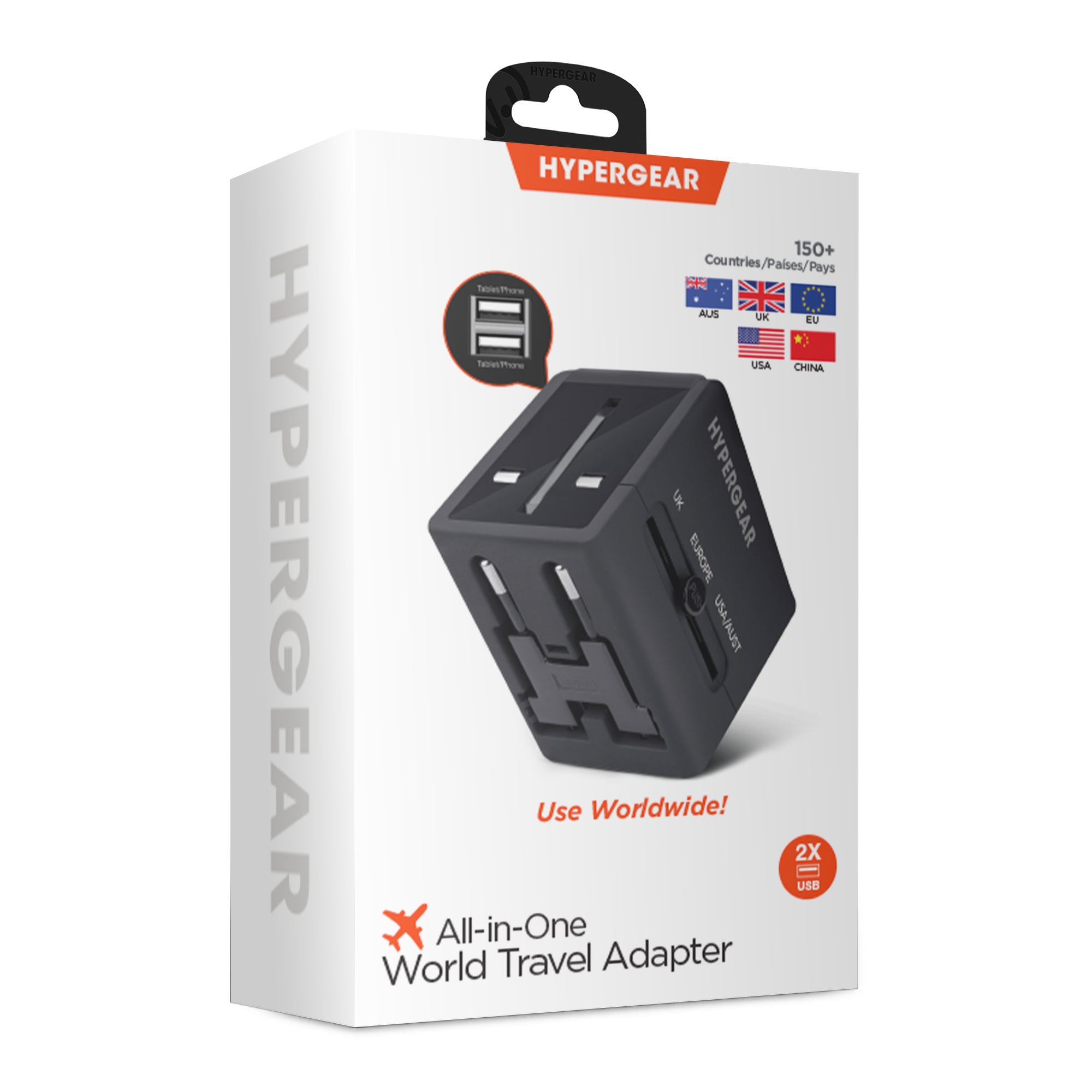 Free shipping on all US orders over $50
Orders Ship within one business day
30 Day Return Policy
Hassle-free Returns
Stay Charged Worldwide
Designed to use worldwide in over 150 countries, this compact international travel adapter has a universal AC plug-in and 4 different retractable plug configurations. It also has two built-in USB ports, so you can charge up to 3 devices simultaneously from a single outlet anywhere in the world! This all-in-one adapter is an absolute must-have to keep your devices going when travelling overseas.
International
Compatibility

Charge 3 Devices
Simultaneously

Foldable
Prongs

Compact
& Lightweight
---
Works in 150+ Countries
This compact international adapter has a universal AC plug-in and 4 plug configurations for US, AUS, EU, and UK sockets, so you can charge your gear in virtually every country in the world, worry-free.
| | | | |
| --- | --- | --- | --- |
| | | | |
|   |   |   |   |
---
Retractable Prongs
Designed with a button slider that will lock/unlock your chosen plug, This adapter has a slim and compact build that is ideal for travelers who need space-saving solutions that can easily slip into a suitcase, backpack or carry-on.
Dual USB Charging
Designed as a complete travel solution, the adapter also features 2 high-speed USB ports, allowing you to charge up to 3 devices from a single wall outlet.
---
Charge Up to 3 Devices
Charge 1 tablet or 2 smartphones with ease along with your AC-powered device.
World Class Safety Features
Engineered with advanced safety features to provide short-circuit & overcharge protection for safe and reliable charging.
Compatibility:
- Designed for small dual voltage electronics.
- Do not use with high-power appliances.
- Devices must support worldwide 100-240V input.
---
Auto Device Recognition
Both USB ports are equipped with Smart Chip Technology that detects each device's power needs and automatically adjusts the output for the fastest and most efficient charging experience possible.
Guaranteed Reliability
HyperGear products are performance tested and vetted through a rigorous quality inspection process to ensure reliability. HyperGear offers friendly customer service and a Limited One Year Warranty to the original purchaser that the product shall be free of defects in design, assembly, material, or workmanship.
SAFETY WARNING: Your electronic device must support the worldwide 100-240V input specification in order to be compatible with this adapter. Always be sure that your device's rated voltage is compatible with the outlet you intend to use. Your electronic device's voltage information should be printed directly on the device itself or on its charger plug. Refer to the device's user manual if you cannot locate these important details.
NOTE: An Adapter does not convert voltage. It only changes the shape of the plug, so that it can fit into the local outlet.
California Prop 65 Warning
WARNING : Cancer and Reproductive Harm www.P65Warnings.ca.gov
Customer review
Currently using the device in Germany. Works exactly as described. Plugged it in, atrached a couple of devices via usb, plugged in another. Unlike other adapters, this one stays in the European wall plug without being loose. The adapter is not very large so it takes up little luggage space. Exactly what's frequent traveler needs.
Customer review
I would def recommend this for anyone traveling. It tells you on there which one you should use so that is convenient and the USB charging ports are a great addition. The price is very nice as well.
Customer review
I've traveled to Brazil Amsterdam Spain London and end this works perfectly in all places. it's great because I don't have to worry about bringing along a power adapter. I can charge my phone and my fit bit at the same time! I can charge my phone and my fit bit at the same time!! At first I thought the charge would be slow but it's lightning fast great for when you're on the go abroad!! Best travel purchase, minimizes the stuff I have to carry or worry about leaving behind! And and you can charge it while on the plane multiple devices no need to ask your neighbor if you can borrow their outlet! On the airplane I was able to charge my MacBook my iPhone and my fit bit before arriving at my destination!
Customer review
I am currently using this while in Norway, and I will not travel without this again. It is so convenient to us. The addition of two USB ports on the side make a huge difference from my other travel adaptors. I was able to plug it in on the plane and keep my devices charged through a long day's travel. I used it at a charging station in several airports, and this little cube was great. The different plugs easily pop,out when needed and tuck neatly away when not in use. I throw this in my backpack, and it is there when I need it.
Customer review
Worked great on my recent trip to London. It is lightweight and convenient to just pop out the plugs that you need. Then folds up and pops into your bag. I plugged a surge protector into it and then a laptop and other electronics with no problems.

Orders Ship within one business day

30-day Returns

Hassle-free Returns