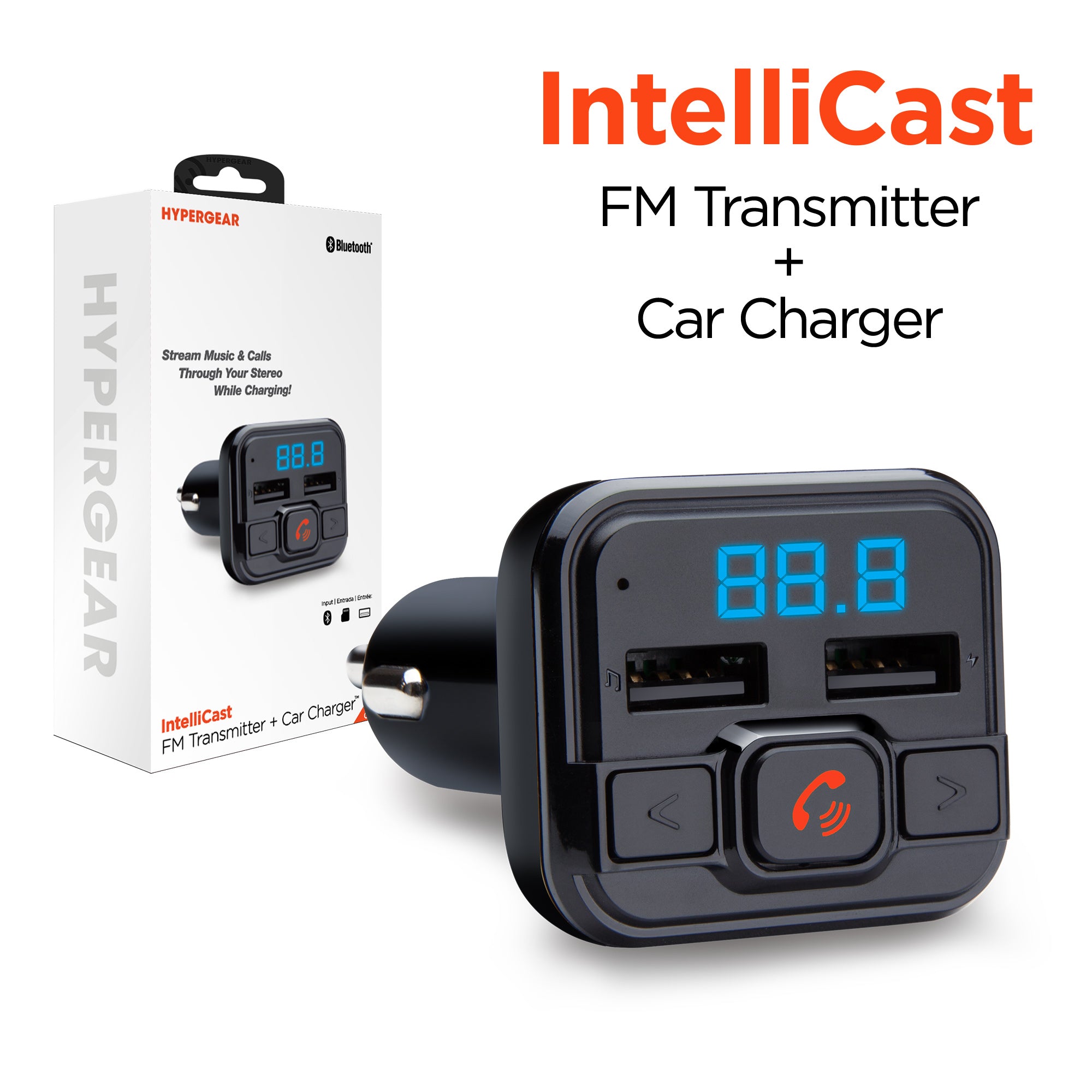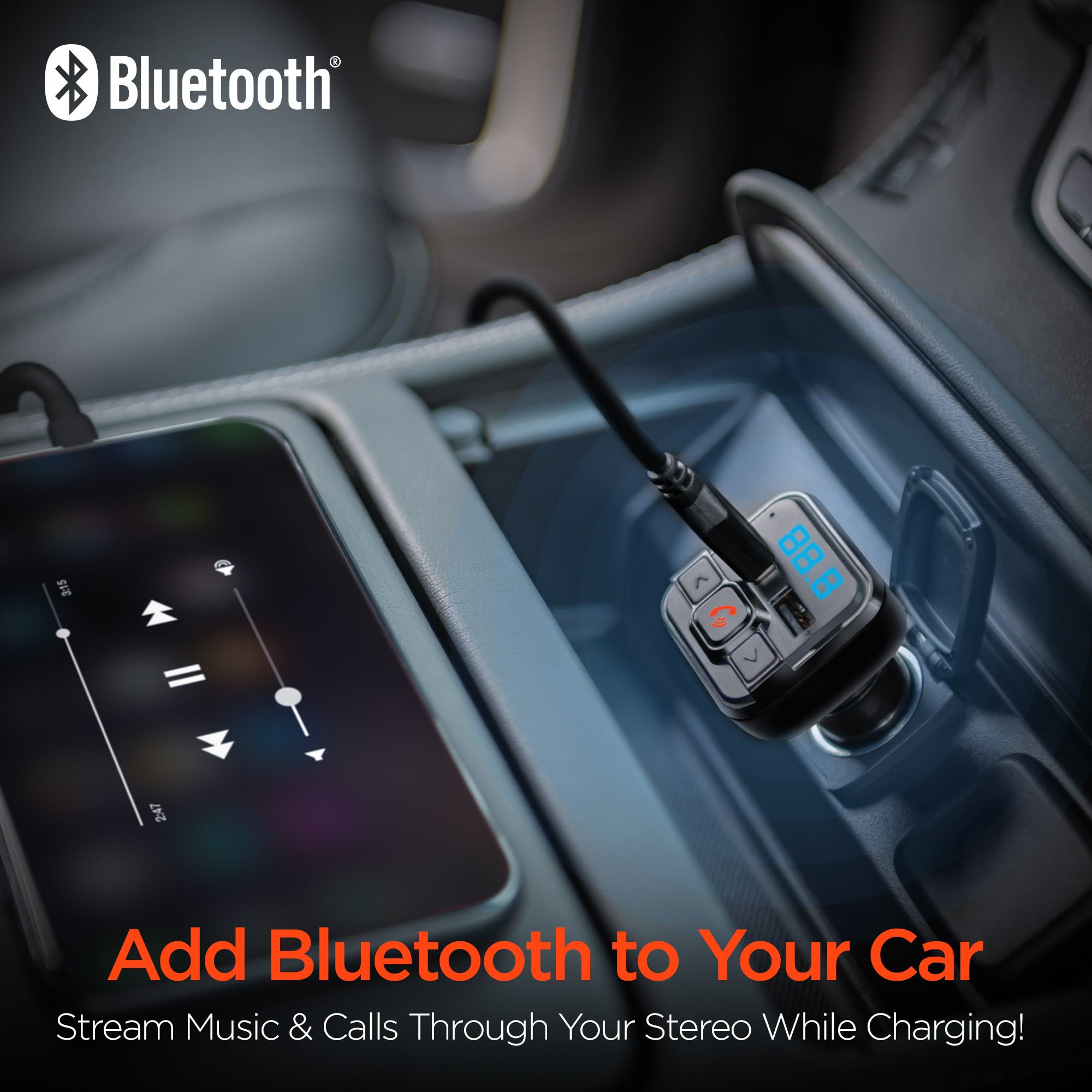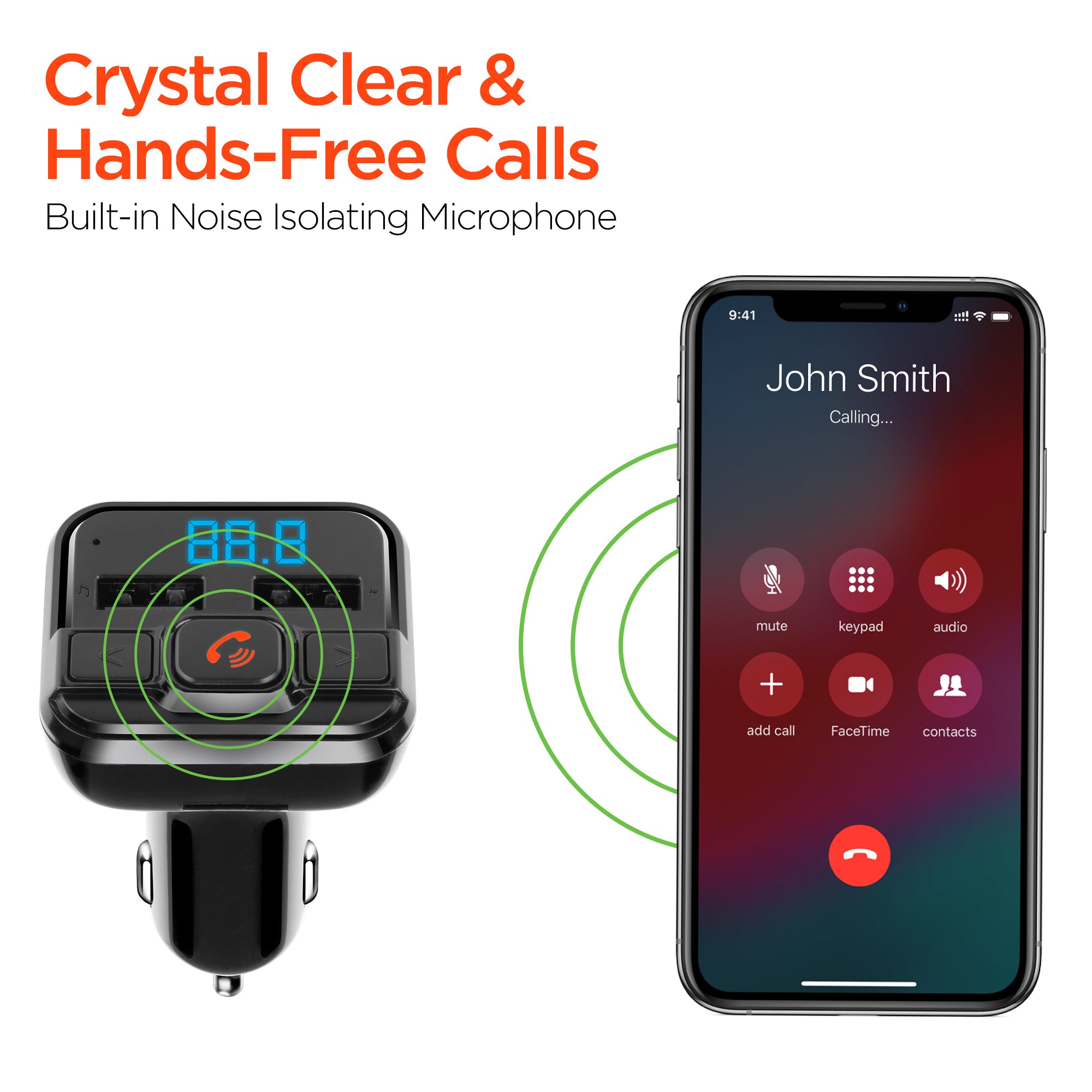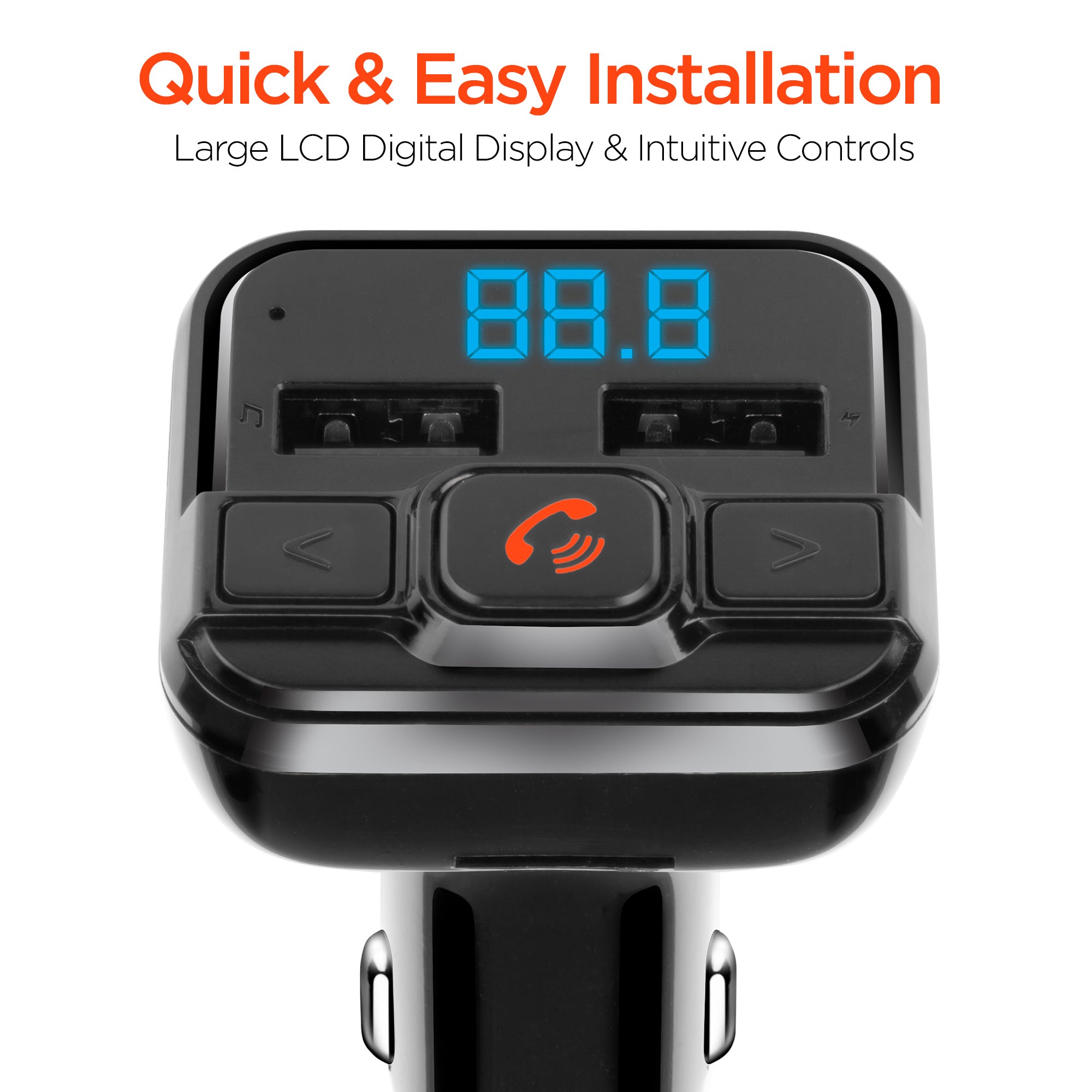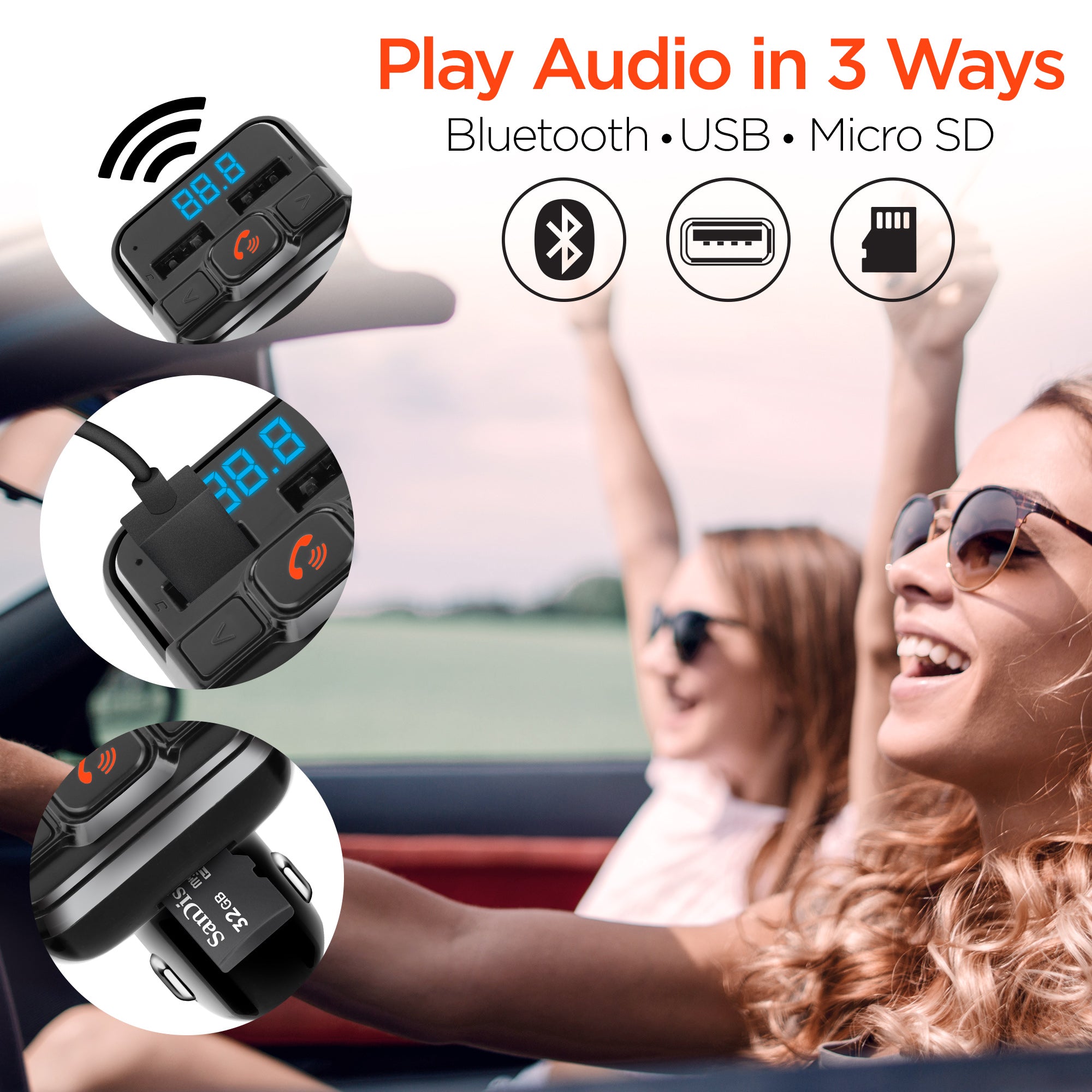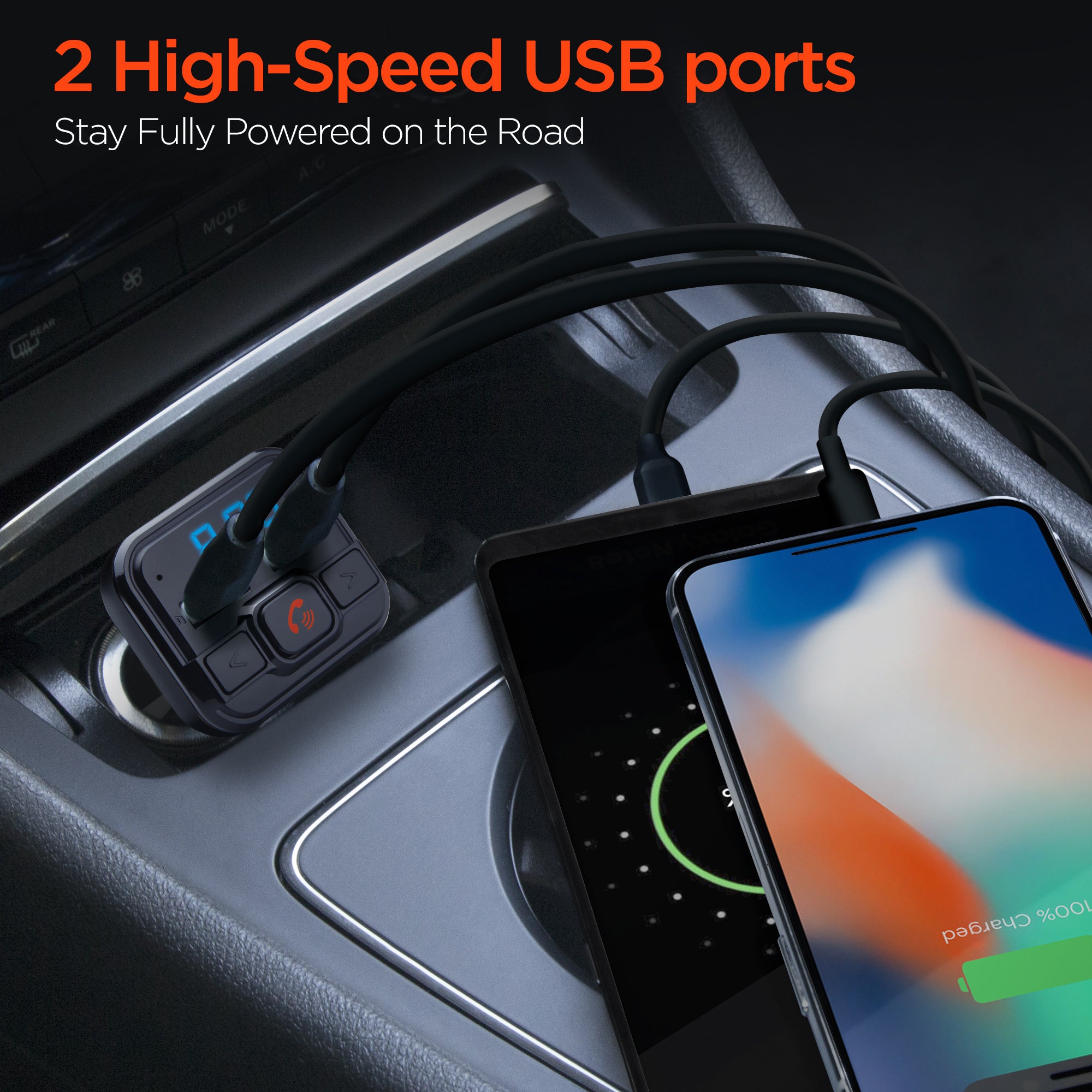 Free shipping on all US orders over $50
Orders Ship within one business day
30 Day Return Policy
Hassle-free Returns
Add Bluetooth to Your Car
Add Bluetooth connectivity to any vehicle! IntelliCast delivers solid Bluetooth and FM connections so that you can stream music and calls straight from your phone to your vehicle's stereo system. Designed with 2 USB ports, both driver and passenger can also stay fully powered on the road. This compact accessory is a must-have to enhance your driving experience.
Solid
FM Transmission

Universal
Bluetooth

Dual
USB Ports

Micro
SD & USB
---
Add Bluetooth to You Car
IntelliCast can connect with any Bluetooth-enabled device within the vehicle to stream music and calls straight from your phone to your vehicle's stereo system. Thanks to the latest Bluetooth Technology, pairing is effortless and connections are crystal clear for powerful, smooth, and consistent sound.
---
Speak and Be Heard
Enjoy crystal clear conversations. The built-in microphone is designed with noise isolating technology to filter out ambient noises and ensure superior voice clarity.
---
Quick and Easy Installation
The large LCD digital display and intuitive controls make it easy to adjust and match radio frequencies to get your transmitter set up and ready to go in a flash.
---
3 Ways to Play
Want to play music that isn't saved on your phone or tablet? You can also play audio files directly from a Micro SD card and USB flash drive!
---
Dual USB Charging
Designed as a complete car solution, IntelliCast also features 2 high-speed USB ports, allowing both driver and passenger to stay fully powered on the road. Charge 1 tablet or 2 smartphones with ease.
Auto Device Recognition
Both ports are equipped with Smart Chip Technology that detects each device's power needs and automatically adjusts the output for the fastest and most efficient charging experience possible.
Safe & Reliable
Engineered with advanced safety features to provide short-circuit & overcharge protection for safe and reliable charging.
---
Guaranteed Reliability
HyperGear products are performance tested and vetted through a rigorous quality inspection process to ensure reliability. HyperGear offers friendly customer service and a Limited One Year Warranty to the original purchaser that the product shall be free of defects in design, assembly, material, or workmanship.
Package Contents:
• IntelliCast Transmitter
California Prop 65 Warning
WARNING : Cancer and Reproductive Harm www.P65Warnings.ca.gov
Works, but not as well as hoped for.
The IntelliCast FM Transmitter + Car Charger worked but fell short in 2 areas for me.
1 - the signal sent to the radio required me to turn the volume way up in order to hear it over road noise and, like some old car cassette tape players, this is very bad if you have to change input sources.
2 - I liked the feature which allowed the use of a micro SD card, however when the vehicle is turned off and then restarted the music returns to the start of the of the playlist folder. The unit remembers the selected radio frequency, why not the current music track? Probably not a problem if you stream over bluetooth, but a deal breaker for me.
Customer review
Here my thing about this product--it did not let me choose the frequency on the radio. As soon as I plug it in it came up with the radio frequency it's self and frankly it's not the best , clearest OR the one I was using with my old bluetooth transmitter. Is there a way to change it to a different frequency??
Customer review
I wasn't really sure what to expect with this product I but I was pleasantly surprised! It works very well and sounds great! I drove from Arizona to California and the signal was never interrupted by another radio station (which I thought it would be) and the sound quality was better than if I use an auxiliary cable into my radio. It's very easy to use and set up. And once it's set up it automatically connects to the phone when you enter the car and maintains all the settings you left on it before. This has really helped me for long trips because I'm able to charge my phone and listen to music, I couldn't do both before because my iPhone only has the one lightning port. This is a quality item at a great price that has really helped my vehicle become more comfortable and I'm really happy with my purchase!
Customer review
I love this little device. I already had another type for my car, but got another car so I needed a new Bluetooth. I am so glad I got this. It's louder than my other one and it can make calls clearer. I love being able to put my micro chip in it with music loaded on it. I already told my kids about it so they could order the same one. Very happy with my purchase!!
Customer review
This little device is awesome! Simple setup in couple minutes and so easy to use once setup. My car currently has blue tooth capabilities for phone; but only for phone. I can't use it for music on my phone; nor Audible. This device resolves that it - it works for EVERYTHING I need. So long using the build in car limitations! This device lets me listen to my music, listen to my Audible books, answer the phone, all of it. Well worth the cost!

Orders Ship within one business day

30-day Returns

Hassle-free Returns