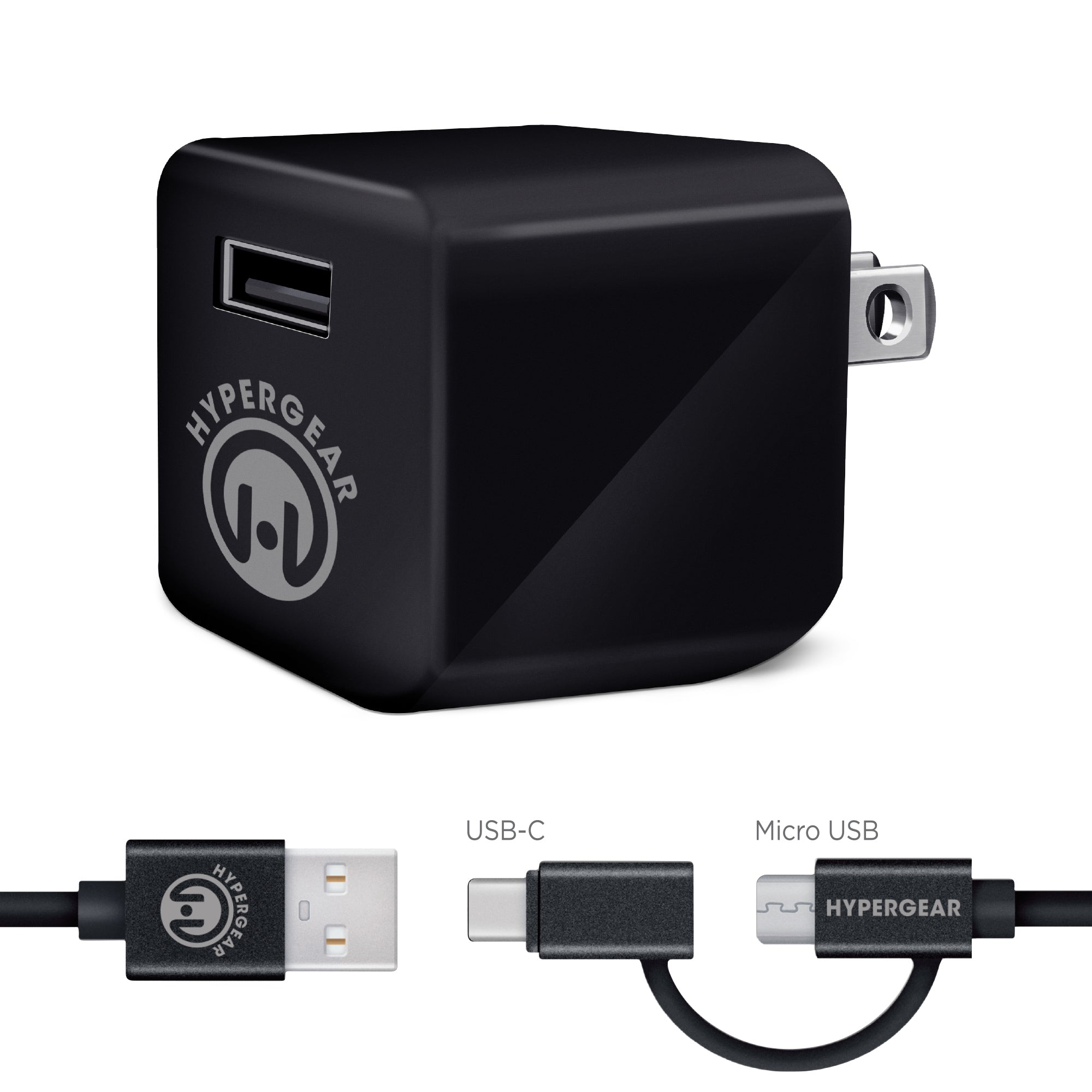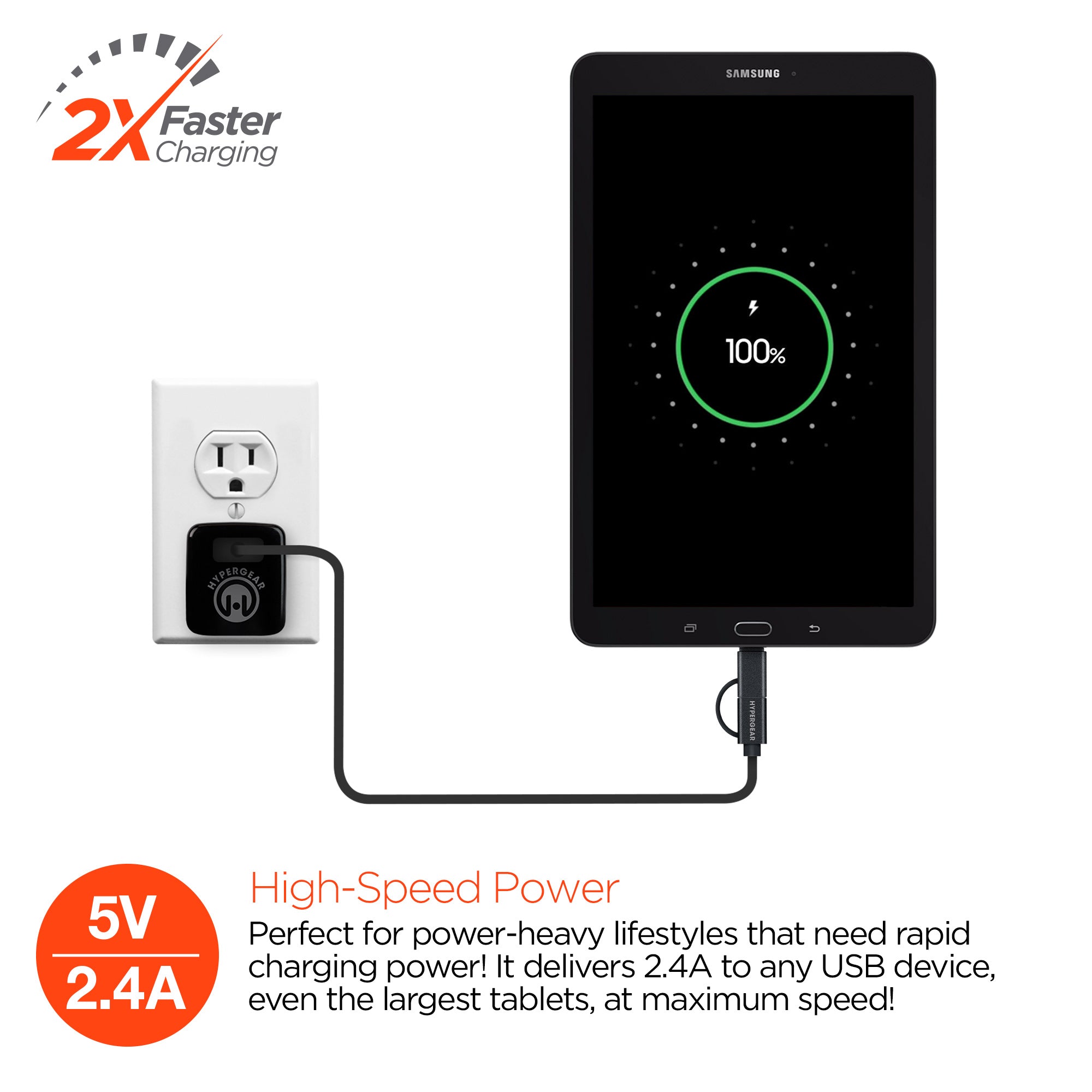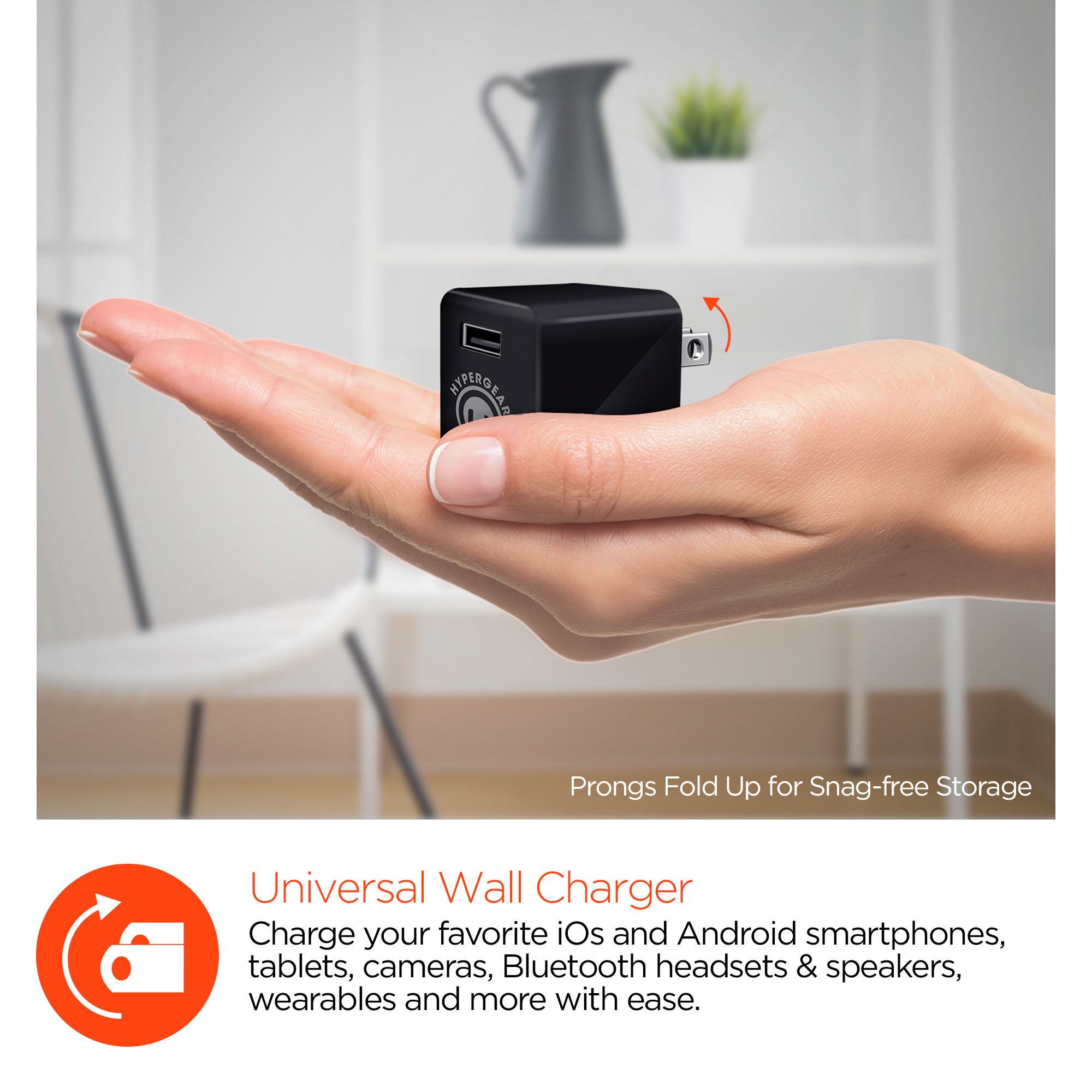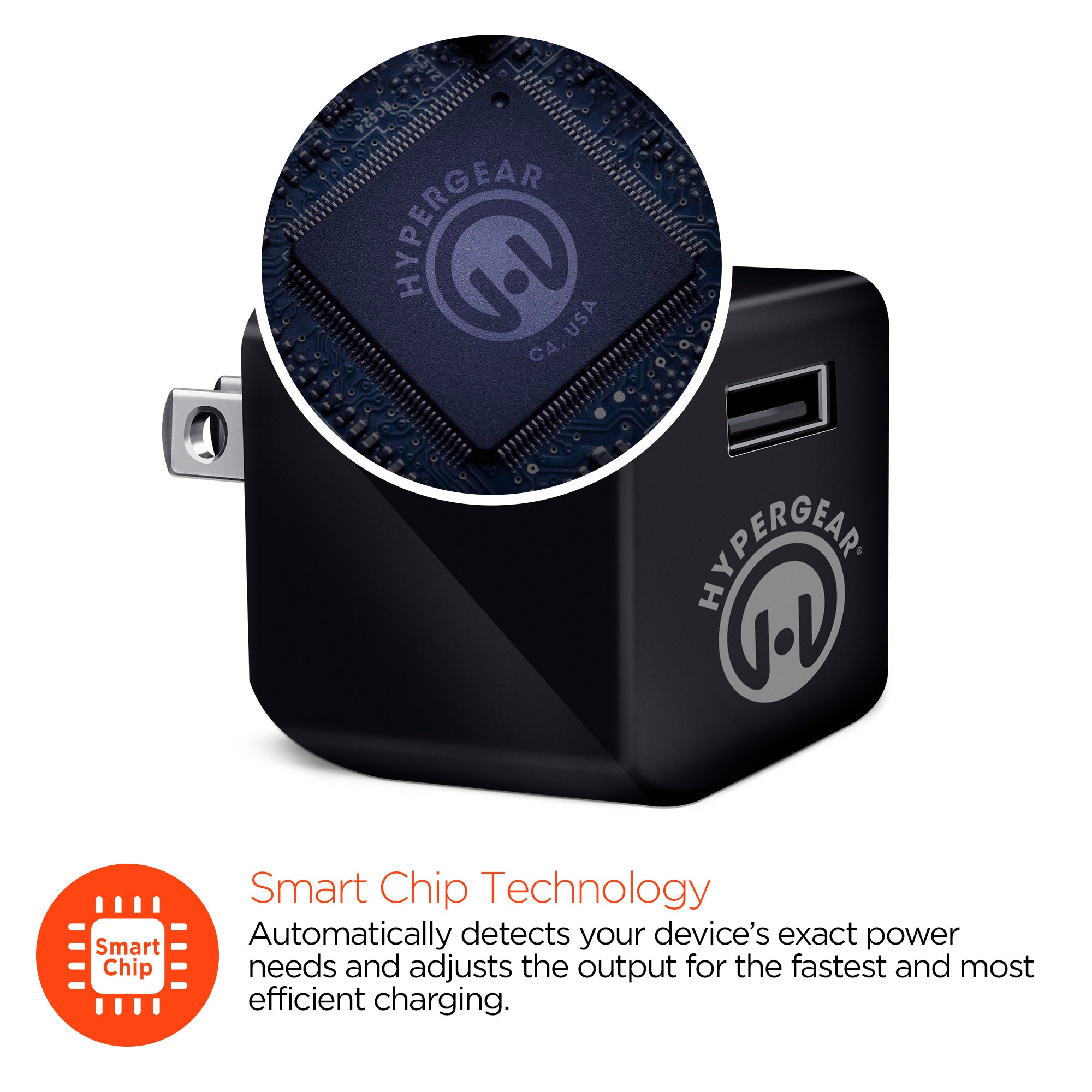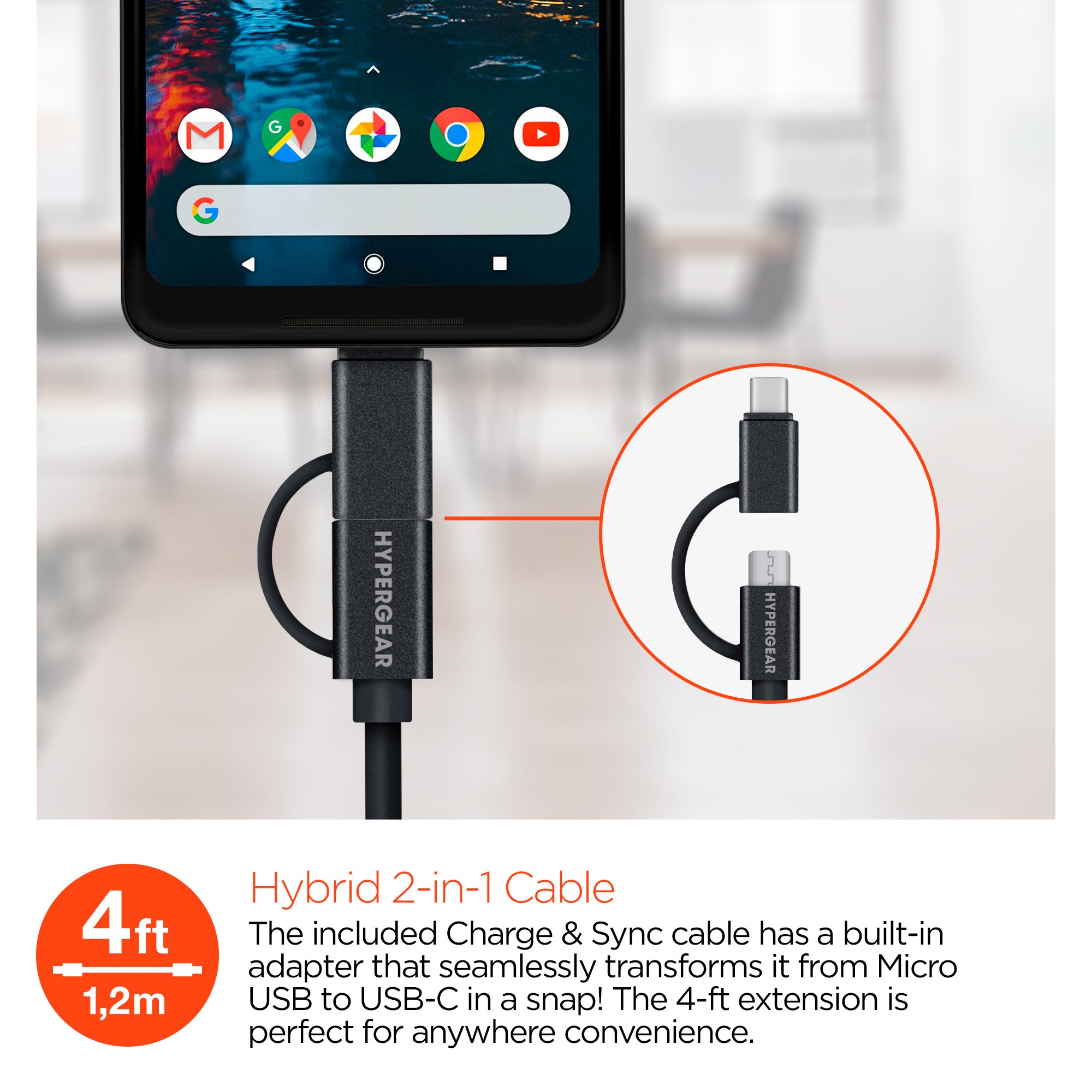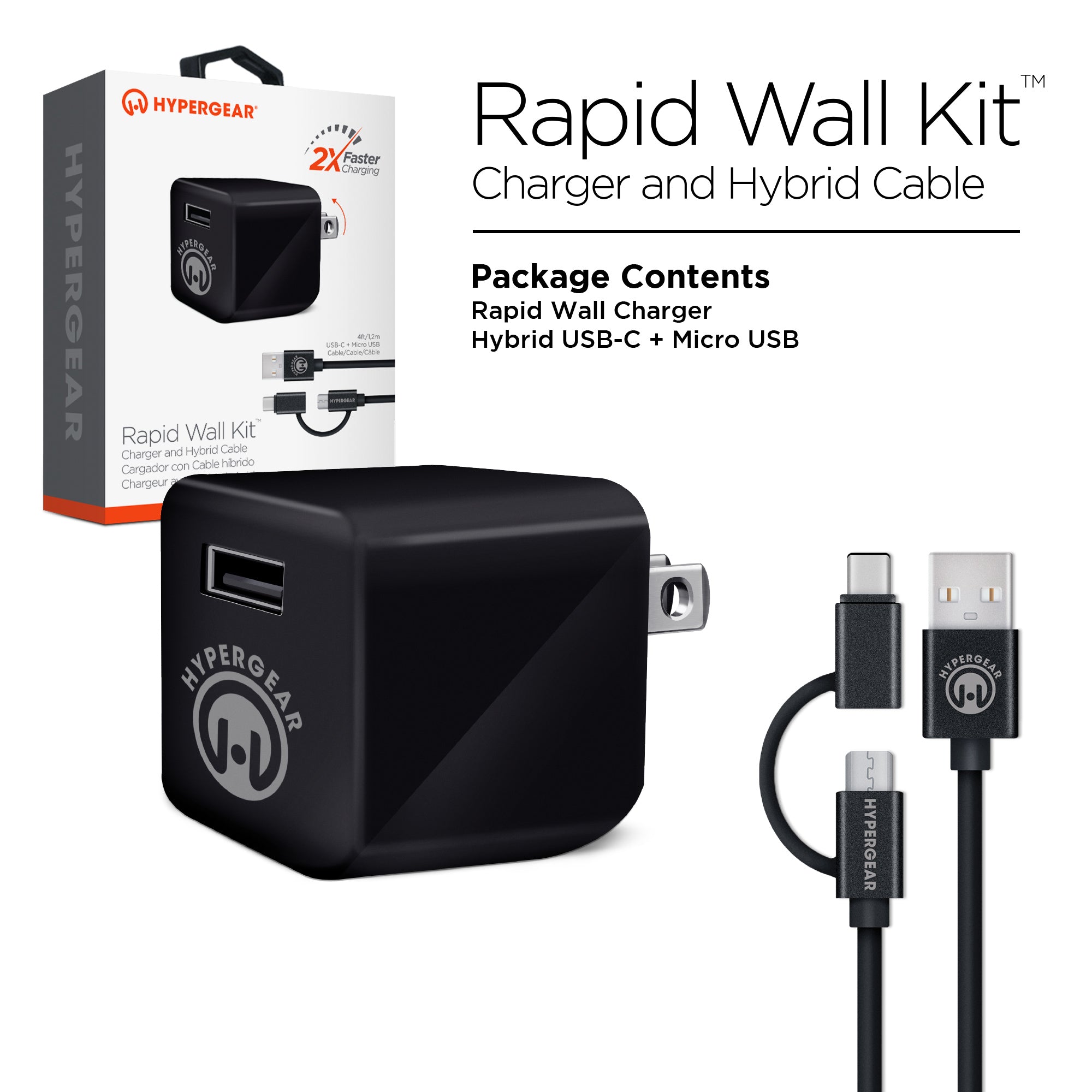 Free shipping on all US orders over $50
Orders Ship within one business day
30 Day Return Policy
Hassle-free Returns
POWERFUL PUNCH, COMPACT SIZE.
This pocket-sized charger delivers 2.4 amps of pure power at lightning-fast speed. It's ideal for all your charging needs whether you're at home, in the office, on a trip, or on the go. No more bulky chargers that take up space and block access to other wall sockets! This sleek, low -profile charger features foldable prongs and a removable 4ft Charge & Sync cable with a Hybrid USB-C and Micro USB connector. Stay Fully Powered All Day, Every Day!
High-Speed
Power

Universal
Power

Folding
Prongs
---
HYBRID 2-IN-1 CABLE
No need to carry 2 different cables, you can travel light! The included hybrid cable has a built-in adapter that offers a quick and seamless transformation from Micro USB to USB-C.
---
HIGH-SPEED POWER
Perfect for power-heavy lifestyles that need rapid charging power! It delivers 2.4A to any USB device, even the largest tablets, at maximum speed!
---
FOLDING PRONGS
Designed for travel with wall prongs that conveniently flip up into the unit, you can slip this compact charger into any briefcase, handbag, carry-on or backpack snag-free!
---
SMART CHIP TECHNOLOGY
Automatically detects your device's exact power needs and adjusts the output for the fastest and most efficient charging.
---
GUARANTEED RELIABILITY
HyperGear products are performance tested and vetted through a rigorous quality inspection process to ensure reliability. HyperGear offers friendly customer service and a Limited One Year Warranty to the original purchaser that the product shall be free of defects in design, assembly, material, or workmanship.
California Prop 65 Warning
WARNING : Cancer and Reproductive Harm www.P65Warnings.ca.gov
Customer review
I was in market for travel chargers as it is convenient to have a charger with me when I am outside. I went for these and to my surprise, these are great chargers, especially at this price range. I was able to get fast charging sign on my phone when using these. All in all, great travel chargers, very hard to beat!
Customer review
This works exactly how it's advertised, which is great since I was using a dinky cable and brick for my Nexus 6P until this came in. High quality and great service!
Customer review
Nice product for a great price. Works as advertised.
Customer review
This charger charges rapidly with no problem! Good tight fit! I am thinking about ordering a second one.
Customer review
Works as designed for all of my equipment that charges with USB. I can't think of a good reason for me not to buy these moving forward.

Orders Ship within one business day

30-day Returns

Hassle-free Returns