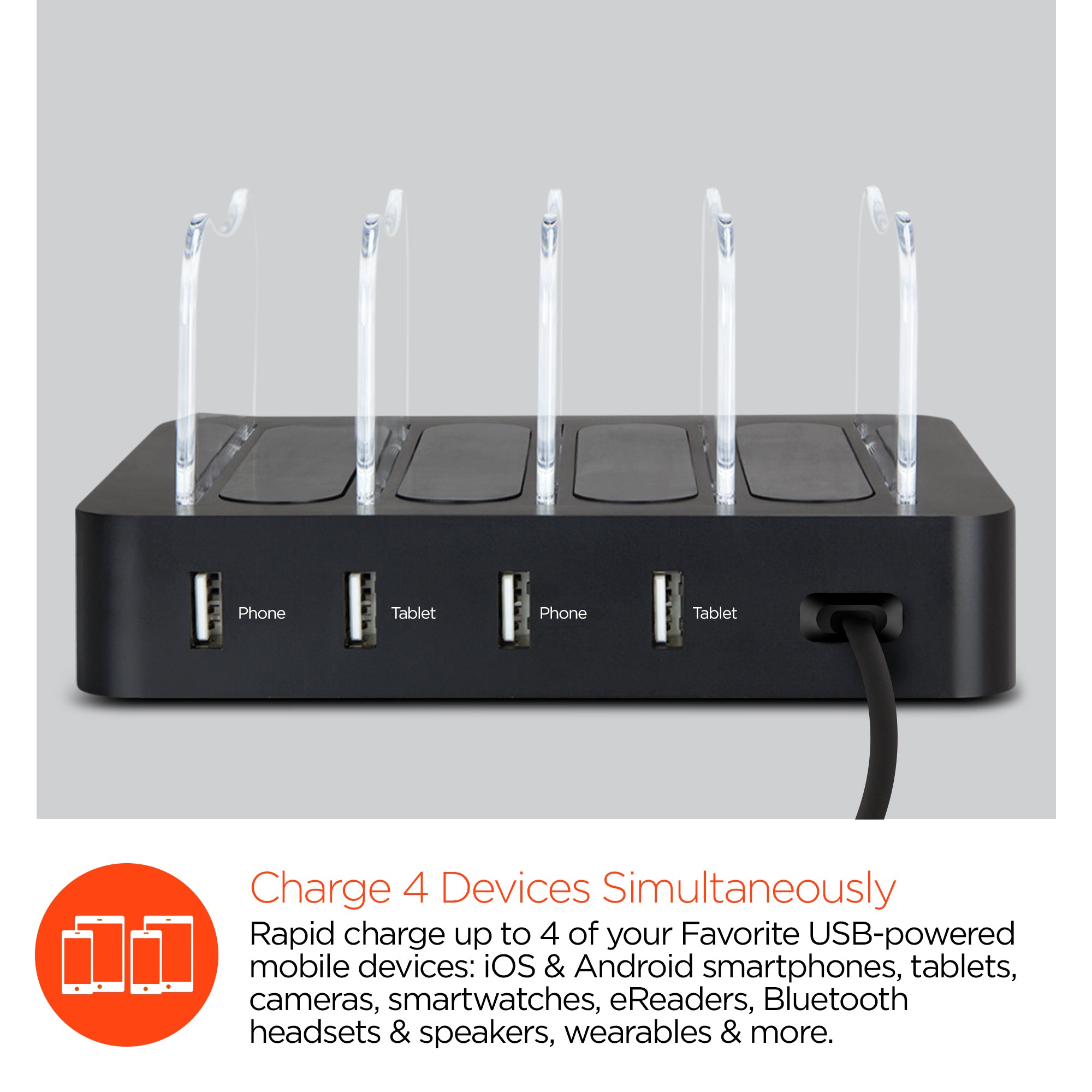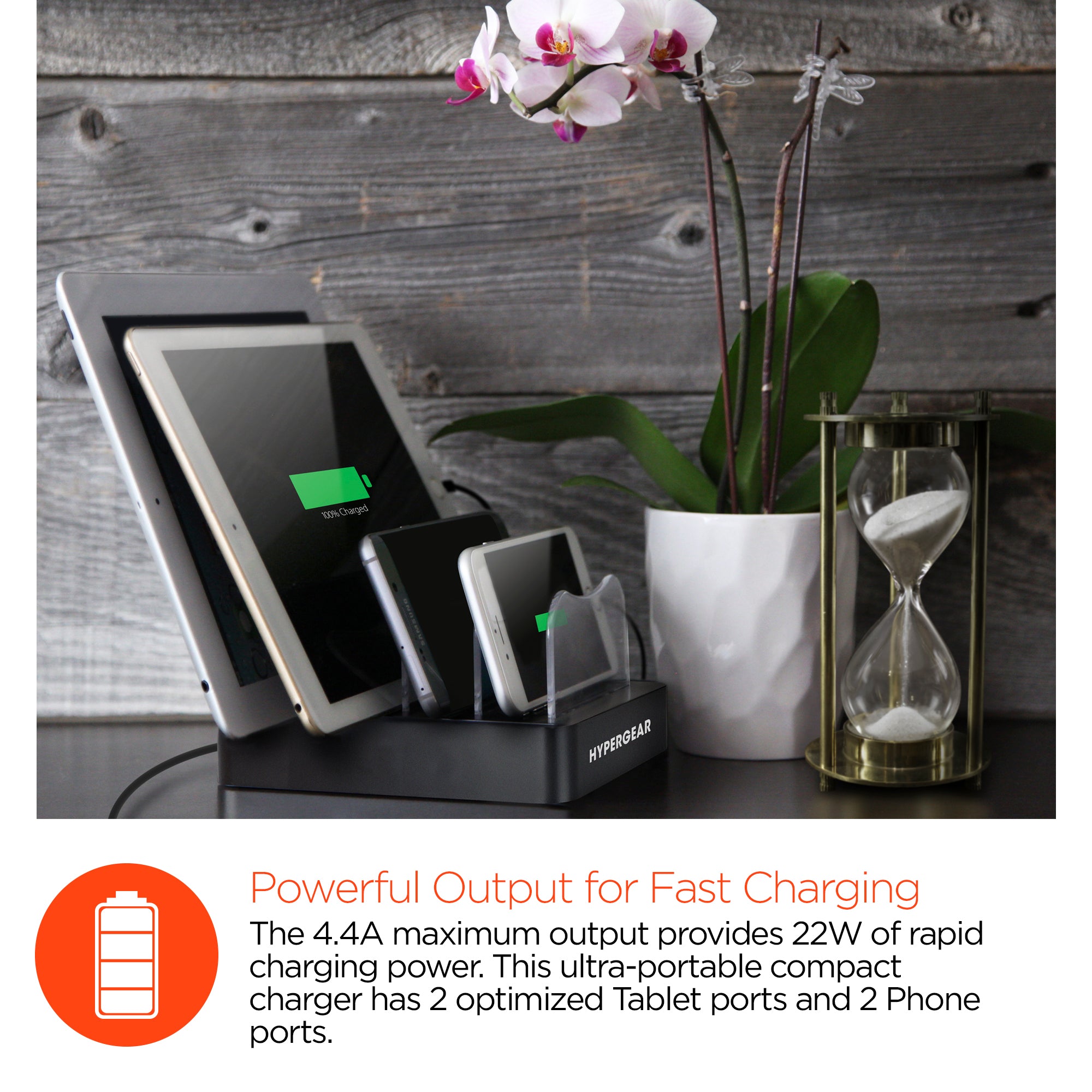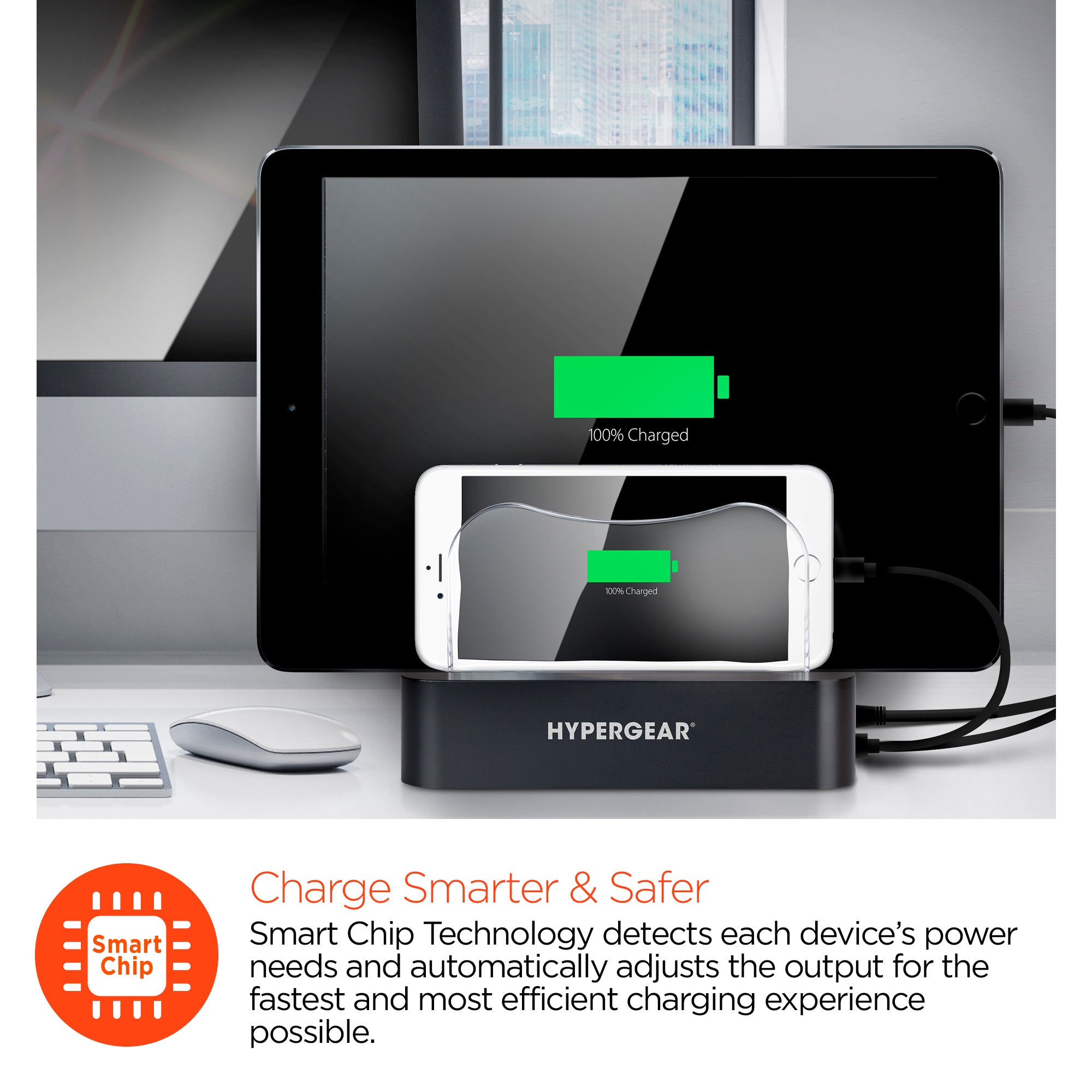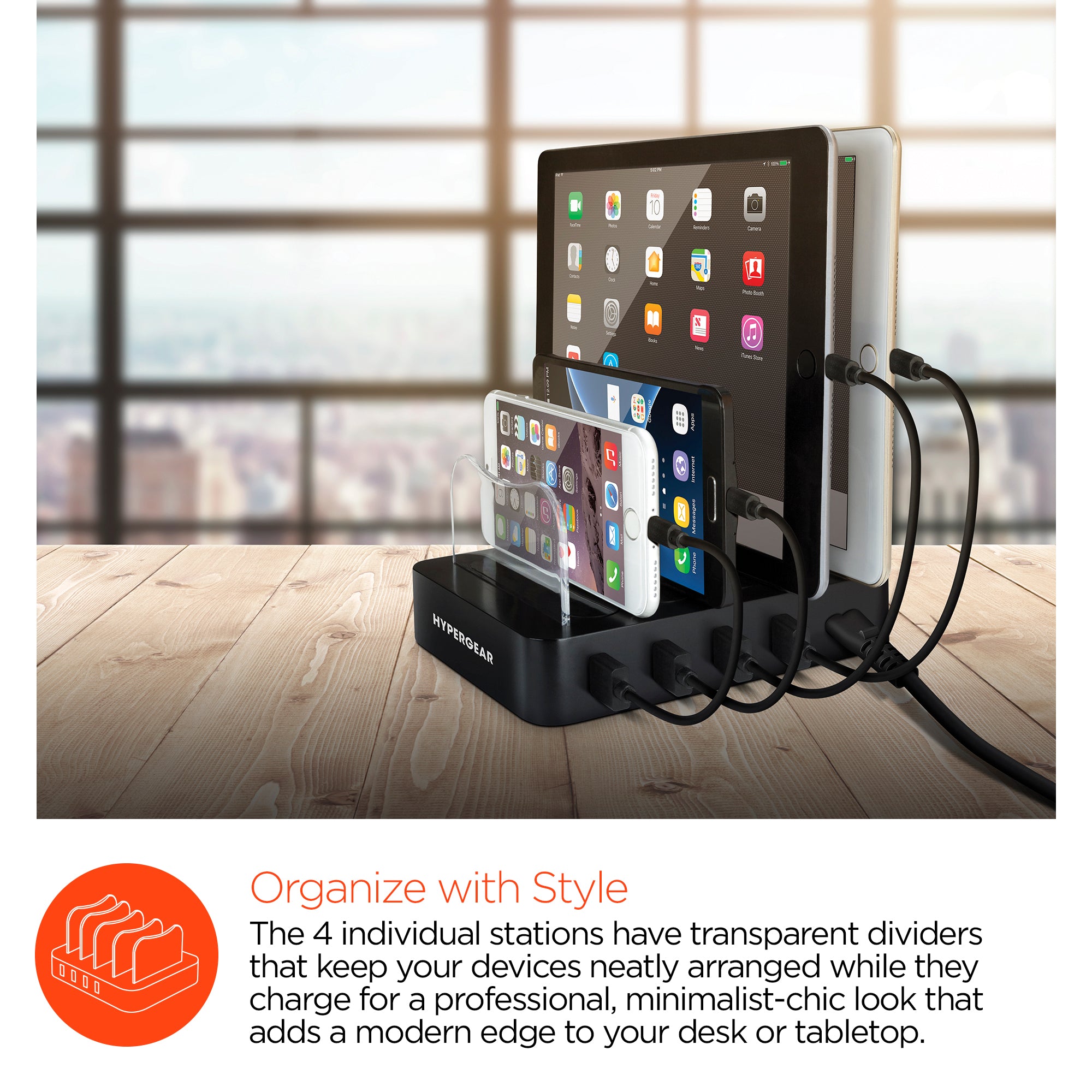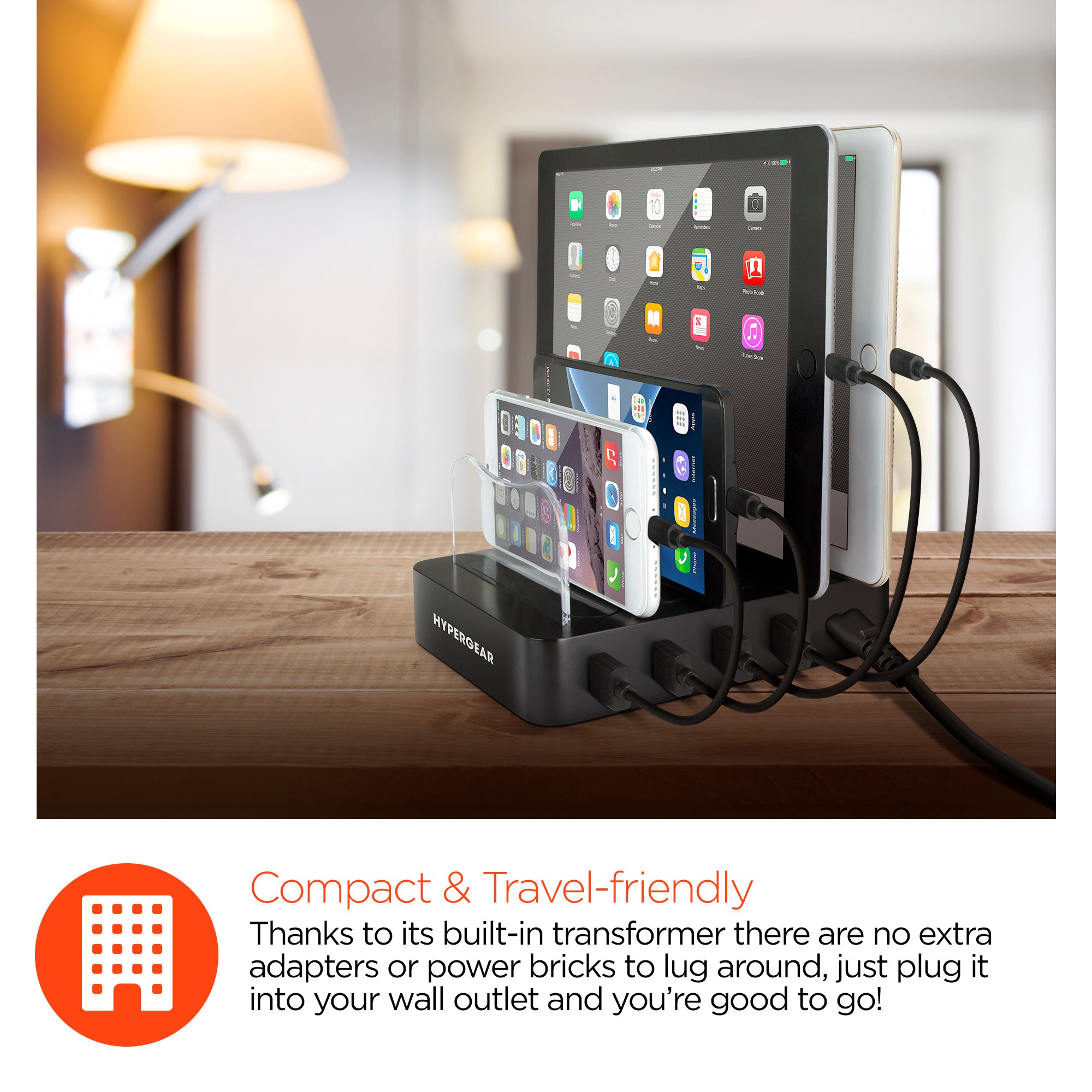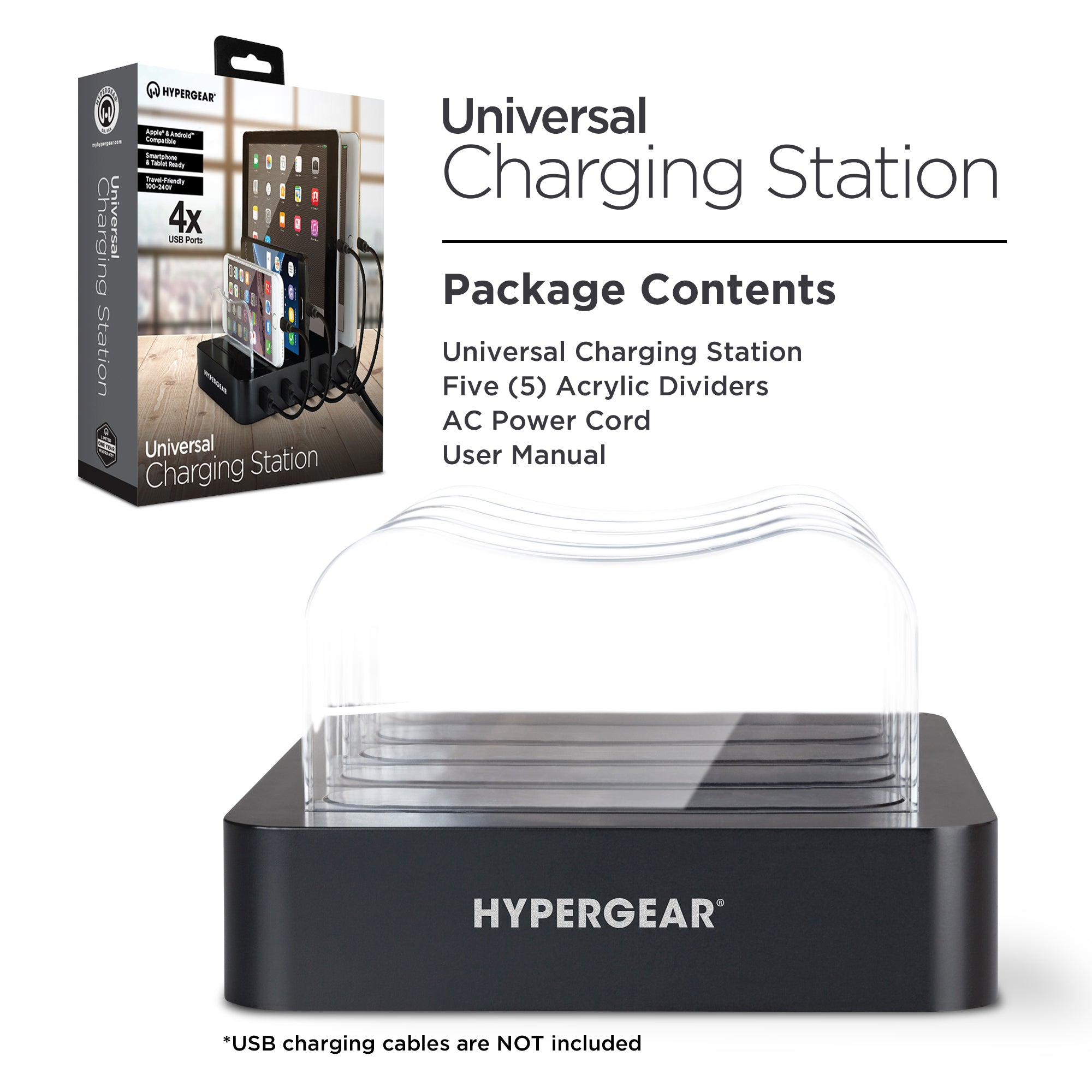 Free shipping on all US orders over $50
Orders Ship within one business day
30 Day Return Policy
Hassle-free Returns
Universal Compatibility
Compatible with any USB-powered device, you can charge your favorite iOs and Android smartphones, tablets, cameras, Bluetooth headsets & speakers, wearables and more with ease.
---
Powerful Output
With 22 watts of pure power, the Universal Charging Station offers an outstanding 4.4A output! It's the perfect solution for families or offices with multiple devices that need high-speed charging.
---
4 USB Ports
This charger transforms a single wall outlet into a 4-port charging station that can power up to 4 devices simultaneously! Engineered with 2 ports that are optimized for tablets and 2 ports for smartphones, it's ideal for households and offices that want to expand the power of a single wall socket!
---
4 Individual Device Stations
Treat your hub as home base for all your gadgets. With a space saving design and four individual docking stations, your devices can stay neatly arranged while charging for a professional, clean and organized look.
---
Auto Device Recognition
Every port is equipped with Smart Chip Technology that detects each device's power needs and automatically adjusts the output for the fastest and most efficient charging experience possible.
---
Built-in Power Adapter
Thanks to its integrated transformer, the Charging Station is absolutely portable! There is no need to carry around extra adapters or clunky power bricks, it plugs directly into any wall outlet. Enjoy powerful high-speed charging anywhere!
---
Charge with Style
With its transparent dividers, sleek black finish and compact design, the Universal Charging Station adds a modern edge to any desk or tabletop. The rubberized anti-scratch surface discreetly protects your devices while docked and charging.
---
Safe & Reliable
Engineered with advanced safety features to provide short-circuit & overcharge protection for safe and reliable charging.
California Prop 65 Warning
WARNING : Cancer and Reproductive Harm www.P65Warnings.ca.gov
great value
this is so awesome! i can charge 4 items at one time and it holds all the wires so i don't have to search for them. great value for the price.
Customer review
I ordered one and l love it because it's compact and less clutter with just the one cord.
Customer review
Very happy with this charging station. Freed up my outlets and helped organize my desk. Great product!
Customer review
BGY All. :-) i am so pleased it is so convenient to have 4 charging and in the same place at the same time. It looks great on my desk and on my coffee table my friends and family can stop asking were can i plug this in. LoL :-) i just point to the hyper gear charger then smile and watch there eyes get big then they ask were you get that of course i tell them online at myhypergear.com. ( Model# 13843 ) The only thing i don't like about it is there is no/off switch other then that i like a lot thank you all and Happy Holidays be blessed. :-)
Customer review
Just what I wanted! Take note that this doesn't come with the short cords, and there isn't any way to hide your long cords. I purchased short cords separately thru Walmart for just over $8 and they adapt to Android or Apple. Real cool.
Now we just have one item plugged in the wall, and all our devices are in the one location. Very pleased. Also, like the fact that our devices won't over heat when they are left plugged in. Would recommend.

Orders Ship within one business day

30-day Returns

Hassle-free Returns