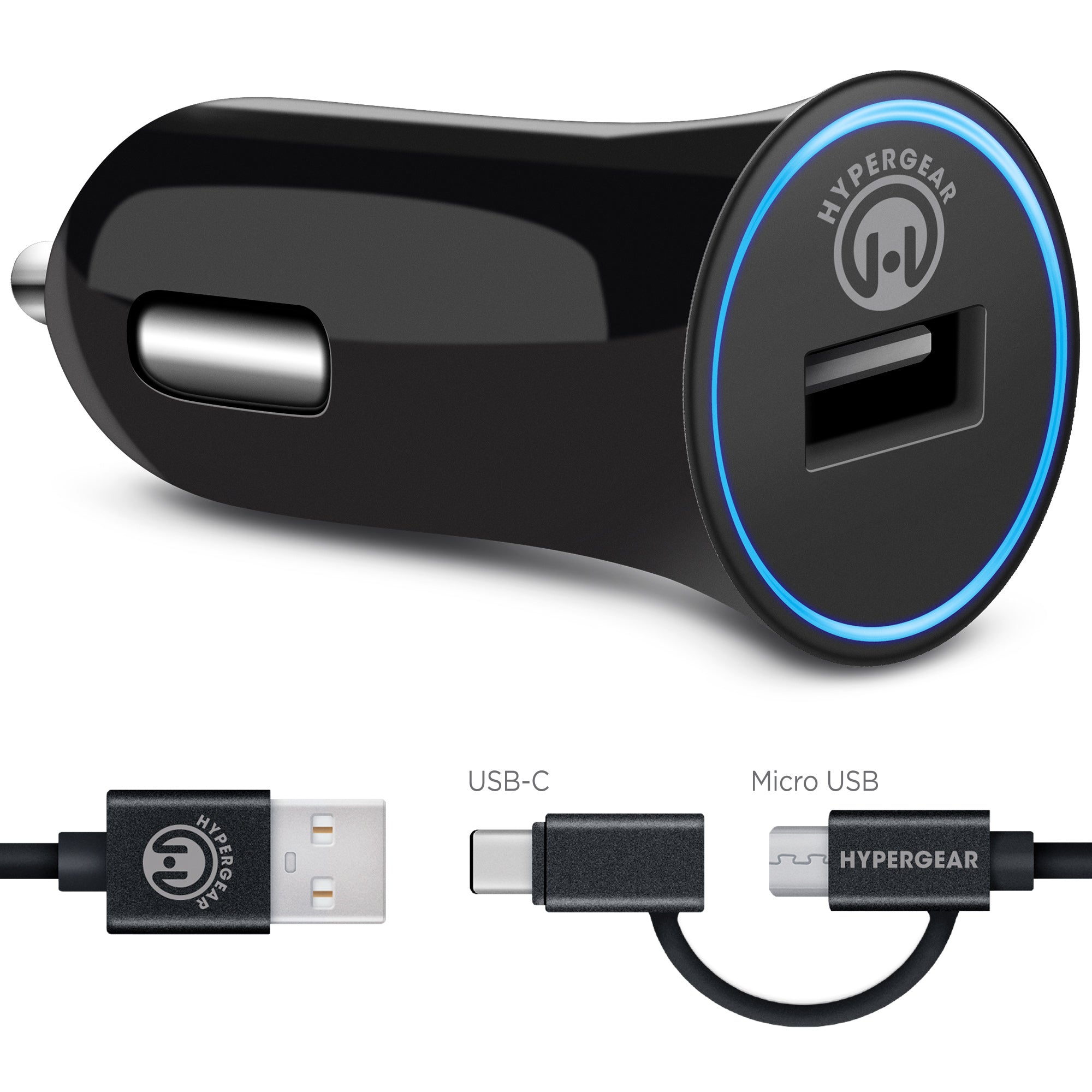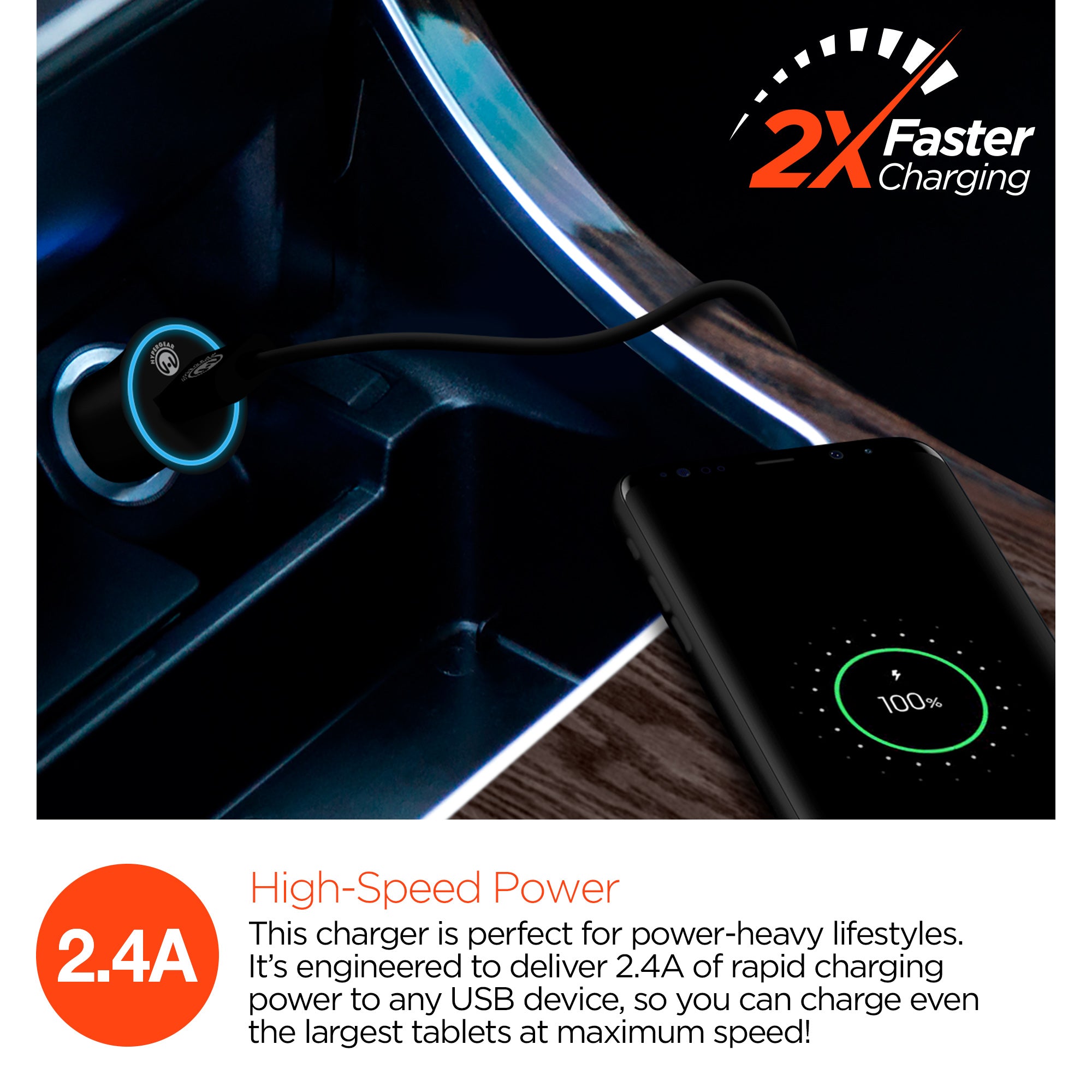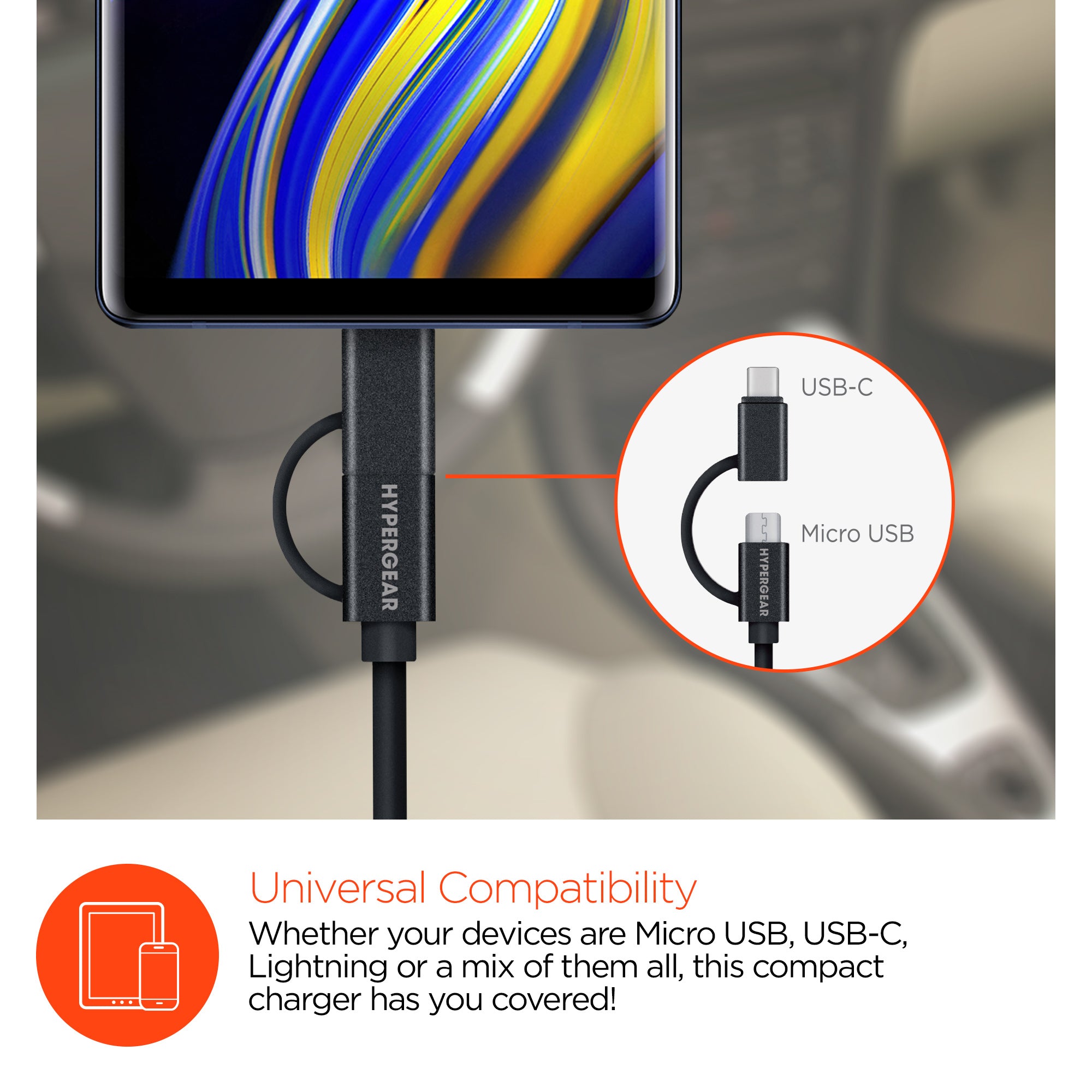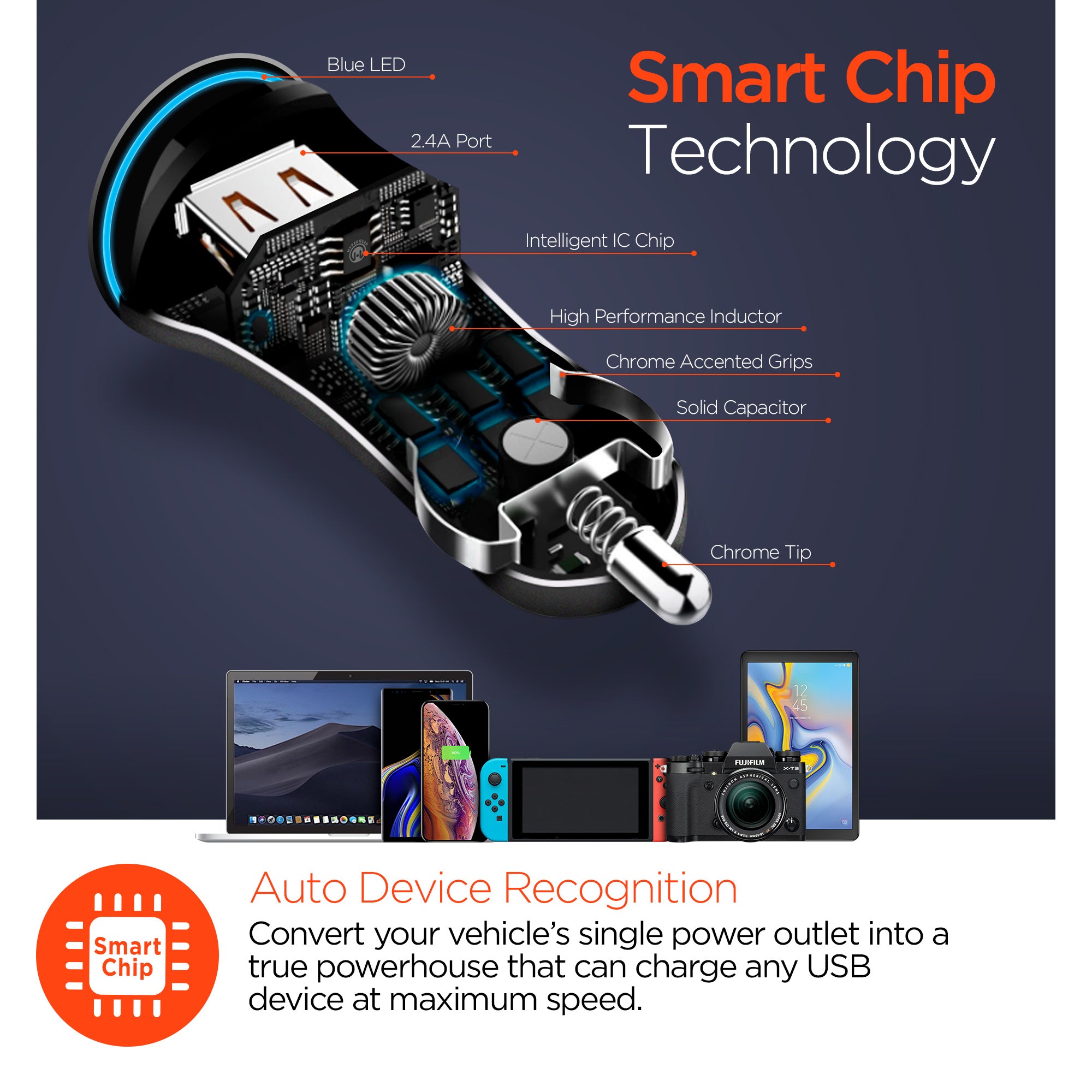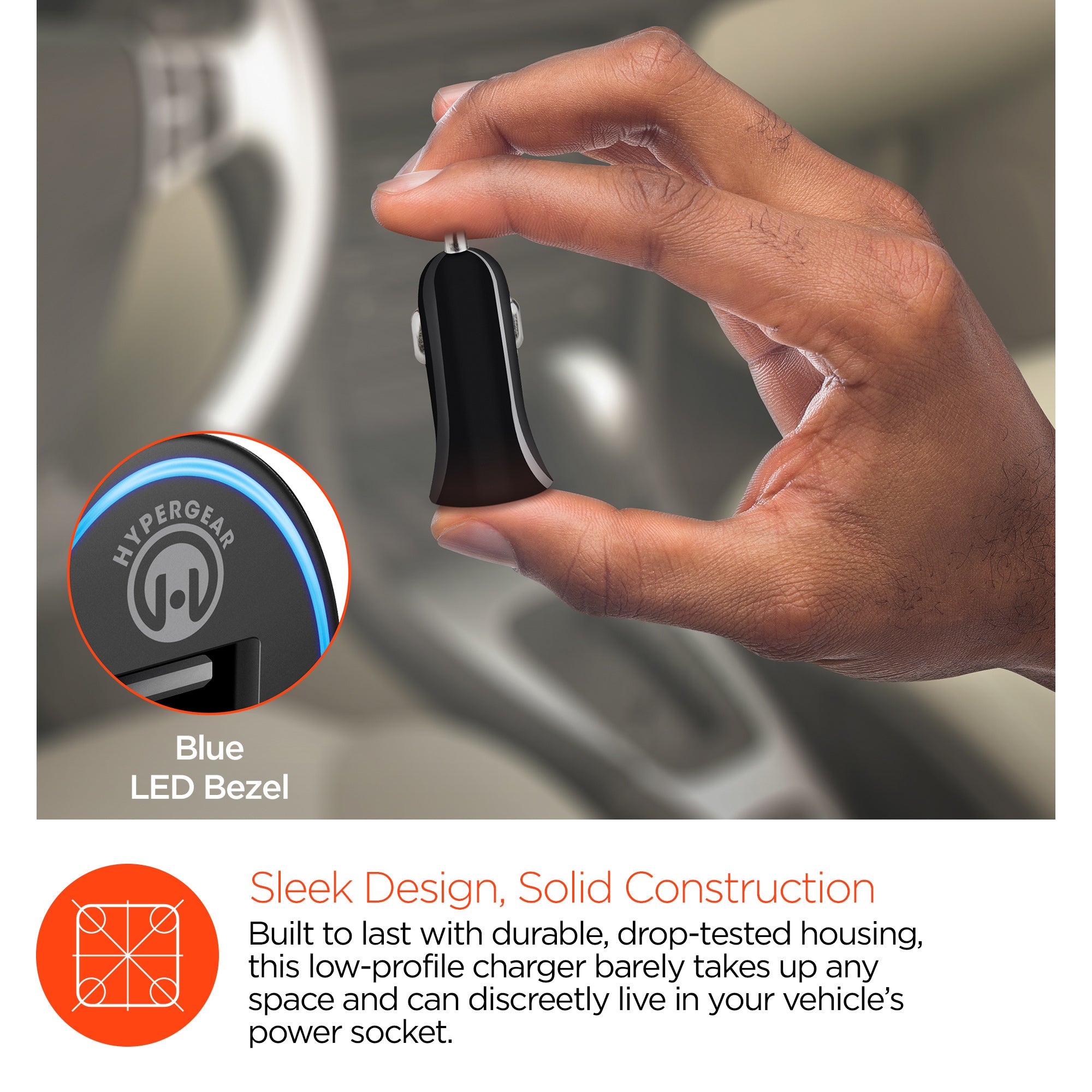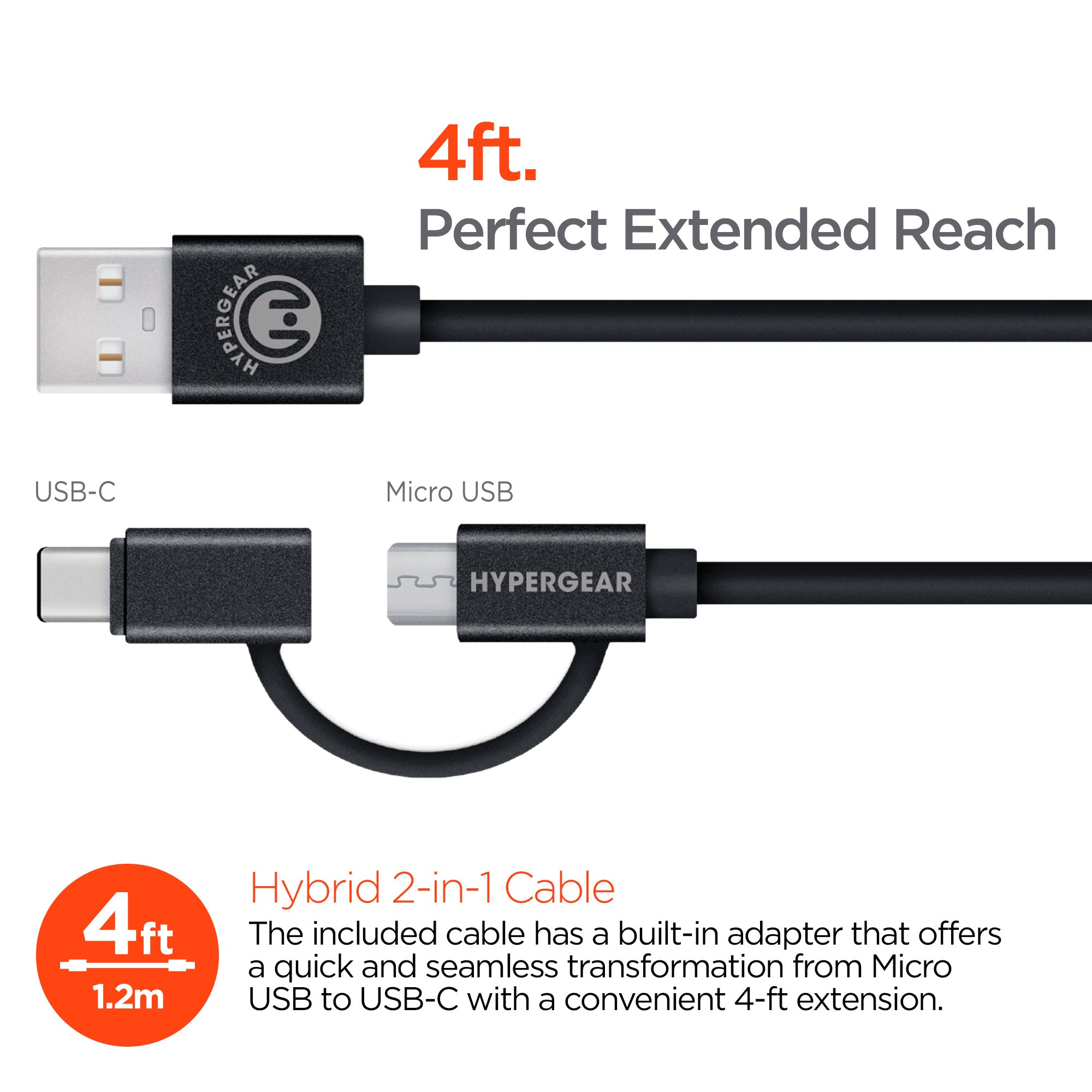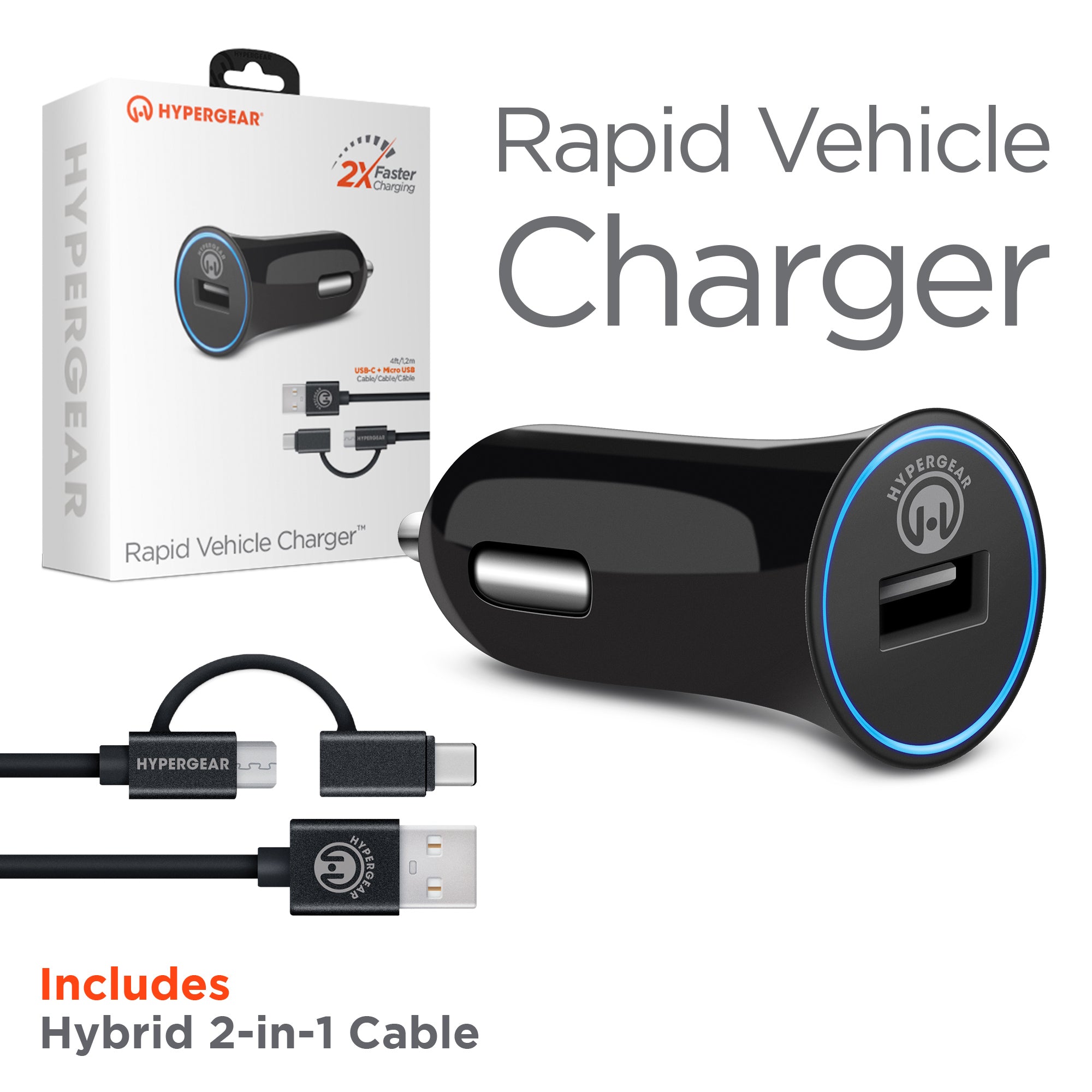 Free shipping on all US orders over $50
Orders Ship within one business day
30 Day Return Policy
Hassle-free Returns
On the Road Fast Charging
Featuring a sleek, low-profile design, cutting-edge circuitry and a removable 4ft hybrid USB-C and Micro USB charge & sync cable, the ultra-compact Rapid Vehicle Charger is perfect for users who need high-speed power on the road. It packs a punch delivering up to 2.4 amps of reliable, lightning-fast power to all your mobile devices from phones to power-heavy tablets. Power up on-the-go and always arrive fully charged.
Powerful
Output

High-Speed
Charging

Universal for
All Devices

World-Class
Safety Features
---
Hybrid 2-in-1 Cable
The included cable has a built-in adapter that offers a quick and seamless transformation from Micro USB to USB-C with a convenient 4-ft extension.
---
Universal Compatibility
Whether your devices are Micro USB, USB-C, Lightning or a mix of them all, this compact charger has you covered!
---
Auto Device Recognition
Convert your vehicle's single power outlet into a true powerhouse that can charge any USB device at maximum speed.
---
Sleek Design, Solid Construction
Built to last with durable, drop-tested housing, this low-profile charger barely takes up any space and can discreetly live in your vehicle's power socket.
---
Guaranteed Reliability
HyperGear products are performance tested and vetted through a rigorous quality inspection process to ensure reliability. HyperGear offers friendly customer service and a Limited One Year Warranty to the original purchaser that the product shall be free of defects in design, assembly, material, or workmanship.
Package Contents:
• Car Charger
• Hybrid Cable
California Prop 65 Warning
WARNING : Cancer and Reproductive Harm www.P65Warnings.ca.gov
Customer review
A lot of the other chargers on the market only allow one device to charge at the full rate -if they even have two ports. This charger allows you to charge two devices and use them at the same time such as a using GPS navigation on a cell phone. Lesser chargers don't put out enough current and your phone loses more power than the cheap charger can supply so you arrive at your destination with less battery than when you started. It's small and travels well so take it along for use in rental cars without taking up a lot of space in your bag.
Customer review
I purchased 2 of these, one for my travel day-pack and one for my car. The car is older and the cigarette lighter is out in the open on the dash. Most car charger adapters stick out a good 1-2 inches from the cigarette lighter socket. I love that the HyperGear is almost flush with the dash and that helps to keep the adapter plugged into the cigarette lighter socket where as the adapters that are longer tend to work themselves loose after several miles of rumbling down the highway (overhung weight). Great quality and research would indicate one of the best car adapter chargers on the market...
Customer review
To be perfectly honest with everyone who reads this, whether it's for work or personal, I recommend this process to everyone!
Customer review
I purchased this item about 10 months ago (or longer) and have been extremely happy with the USB port. On a normal port at home, It would take about an hour and a half to fully charge a Samsung Galaxy 6. In my Jeep with this port, i can cut the exact scenario down to about 20 minutes or less. Also, I find that driving with GOOGLE Maps to be far better than my car's GPS. I took a 5 hour trip using my phone as a GPS, taking calls, and the occasional text. It never dropped below 100%. IMPRESSIVE!
Customer review
I decided to replace my damaged OEM charger and the HyperGear came up on many reviews as a top rated one but was not the best seller. I could notice the difference pretty quickly that it charged faster than the charger that I had been using. I like the low profile design of the charger and that it is from a family owned business that designs their product in California (still made in China though). I'm happy with my purchase.

Orders Ship within one business day

30-day Returns

Hassle-free Returns